Dark Fire Designs
Alliance Assaulters
Regular price
Sale price
$22.00 USD
Unit price
per
Sale
Sold out
"In the heat of battle, the Alliance Assaulters stand as a beacon of hope, defending our ideals with unwavering courage."
Disclaimer: This listing is for the STL files, not the printed miniature.
Amidst the chaos of galactic conflict, the Alliance Assaulters are the embodiment of valor and resilience. Crafted with precision, the Alliance assault armor, upon which these models are based, was engineered to provide maximum protection against kinetic threats while maintaining the agility required for swift battlefield maneuvers.
Comprising a complete armor set, including the helmet, chest plate, left and right biceps, left and right bracers, gloves, leggings, and boots, this ensemble had to be biolinked to its wearer to prevent unauthorized use, making it a rare and highly coveted sight on the battlefield. The Alliance Assaulters digital STL kit brings this iconic armor to life, allowing you to create your own legends on the tabletop.
Prepare to embark on an adventure of creativity and customization with the Alliance Assaulters kit. Whether you're a tabletop gaming enthusiast, a diorama artist, or a scale model hobbyist, these pre-supported models are your canvas for crafting unique Alliance Soldiers in Heavy Assault Armor. The multi-part design ensures endless possibilities and compatibility with other Dark Fire Designs kits, promising a truly distinctive force for your collection.
For those eager to assemble their forces swiftly, we've included a preposed squad that simplifies the printing and painting process, getting you into the action without delay. Whether you prefer Melee Specialists or the versatile Kitbashed Specialists with heavy weapons and marksman variants, these models are ready to take on any mission you envision.
Disclaimer: The original model is designed for 1:46 scale, boasting realistic proportions that may appear leaner than "heroic scaled" figures. For optimal results, we strongly recommend using the Chitubox slicer with Resin SLA and DLP printers. By purchasing this product, you agree to print these files for personal use only, refraining from any commercial printing endeavors or the sharing and selling of these files after purchase. Please note that this model is not endorsed by or affiliated with Disney or Lucasarts.
Unleash your creativity, join the Alliance Assaulters, and become a part of a legacy that stands against tyranny. Secure your digital kit today and let the adventure begin!
Share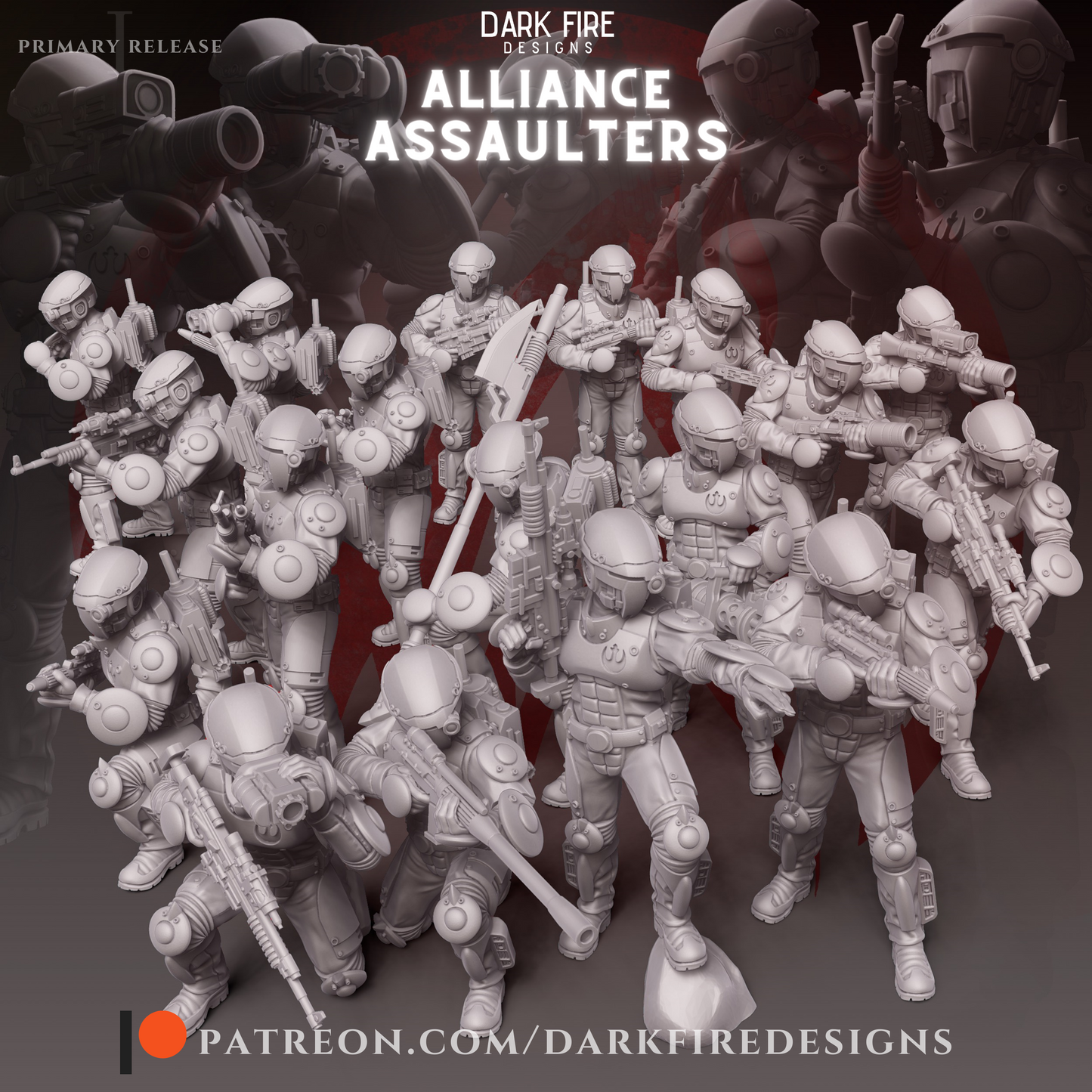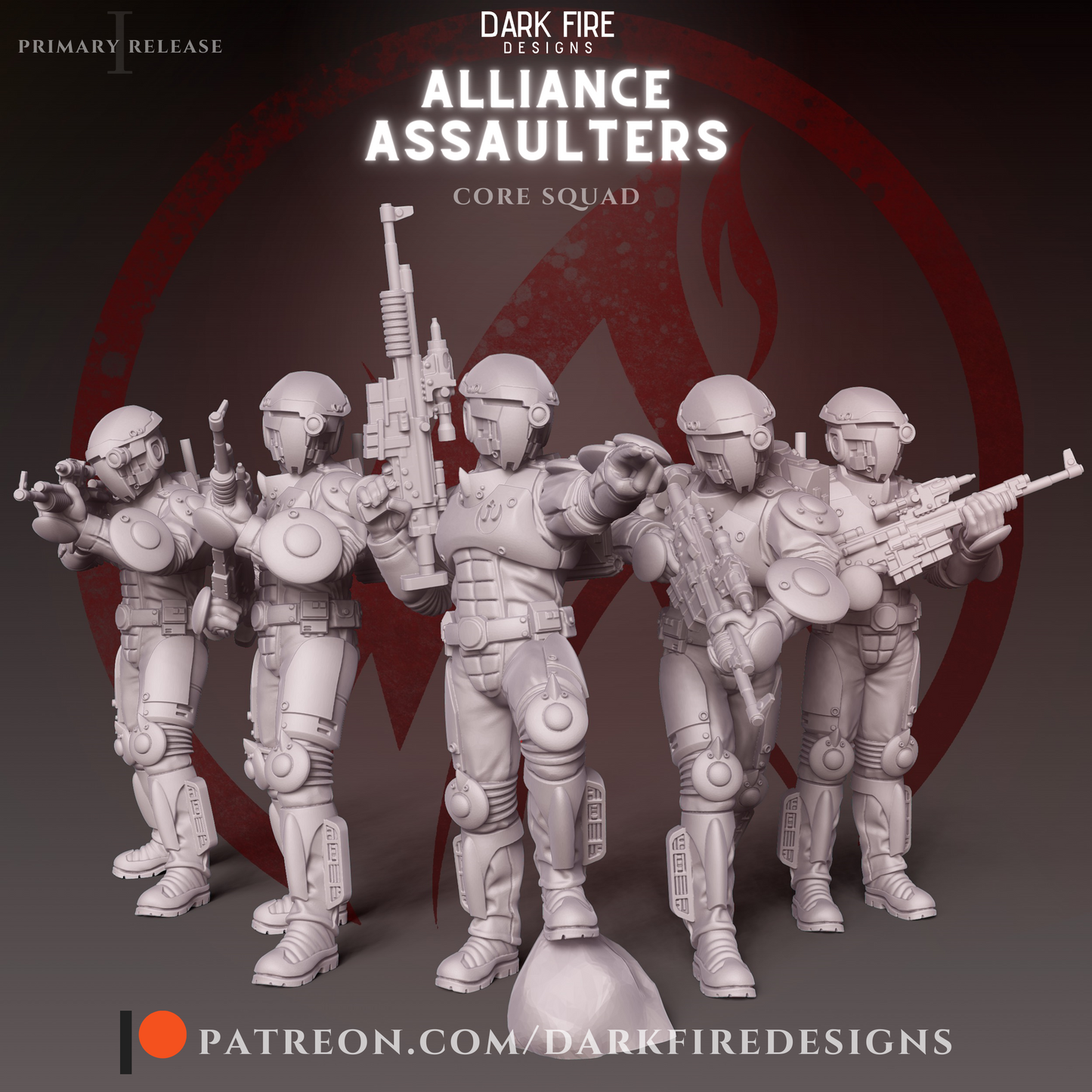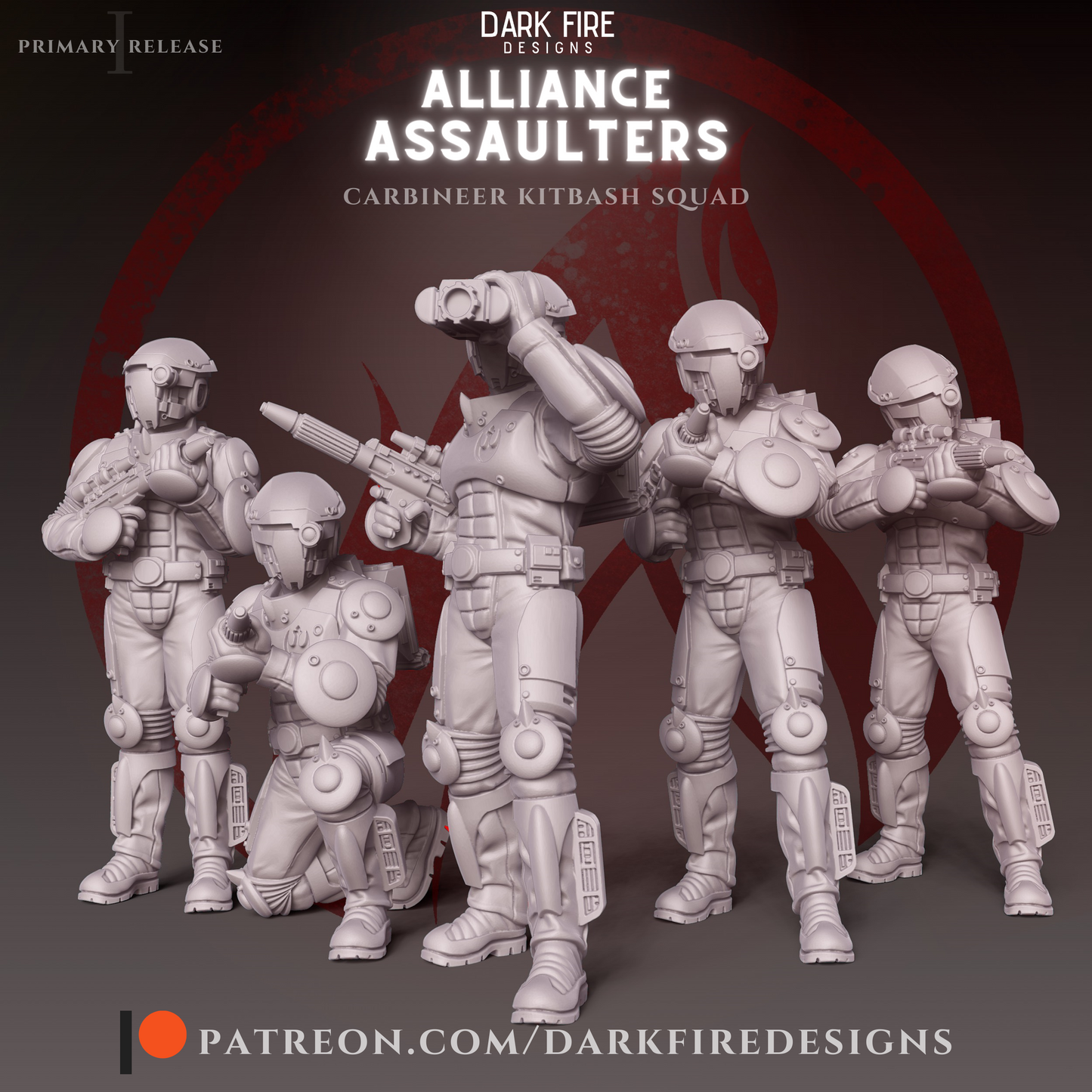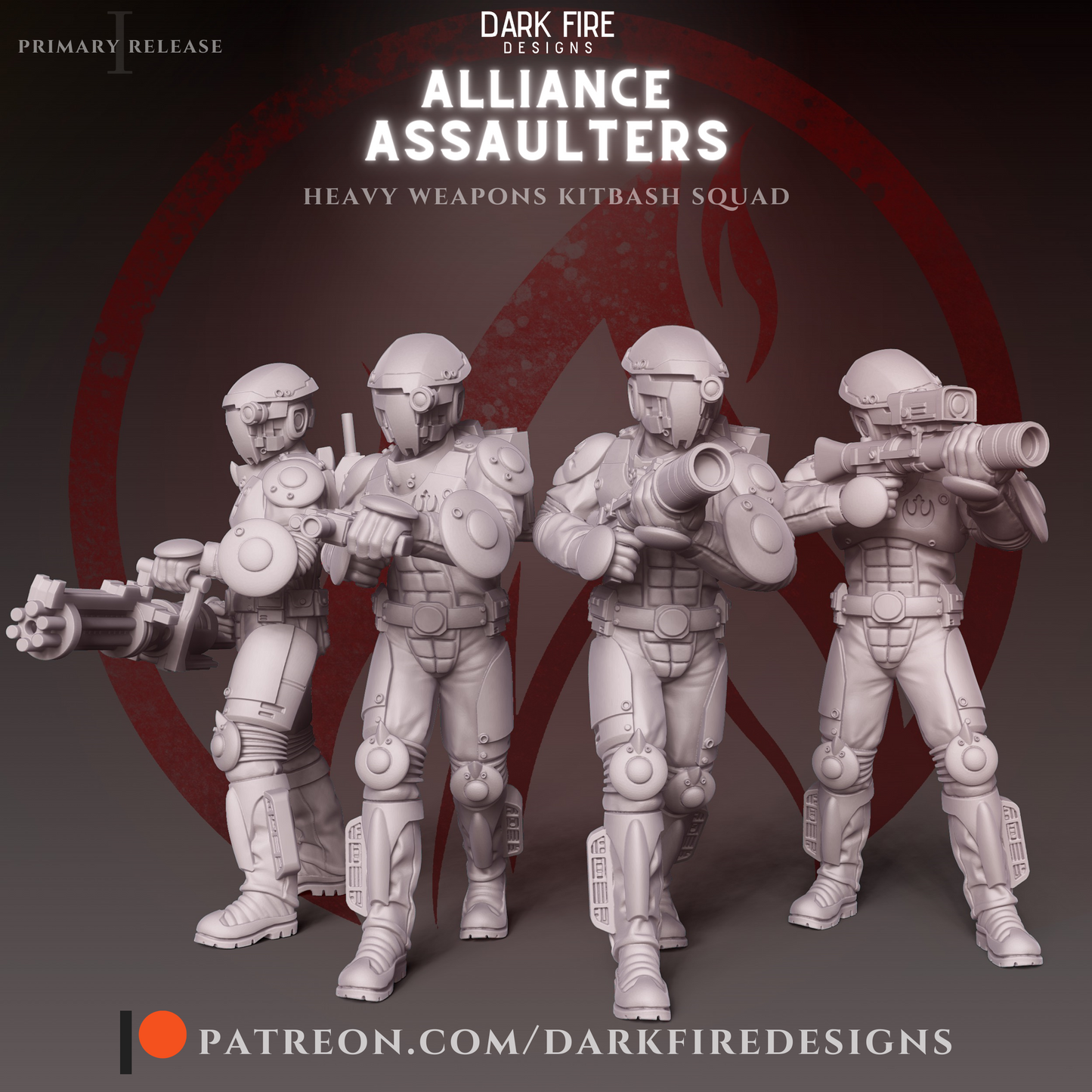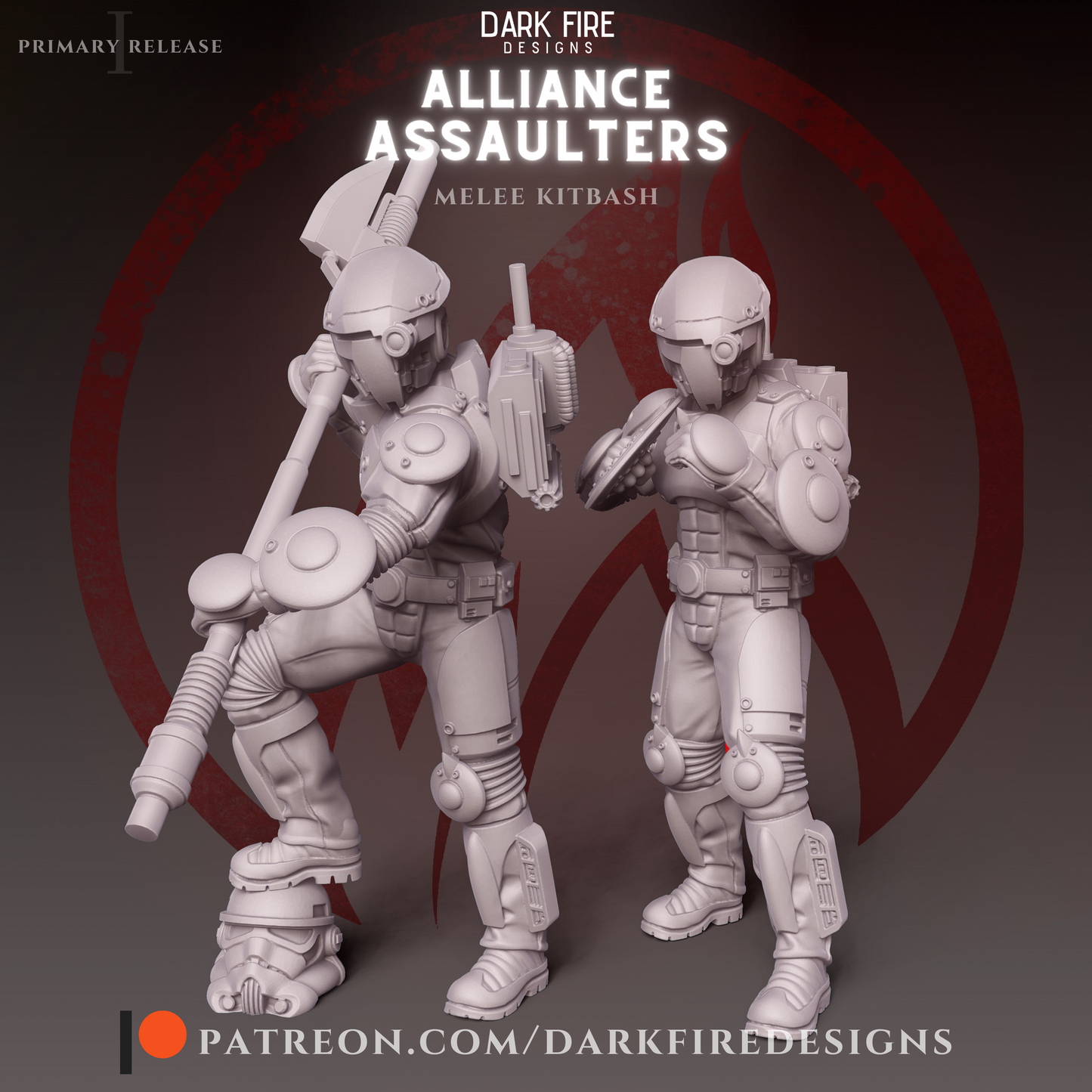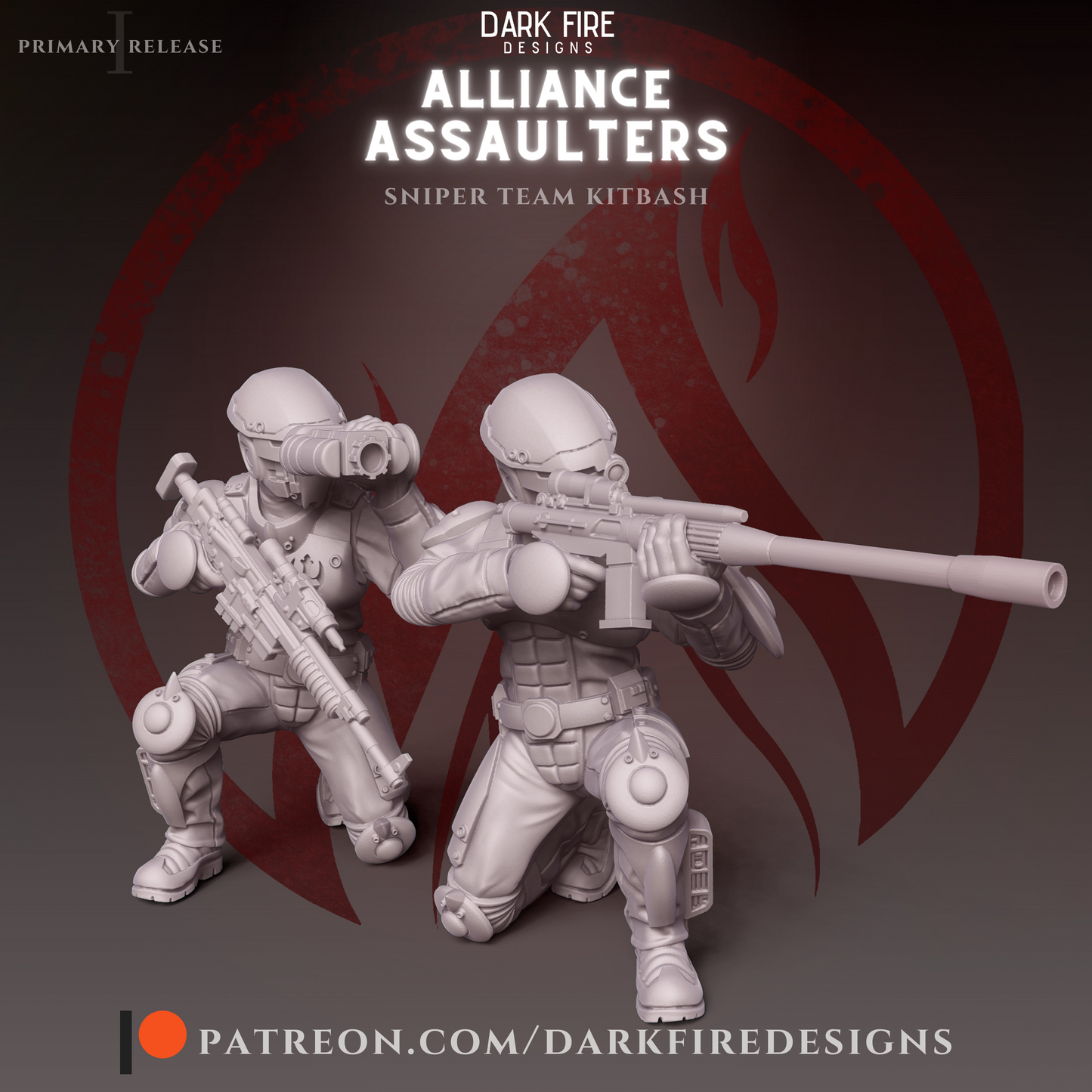 FAQ About Our STL Files
What kind of printers work best for your models?

Our models are specifically designed for Resin SLA and DLP printers.
What scale are your miniatures?

Our miniatures are scaled at 1:46. Our models were created to have more realistic proportions and may appear leaner than Heroic scaled figures.
Can I buy your miniatures without using a 3D Printer? 
What slicer software should I use for printing your stl files?

We strongly recommend using Chitubox to open these files
Where will the files go?

We have an online library on our site! Simply click your account icon at the top of the page.
How do I download my files?

Under Account you'll be taken to your order history page. Simply click the order number and you'll be taken to a download page to recieve your files!