Dark Fire Designs
Alliance Blockade Runner Interior
Regular price
Sale price
$25.00 USD
Unit price
per
Sale
Sold out
"The Rebel blockade runner is the pride of our corporation's military vehicles. With its mess of huge engines, it can whoop any stiff Imperial."
This listing is for the STL files, not the printed miniature.
These small corvettes, also known as the blockade runner, was a small, versatile warship used by the Republic, the Empire, and the Alliance. Manufactured by a leading starfighter engineering corporation, this vessel was 150 meters long and featured a sleek, narrow design. Despite its size, these corvettes are fast and agile, often used for diplomatic missions, light escort duty, and support roles. Notable for its role in the early days of the Alliance, the corvette gained fame during numerous significant battles, particularly a famous ship which played a critical role in the events leading up to the destruction of the Emperor's super weapon.

Looking to bring your favorite sci-fi moments to life? Our Alliance Blockade Runner Interior terrain set is the perfect addition to your wargaming or diorama collection! This fully modular set allows you to recreate some of the most iconic scenes inside these blockade runners, or even invent your own thrilling scenarios.
This versatile kit is perfect for reliving your favorite moments from the galaxy's most desperate struggles, or even creating your own classic sci-fi tropes like exploring abandoned space stations, escaping bug-infested corridors, or uncovering the mysteries of missing colonists. The possibilities are endless!
Crafted with meticulous attention to detail, our Alliance Blockade Runner Interior terrain set will bring your games and displays to life like never before. Don't miss out on this opportunity to take your gaming to the next level!
The original model is made for 1:46 scale and designed to have more realistic proportions and may appear leaner than "heroic scaled" figures.
3d Printers:
We STRONGLY recommend using the Chitubox slicer.
This model is designed for Resin SLA and DLP printers.
Agreement:
Upon purchase, the End-User agrees to print these files for personal use and not for any commercial printing endeavors. Please do not share or sell these files or print to sell after purchase.
This model is not endorsed by or affiliated with Disney or Lucasarts.


Share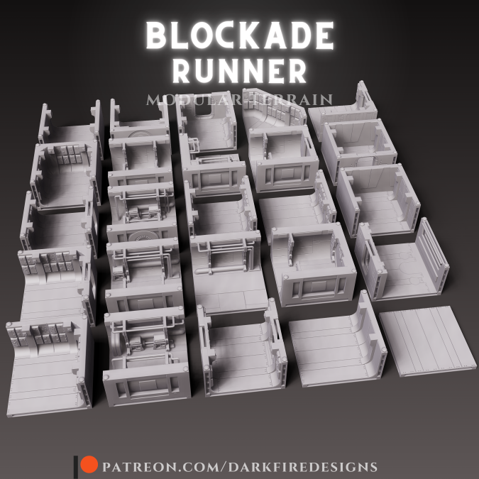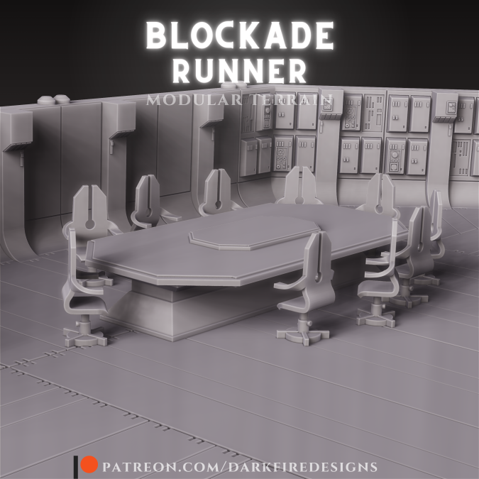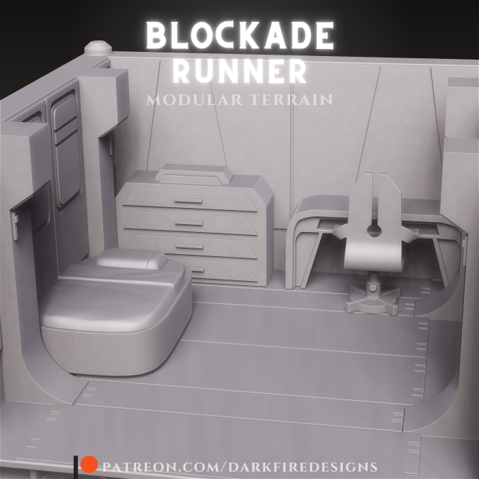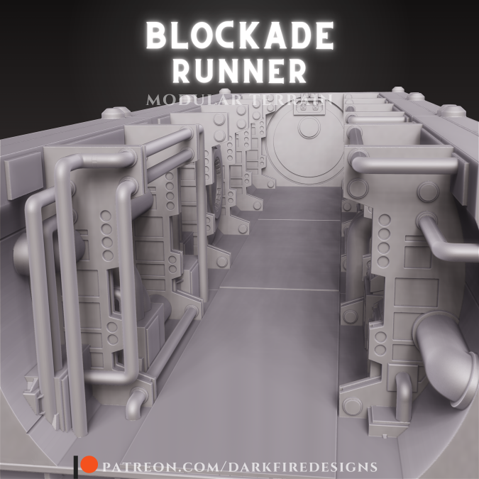 FAQ About Our STL Files
What kind of printers work best for your models?

Our models are specifically designed for Resin SLA and DLP printers.
What scale are your miniatures?

Our miniatures are scaled at 1:46. Our models were created to have more realistic proportions and may appear leaner than Heroic scaled figures.
Can I buy your miniatures without using a 3D Printer? 
What slicer software should I use for printing your stl files?

We strongly recommend using Chitubox to open these files
Where will the files go?

We have an online library on our site! Simply click your account icon at the top of the page.
How do I download my files?

Under Account you'll be taken to your order history page. Simply click the order number and you'll be taken to a download page to recieve your files!