Dark Fire Designs
Alliance Devil Commando
Regular price
Sale price
$3.00 USD
Unit price
per
Sale
Sold out
"I'm here with a score to settle, a bone to pick, if you will."
This listing is for the STL files, not the printed miniature.
Are you on the hunt for an adept mercenary to bolster your indomitable Legion? Or perhaps you're in need of a distinct, hardy character for your upcoming interstellar RPG journey? If your response echoes a firm 'yes', allow me to introduce an extraordinary entity that breaks away from the conventional warrior mold. A character that's not just armed to the teeth but takes it a notch higher—armed, as one might say...to the horns!
This digital model was originally crafted as an intricate kitbash on Darkfire Patreon. The design is as cutting-edge as it is striking, with its horned silhouette casting imposing, long shadows, whether under the dim lighting of a spacecraft interior or under the stark, piercing rays of an alien sun.
This pre-posed figure is a breeze to paint up—there's no need to fret about getting him battle-ready before your next game! His setup is swift and smooth, ensuring that you can deploy him on the gaming table in no time at all. 
The original model is made for 1:46 scale and designed to have more realistic proportions and may appear leaner than "heroic scaled" figures. 3d Printers:
We STRONGLY recommend using the Chitubox slicer.
This model is designed for Resin SLA and DLP printers.
Agreement: Upon purchase, the End-User agrees to print these files for personal use and not for any commercial printing endeavors. Please do not share or sell these files or print to sell after purchase.
This model is not endorsed by or affiliated with Disney or Lucasarts.
Share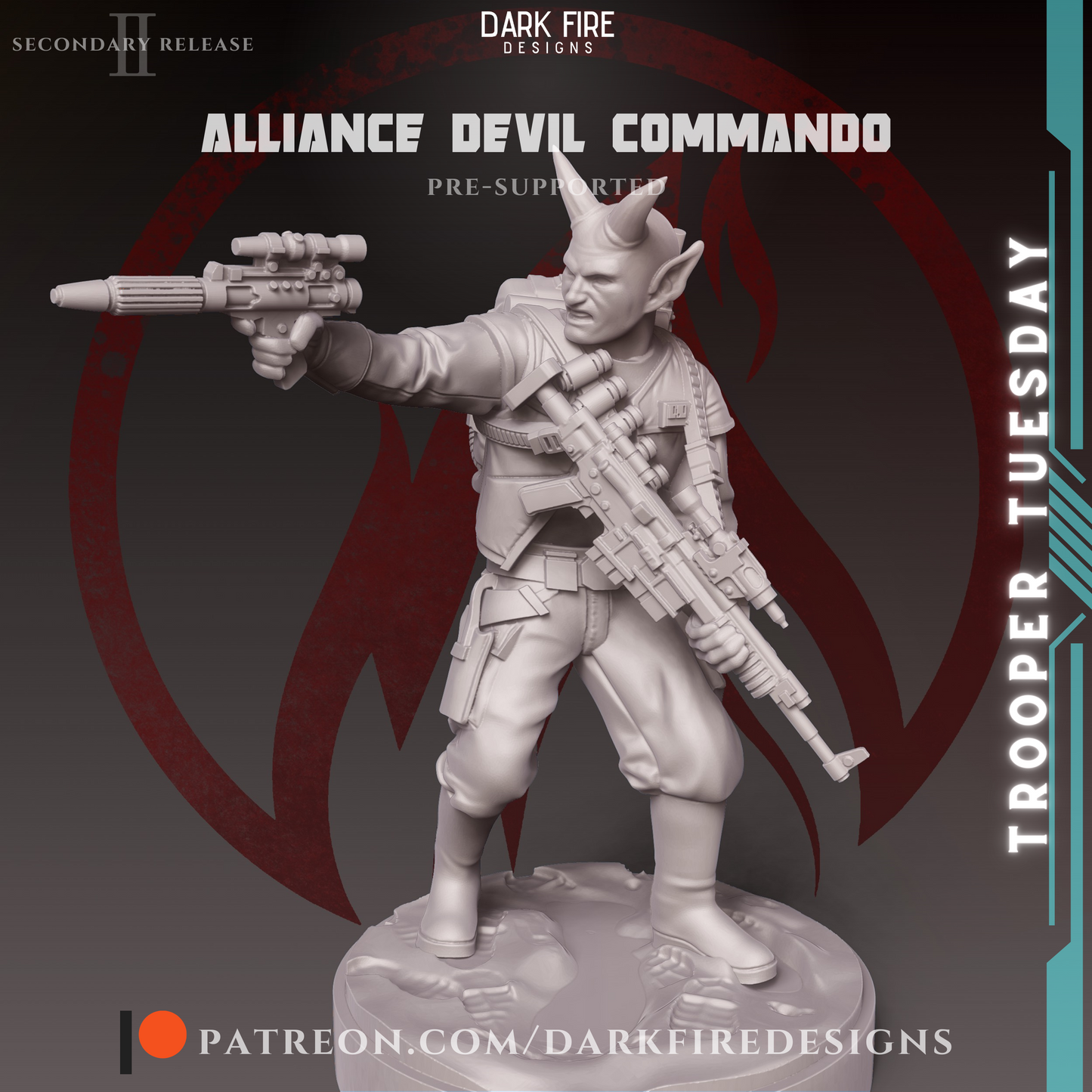 FAQ About Our STL Files
What kind of printers work best for your models?

Our models are specifically designed for Resin SLA and DLP printers.
What scale are your miniatures?

Our miniatures are scaled at 1:46. Our models were created to have more realistic proportions and may appear leaner than Heroic scaled figures.
Can I buy your miniatures without using a 3D Printer? 
What slicer software should I use for printing your stl files?

We strongly recommend using Chitubox to open these files
Where will the files go?

We have an online library on our site! Simply click your account icon at the top of the page.
How do I download my files?

Under Account you'll be taken to your order history page. Simply click the order number and you'll be taken to a download page to recieve your files!