Dark Fire Designs
Alliance Fleet Troopers
Regular price
Sale price
$22.00 USD
Unit price
per
Sale
Sold out
"Here! Here! Take it! Take it!"
This listing is for the STL files, not the printed miniature.
Consular security soldiers joined forces with the Alliance to Restore the Republic, wearing their uniforms as Rebel troopers. They served as security personnel at the main base, guarding senators and dignitaries, attending meetings, and working on various starships. In a pivotal event, these soldiers played a crucial role in securing top-secret plans, which eventually led to the destruction of a notorious battle station.
Following the fall of the Empire, the Alliance transitioned into the New Republic, and some soldiers continued to wear helmets similar to those of the consular security soldiers. Their uniforms consisted of pale blue shirts, grey trousers, black boots, a black spacer vest, and a distinctive white helmet. Officers wore a light brown jacket, shirt, pants, and a brown belt.

Secure your position and fortify your collection with the Alliance Fleet Trooper Model Kit! These steadfast soldiers are prepared to make the ultimate sacrifice, securing any plans necessary for the alliance's victory.
This modular kit offers endless customization options, allowing you to create a truly unique squad or add variety to your existing collection. With five pre-posed models included, assembling your loyal defenders is a breeze. Plus, you can mix and match this kit with any other Modular Dark Fire kit to create even more distinctive models.
Embrace the spirit of these unwavering protectors and enhance your tabletop gaming experience. Add the Alliance Fleet Trooper Model Kit to your collection today, and let them safeguard your galaxy far, far away!
This pack gives you five unique modular Alliance Fleet Troopers  and is designed for resin 3d printers.
Besides pre-supported and standard STLs this kit includes:
Parts and equipment to add a variety of load outs to any Fleet Trooper or Security forces in your collection.
A large collection Alternative heads for your squad with and without helmets.
Prebuilt versions and modular kits for Alliance Fleet Troopers.
Add more variety to your Fleet Troopers by combining them with other modular kits from Dark Fire Designs.
The original model is made for 1:46 scale and designed to have more realistic proportions and may appear leaner than "heroic scaled" figures.
3d Printers:
We STRONGLY recommend using the Chitubox slicer.
This model is designed for Resin SLA and DLP printers.
Agreement:
Upon purchase, the End-User agrees to print these files for personal use and not for any commercial printing endeavors. Please do not share or sell these files or print to sell after purchase.
This model is not endorsed by or affiliated with Disney or Lucasarts.
Share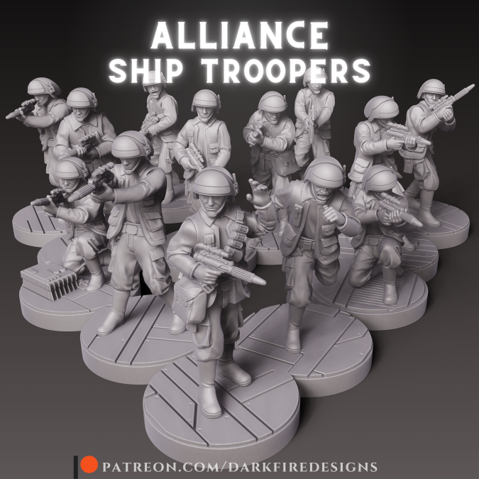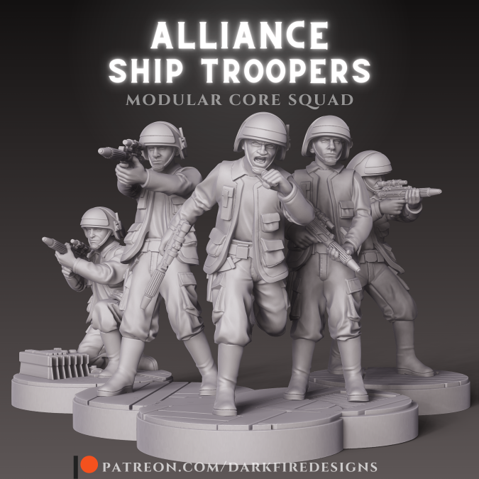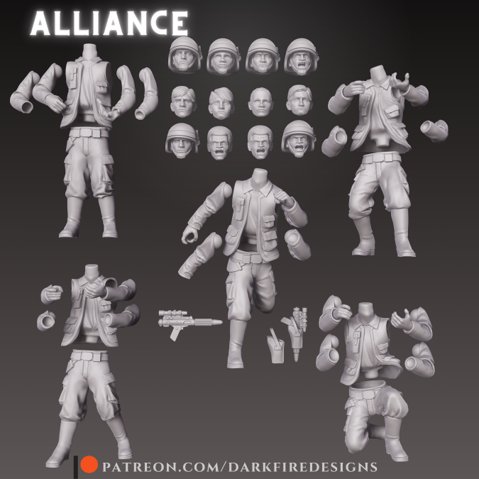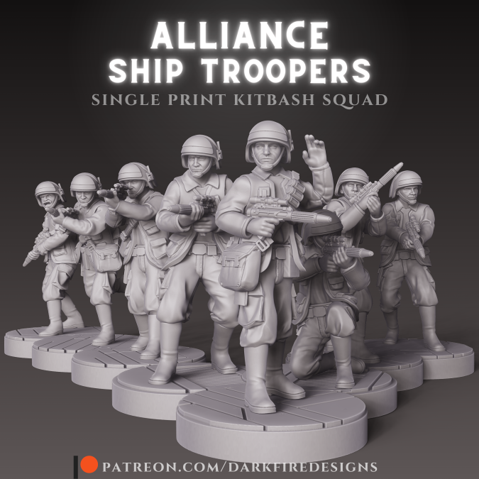 FAQ About Our STL Files
What kind of printers work best for your models?

Our models are specifically designed for Resin SLA and DLP printers.
What scale are your miniatures?

Our miniatures are scaled at 1:46. Our models were created to have more realistic proportions and may appear leaner than Heroic scaled figures.
Can I buy your miniatures without using a 3D Printer? 
What slicer software should I use for printing your stl files?

We strongly recommend using Chitubox to open these files
Where will the files go?

We have an online library on our site! Simply click your account icon at the top of the page.
How do I download my files?

Under Account you'll be taken to your order history page. Simply click the order number and you'll be taken to a download page to recieve your files!