Dark Fire Designs
Alliance Senator
Regular price
Sale price
$13.00 USD
Unit price
per
Sale
Sold out
"War is not a state of being. It is meant to be a temporary chaos between periods of peace. Some want it to be the course of things: a default fact of existence. But I will not let that be so."
This listing is for the STL files, not the printed miniature.
This Senator is a dedicated politician and visionary leader, tirelessly advocated for peace and democracy during the waning years of the Republic. As a key figure in founding the Alliance, she contributed to the defeat of the Empire and the return of Democracy in the galaxy. Amidst personal and political obstacles, She remained steadfast, guiding the Alliance through the Civil War and serving as the New Government's inaugural Chancellor. A paragon of resilience and leadership, she left an indelible mark on the galaxy's history
The Alliance Senate Leader model, inspired by the iconic champion of democracy! This action-packed set features three dynamic poses: Heroic, Oratorical, and Casual. Whether you're commanding diplomatic missions or crafting epic scenarios, this model is perfect for wargaming tables, tabletop RPGs, or adding a touch of rebellion to your hobby collection.
But wait, there's more! This model file comes with an exclusive statue dedicated to the esteemed senator, honoring her unwavering service to the galaxy. Additionally, elevate your terrain collection with her very own flying senate platform.
So, what are you waiting for? Seize the opportunity to bring home this legendary character, a force to be reckoned with in a galaxy far, far away! Infuse your gaming sessions or collection with heroism, valor, and the indomitable spirit of the Alliance Senate Leader. Download the model set now and embark on your own interstellar adventures!
This is a model that is already set up and ready to use, and it comes in the standard STL file format and pre-supported. It's designed to be easy to assemble and quick to paint, so you can get your miniatures ready for tabletop in no time!
The original model is made for 1:46 scale and designed to have more realistic proportions and may appear leaner than "heroic scaled" figures.
3d Printers:
We STRONGLY recommend using the Chitubox slicer.
This model is designed for Resin SLA and DLP printers.
Agreement:
Upon purchase, the End-User agrees to print these files for personal use and not for any commercial printing endeavors. Please do not share or sell these files or print to sell after purchase.
This model is not endorsed by or affiliated with Disney or Lucasarts.
Share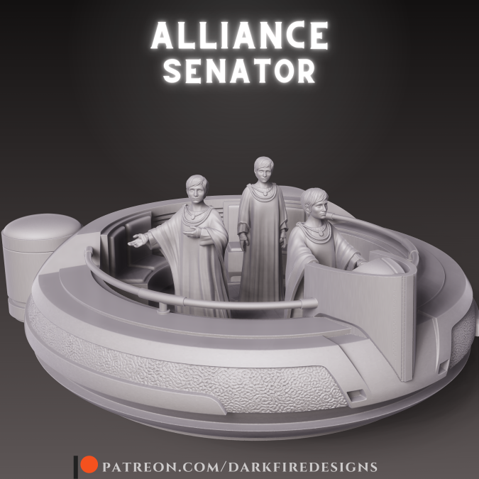 FAQ About Our STL Files
What kind of printers work best for your models?

Our models are specifically designed for Resin SLA and DLP printers.
What scale are your miniatures?

Our miniatures are scaled at 1:46. Our models were created to have more realistic proportions and may appear leaner than Heroic scaled figures.
Can I buy your miniatures without using a 3D Printer? 
What slicer software should I use for printing your stl files?

We strongly recommend using Chitubox to open these files
Where will the files go?

We have an online library on our site! Simply click your account icon at the top of the page.
How do I download my files?

Under Account you'll be taken to your order history page. Simply click the order number and you'll be taken to a download page to recieve your files!