Dark Fire Designs
Alliance Spec-Op Pilot
Regular price
Sale price
$3.00 USD
Unit price
per
Sale
Sold out
"Sometimes I envy pilots like you, traveling through the stars. You can always leave your problems far behind you."

Please note that this listing is for the STL files, not the printed miniature.

Alliance Spec Ops Pilots holds a pivotal roles in the vast tapestry of spacefaring. As they delve into the universe, these individuals are the masters of their craft. Skilled in the art of piloting, they navigate the cosmos with precision and courage. While smaller spacecraft might require them to be jacks-of-all-trades, commanding everything from navigation to weaponry, larger vessels often see them coordinating with fellow crew members to manage complex ship systems.

The Alliance Spec Ops Pilot, a digital STL model kit by Dark Fire Designs, propels you into the epicenter of spacefaring adventures. Originally released in the November 2023 Patreon release as a secondary release, this kit showcases a pre-supported model with an intimidating pose. Whether you're a fervent tabletop gamer, a diorama enthusiast, or a meticulous scale model hobbyist, the Alliance Spec Ops Pilot is your gateway to thrilling storytelling.

Whether you're planning daring starfighter sorties or crafting intricate dioramas, the Alliance Spec Ops Pilot is the ideal addition to your collection. This pre-supported model, featuring a striking pose, captures the essence of these intrepid pilots. With their unwavering dedication, they rise to the challenge of every mission, ensuring that the stars remain a bastion of hope. Add this model to your collection and let it become a symbol of courage and exploration.

Please keep in mind that the original model is designed for 1:46 scale, emphasizing realistic proportions that may appear leaner than "heroic scaled" figures. For the best results, we strongly recommend using the Chitubox slicer and Resin SLA or DLP printers.

By purchasing this model, you agree to use these files for personal enjoyment only, refraining from any commercial printing endeavors. Sharing or selling these files or printed copies is strictly prohibited. Rest assured that this model is an independent creation and is not endorsed by or affiliated with any specific sci-fi franchise.

Celebrate the Alliance Spec Ops Pilot and embark on missions that defy the limits of space. Let your imagination take flight as you build and paint this iconic figure, making it a centerpiece of your tabletop gaming or diorama collection. Join the ranks of those who honor the pioneers of the stars and embrace the hero within you. The cosmos beckons; seize the adventure with the Alliance Spec Ops Pilot.
Share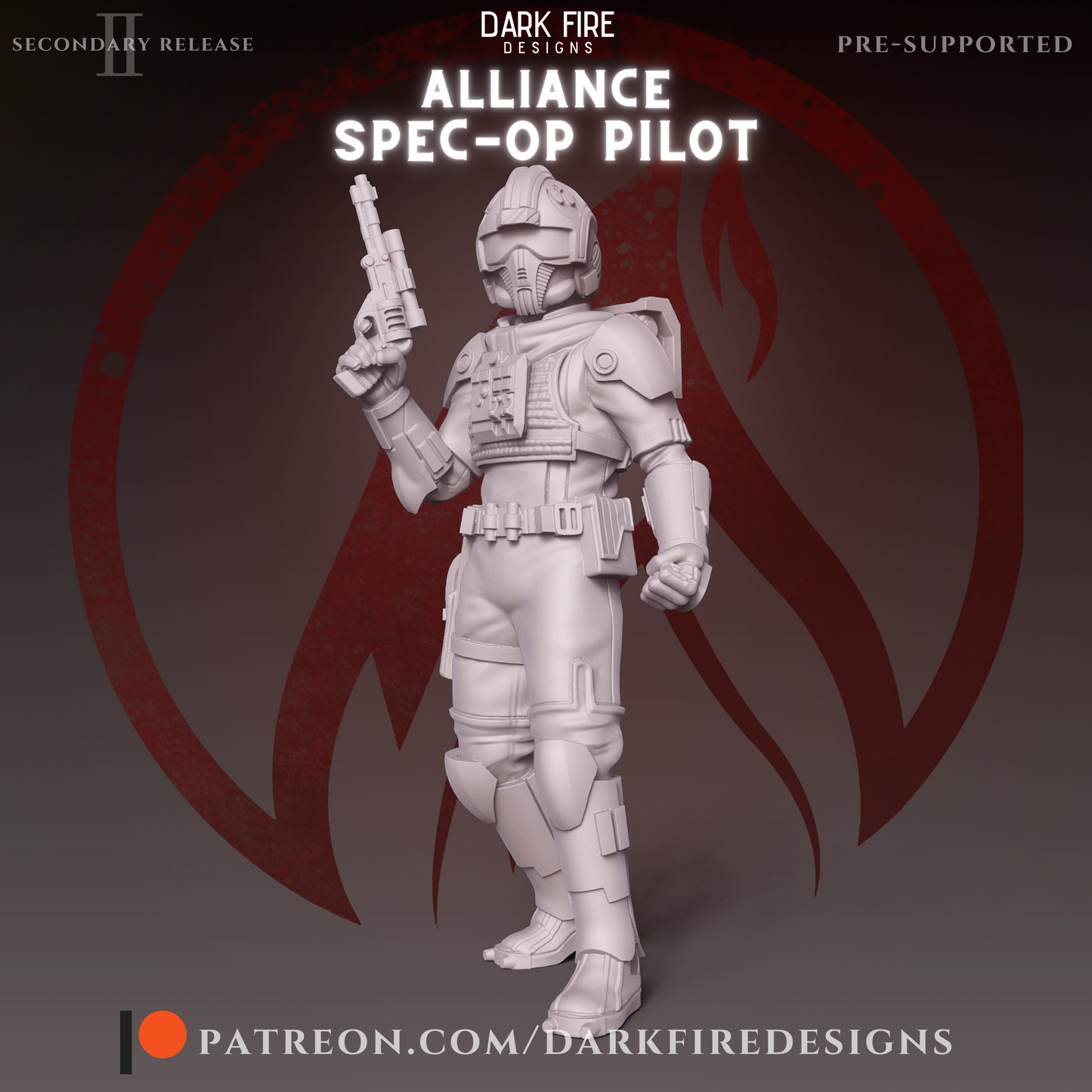 FAQ About Our STL Files
What kind of printers work best for your models?

Our models are specifically designed for Resin SLA and DLP printers.
What scale are your miniatures?

Our miniatures are scaled at 1:46. Our models were created to have more realistic proportions and may appear leaner than Heroic scaled figures.
Can I buy your miniatures without using a 3D Printer? 
What slicer software should I use for printing your stl files?

We strongly recommend using Chitubox to open these files
Where will the files go?

We have an online library on our site! Simply click your account icon at the top of the page.
How do I download my files?

Under Account you'll be taken to your order history page. Simply click the order number and you'll be taken to a download page to recieve your files!