Dark Fire Designs
Alliance Starfighter
Regular price
Sale price
$18.00 USD
Unit price
per
Sale
Sold out
***UPDATE***
September 4, 2021
Fixed the supported BodyBack so that the slot for the astromech will print properly
Thanks
Ty
******
***UPDATE***
May 17, 2021
Fixed the scaling issues with two wings of the unsupported wings
Thanks
Ty
******
***UPDATE***
Mar 25, 2021
I have included the top two wings in the unsupported folder.
Thanks
Ty
******
***UPDATE***
Mar 7, 2021
Adjusted the scale, and adjusted the joint so that the wings open and close easier
Thanks
Ty
******
***UPDATE***
Dec 9, 2020
Updated the supported folder to include the bottom two wings
Thanks
Ty
******
***UPDATE***
Dec 7, 2020
Adjusted the landing gears inserts so that they fit better into the fuselage and wings.
Adjusted the pivot rod on the back body, so that the pivots fit easier/ looser
Thanks
Ty
******
No supports required! All parts are ready to upload into a slicer!
AT THIS TIME WE DO NOT HAVE A FDM VERSION AVAILABLE. THIS IS FOR RESIN PRINTERS ONLY.
This Starfighter is articulated! The wings open and close.
All parts will fit onto Anycubic Photons, Elegoo Mars, or similarly sized printers.
Designed for Resin SLA, and DLP printers. The original model is made for 1:46 scale. Models may be scaled for 32mm gaming by reducing each file to 90%. Our models were created to have more realistic proportions. 
It has been designed to fit onto Games Worksop Flying Bases
https://www.games-workshop.com/en-US/Flying-Stem-and-Base
Recommended Settings: 
*Resin Printers*
Layer Height: 0.04 to 0.15mm depending on preference
Comes either pre-supported or unsupported.
***If you decide to support and print the unsupported files, be sure to hollow out each piece, allowing for a 2-3mm wall. Add plenty of drain holes. additional supports may be required for the insides of interior sections***
Contains 28 files, including 1 pilot miniature, with a separate head/helmet as well as his trusty astromech!
Perfect for tabletop gaming, wargaming, dioramas, and hobbyists. Everything in our webstore is completely unofficial. It is not endorsed by or affiliated with Disney or Lucasarts.
Please let us know if you are experiencing any issues with your files! 
We have worked on these for over a year, and are excited for you to build your armada!

Please do not share or sell these files or print to sell after purchase
-Upon purchase, the End-User agrees to print these files for personal use and not for any commercial printing endeavors
Share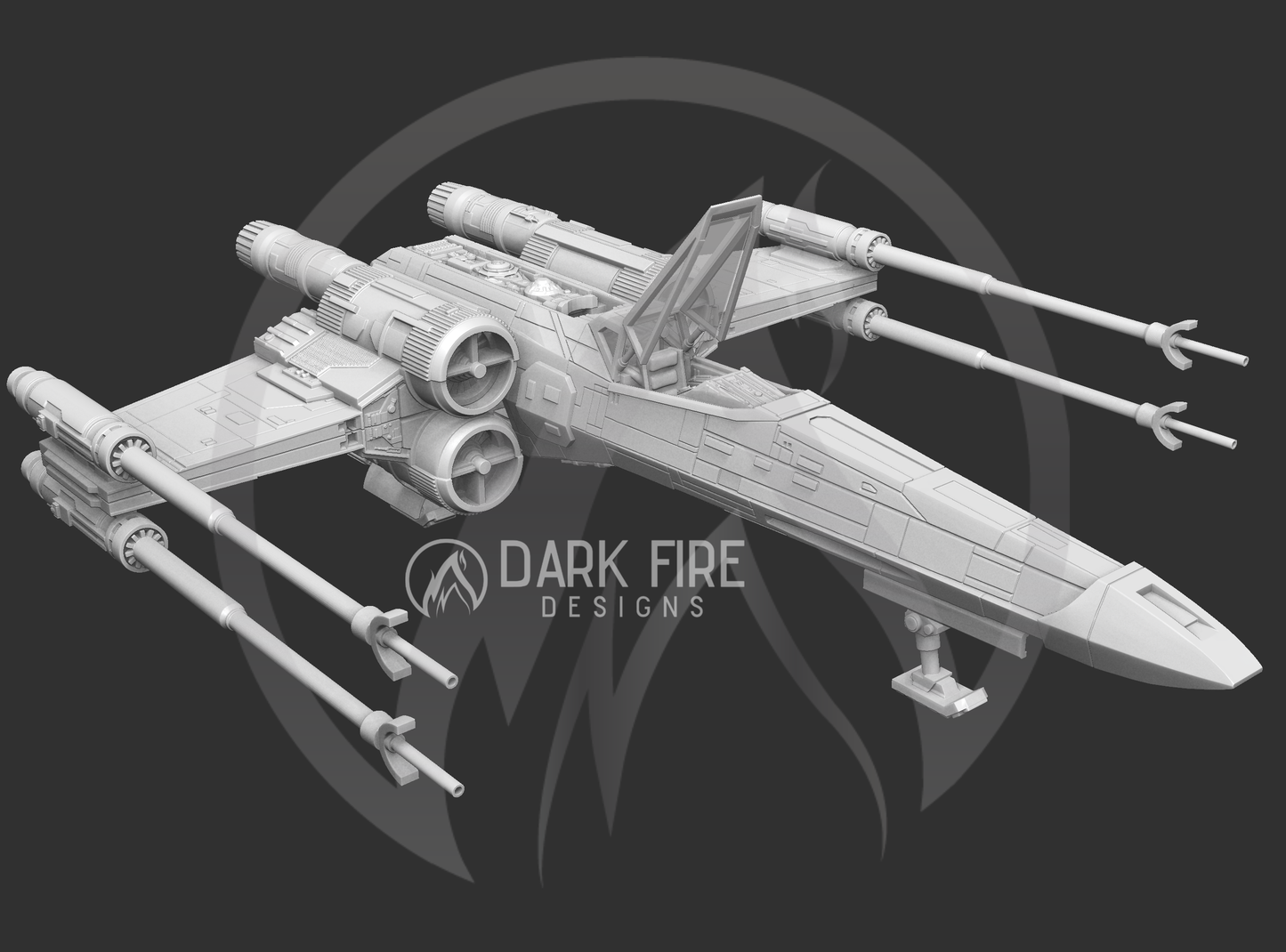 FAQ About Our STL Files
What kind of printers work best for your models?

Our models are specifically designed for Resin SLA and DLP printers.
What scale are your miniatures?

Our miniatures are scaled at 1:46. Our models were created to have more realistic proportions and may appear leaner than Heroic scaled figures.
Can I buy your miniatures without using a 3D Printer? 
What slicer software should I use for printing your stl files?

We strongly recommend using Chitubox to open these files
Where will the files go?

We have an online library on our site! Simply click your account icon at the top of the page.
How do I download my files?

Under Account you'll be taken to your order history page. Simply click the order number and you'll be taken to a download page to recieve your files!