Dark Fire Designs
Alliance Stunt Fighter
Regular price
Sale price
$22.00 USD
Unit price
per
Sale
Sold out
"Quick as a comet and nimble as a star-dancer, the Alliance Stunt Fighter is a marvel of the skies."
This listing is for the STL files, not the printed miniature.
The Alliance Stunt Fighter, a symbol of agility and speed, is one of the fastest starships in the galaxy. This nimble vessel is designed for pilots who push the limits of possibility, its sleek lines and compact design facilitating daring feats of aerial acrobatics. Equipped with advanced weaponry, the Stunt Fighter can hold its own in a dogfight, but its real strength lies in its ability to outmaneuver opponents with breathtaking speed and precision.
Add this iconic ship to your tabletop gaming collection and turn the tide of your space battles! Download the STL files for your 3D printer and bring the Alliance Stunt Fighter to life. Let this vessel dash across your gaming table, its speed and maneuverability unmatched. Imagine the thrill of commanding such a swift and nimble starship, defying the odds and outpacing your opponents in every encounter.
This static model of the Alliance Stunt Fighter comes with the following features:
The model is designed for easy printing and quick assembly, so you can bring the thrill of interstellar dogfights to your tabletop without delay.
The model includes a male and female pilot for a seated and casual poses.
The Alliance Stunt Fighter is a fantastic centerpiece in your legion, adding a touch of audacious speed and daring to your collection.
The original model is made for 1:46 scale and designed to have more realistic proportions and may appear leaner than "heroic scaled" figures. 3d Printers: We STRONGLY recommend using the Chitubox slicer. This model is designed for Resin SLA and DLP printers. Agreement: Upon purchase, the End-User agrees to print these files for personal use and not for any commercial printing endeavors. Please do not share or sell these files or print to sell after purchase. This model is not endorsed by or affiliated with Disney or Lucasarts.
Share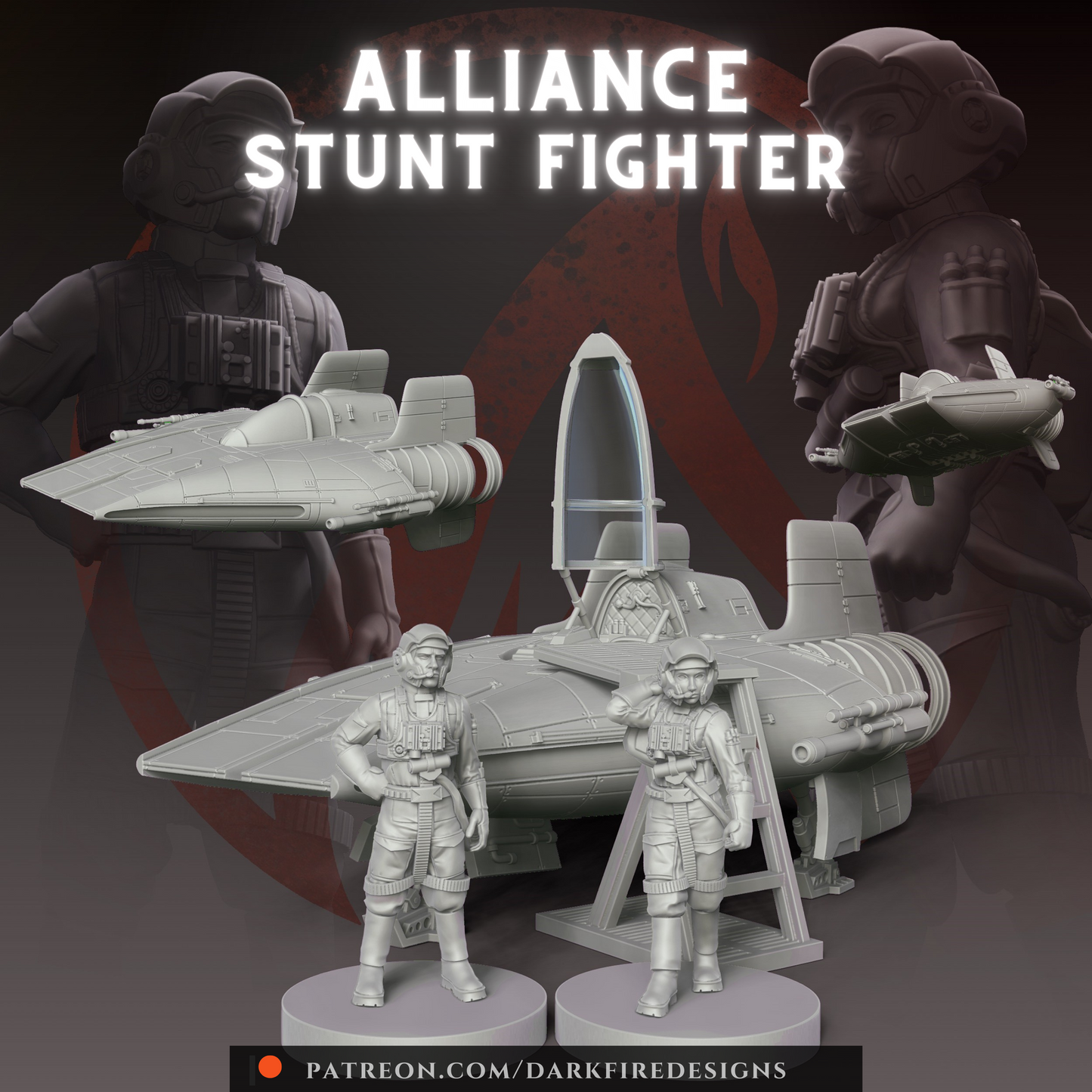 FAQ About Our STL Files
What kind of printers work best for your models?

Our models are specifically designed for Resin SLA and DLP printers.
What scale are your miniatures?

Our miniatures are scaled at 1:46. Our models were created to have more realistic proportions and may appear leaner than Heroic scaled figures.
Can I buy your miniatures without using a 3D Printer? 
What slicer software should I use for printing your stl files?

We strongly recommend using Chitubox to open these files
Where will the files go?

We have an online library on our site! Simply click your account icon at the top of the page.
How do I download my files?

Under Account you'll be taken to your order history page. Simply click the order number and you'll be taken to a download page to recieve your files!