Dark Fire Designs
Alliance Zedhunter
Regular price
Sale price
$22.00 USD
Unit price
per
Sale
Sold out
"The Zedhunter starfighters seen in the holovid could have come from anywhere."

Please note that this listing is for the STL files, not the printed miniature.

This starfighter, though recognized as a respectable and versatile snub-fighter of its era, carries its own unique charm. With two pairs of engines and the possibility of retrofitting a hyperdrive, it offers endurance and adaptability to match any scenario. However, its lack of an astromech socket means you'll need to pre-program hyperspace routes or rely on jump coordinates provided by data chips, adding an extra layer of strategy to your missions.

Despite its quirks, the Zedhunter packs a punch with wingtip-mounted blaster cannons, concussion missile launchers, and a center-mounted ion cannon capable of penetrating deflector shields. It's a forerunner of iconic starfighters like the T-65B X-wing, and its legacy lives on through countless variants.

Whether you're engaging in legion scale wargames or crafting standalone dioramas, the Zedhunter is the perfect addition to your collection. Its finely detailed exterior and interior allow you to recreate epic battles and daring dogfights. Take to the skies and become the hero of your own sci-fi adventure.

The Alliance Zedhunter, a digital STL model kit by Dark Fire Designs, takes you on a journey to a galaxy where starfighters are the ultimate expression of freedom and power. Originally released in the November 2023 Patreon release, this kit brings you a preposed pilot model with an intricately detailed exterior and interior. Whether you're a fan of tabletop gaming, diorama creation, or scale model hobbyist, the Zedhunter is your ticket to immersive storytelling.

Please keep in mind that the original model is designed for 1:46 scale, emphasizing realistic proportions that may appear leaner than "heroic scaled" figures. For the best results, we strongly recommend using the Chitubox slicer and Resin SLA or DLP printers.

By purchasing this model, you agree to use these files for personal enjoyment only, refraining from any commercial printing endeavors. Sharing or selling these files or printed copies is strictly prohibited. Rest assured that this model is an independent creation and is not endorsed by or affiliated with Disney or Lucasarts.

Embrace the allure of the Alliance Zedhunter and embark on adventures across the stars. Let your creativity take flight as you build and paint this iconic starfighter, making it a centerpiece of your tabletop gaming or diorama collection. May your imagination soar as high as the stars themselves.
Share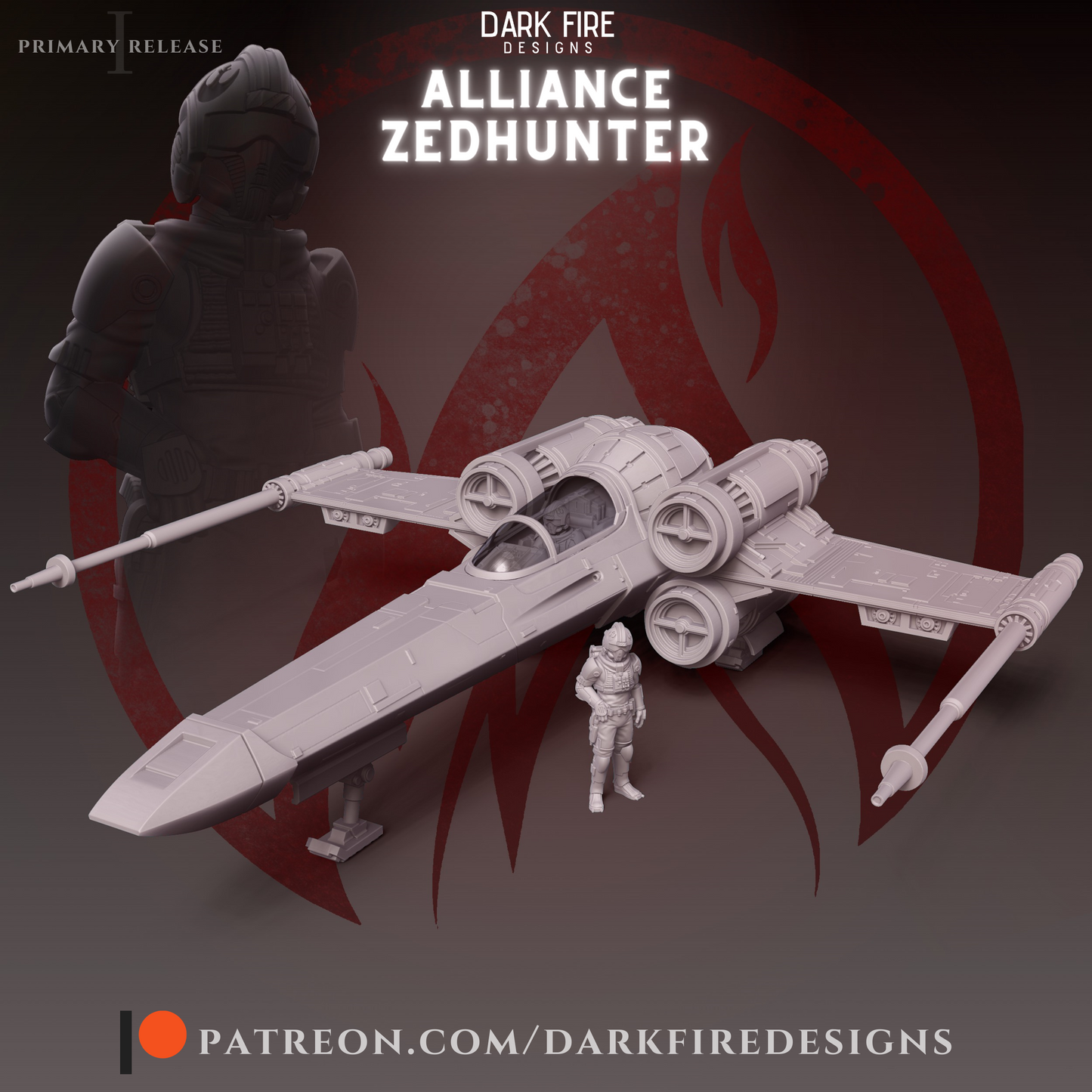 FAQ About Our STL Files
What kind of printers work best for your models?

Our models are specifically designed for Resin SLA and DLP printers.
What scale are your miniatures?

Our miniatures are scaled at 1:46. Our models were created to have more realistic proportions and may appear leaner than Heroic scaled figures.
Can I buy your miniatures without using a 3D Printer? 
What slicer software should I use for printing your stl files?

We strongly recommend using Chitubox to open these files
Where will the files go?

We have an online library on our site! Simply click your account icon at the top of the page.
How do I download my files?

Under Account you'll be taken to your order history page. Simply click the order number and you'll be taken to a download page to recieve your files!