Dark Fire Designs
Alpha Legion Scale
Regular price
Sale price
$13.00 USD
Unit price
per
Sale
Sold out
"The weight of duty is heavy, but the call to serve is unyielding."
Alpha, an elite Advanced Recon Trooper, showcased his valor during a critical defense of the Republic army's coastal headquarters against a fierce droid assault. Demonstrating unparalleled tactical skill, he collaborated with the Republic's esteemed leaders and war heroes. Together, they achieved numerous triumphs, ranging from repelling adversaries to undertaking missions on a ravaged colony moon. It was during one such hazardous assignment that he was christened "Alpha."
As battles raged on, a sorrowful turn of events made many believe that Alpha had fallen. In reality, he had been captured and subjected to intense torment. After a bold escape, he returned to his homeland and assumed a key role as the chief instructor at the Republic Army's training center, shaping the next generation of top-tier commanders. However, destiny had other plans for him, pushing him into direct confrontation with a formidable enemy general, culminating in a mysterious disappearance, rendering him Missing in Action.
This listing is for the STL files, not the printed miniature.
Our Alpha Model is expertly crafted to elevate your tabletop legion with three dynamic poses. First up, we have the Tactical Insertion Pose, where Alpha makes a grand entrance, poised to dominate a tumultuous battlefield. This pose perfectly complements our unique base that showcases fallen separatist adversaries, capturing a vivid moment of triumph and anticipation. Next, Alpha's Intimidating Casual Pose exudes undaunted spirit and confidence, a stance that quietly screams authority. Finally, we present the Action Pose, immersing you directly into the heat of combat, with Alpha ready to face any challenge head-on. Designed for hassle-free printing and painting, you can quickly reinforce your legion and prep for an epic tabletop showdown.
The original model is made for 1:46 scale and designed to have more realistic proportions and may appear leaner than "heroic scaled" figures. 3d Printers:
We STRONGLY recommend using the Chitubox slicer.
This model is designed for Resin SLA and DLP printers.
Agreement: Upon purchase, the End-User agrees to print these files for personal use and not for any commercial printing endeavors. Please do not share or sell these files or print to sell after purchase.
This model is not endorsed by or affiliated with Disney or Lucasarts.
Share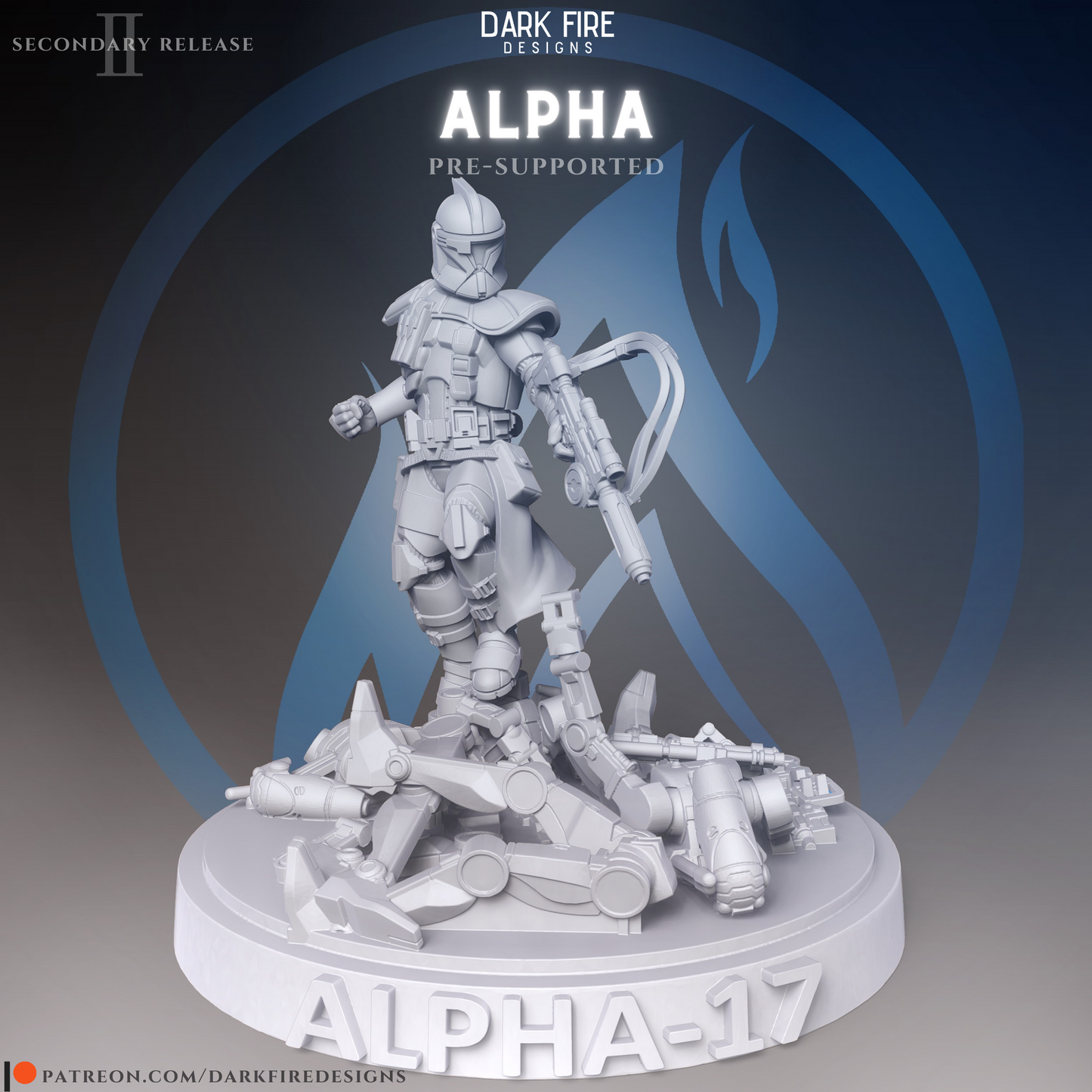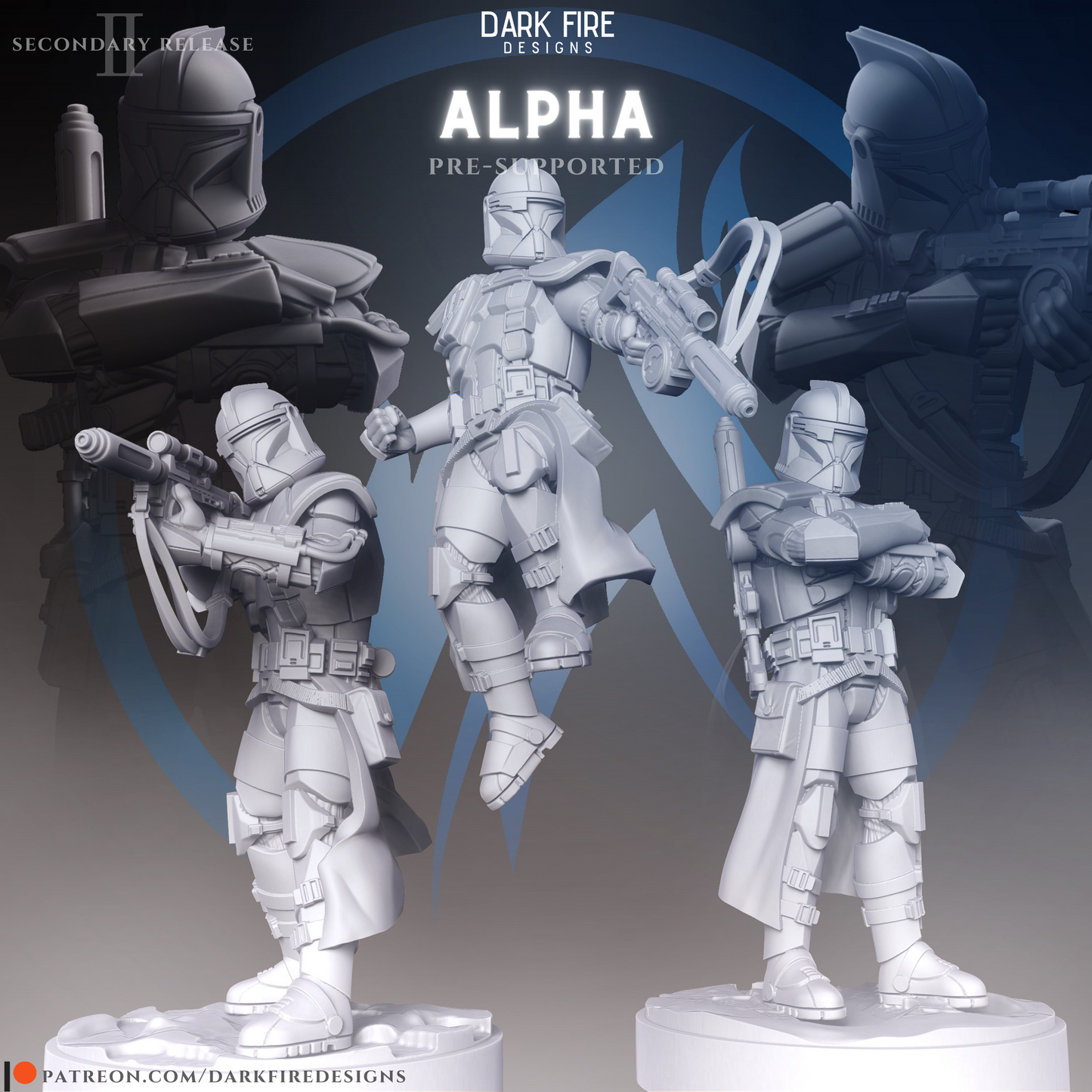 FAQ About Our STL Files
What kind of printers work best for your models?

Our models are specifically designed for Resin SLA and DLP printers.
What scale are your miniatures?

Our miniatures are scaled at 1:46. Our models were created to have more realistic proportions and may appear leaner than Heroic scaled figures.
Can I buy your miniatures without using a 3D Printer? 
What slicer software should I use for printing your stl files?

We strongly recommend using Chitubox to open these files
Where will the files go?

We have an online library on our site! Simply click your account icon at the top of the page.
How do I download my files?

Under Account you'll be taken to your order history page. Simply click the order number and you'll be taken to a download page to recieve your files!