Dark Fire Designs
Casual Republic Troopers
Regular price
Sale price
$9.00 USD
Unit price
per
Sale
Sold out
"Look alert trooper!"
This listing is for the STL files, not the printed miniature.
There are small calms amidst the storm, the necessary respite in the midst of unending conflict. Clad in their recognizable armor, these brave defenders are captured in a moment of tranquility, a rare sight on the tumultuous battlefield. Even off duty, their steadfast resolve and unwavering duty shine through. These vignettes offer a candid glimpse into the lives of the warriors when they are not engaged in fierce combats, offering a poignant and humanizing angle to their otherwise formidable personas.
Now, let's talk about bringing these guys into your fold. Dark Fire Designs has crafted these STL files with the utmost care and attention to detail. Picture them, printed out from your home 3D printer - these static trooper kits, Troopers in off-duty moments. They're perfect for adding some personality to your legion, don't you think?
And the best part? With these pre-posed models, you'll have them printed and painted in a flash. Imagine seeing them on your tabletop, ready for action or taking that well-deserved rest.
So, why wait? Download the Casual Republic Troopers STL files today. Bring these heroes-at-rest into your collection and watch them add depth to your game!
The original model is made for 1:46 scale and designed to have more realistic proportions and may appear leaner than "heroic scaled" figures. For 3D printers, we STRONGLY recommend using the Chitubox slicer. This model is designed for Resin SLA and DLP printers.
Don't miss this chance to add these unique, off-duty heroes to your collection. Download the Casual Republic Troopers today!
Agreement: Upon purchase, the End-User agrees to print these files for personal use and not for any commercial printing endeavors. Please do not share or sell these files or print to sell after purchase. This model is not endorsed by or affiliated with Disney or Lucasarts.
Share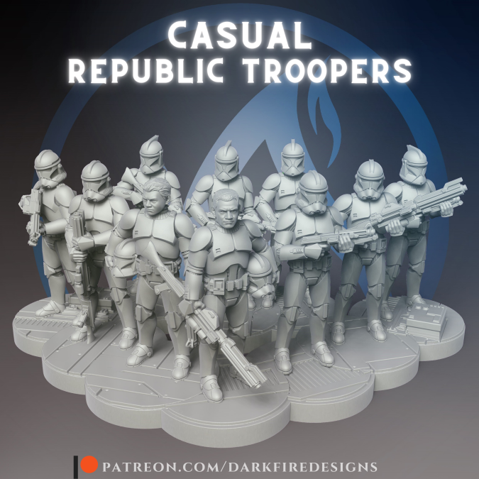 FAQ About Our STL Files
What kind of printers work best for your models?

Our models are specifically designed for Resin SLA and DLP printers.
What scale are your miniatures?

Our miniatures are scaled at 1:46. Our models were created to have more realistic proportions and may appear leaner than Heroic scaled figures.
Can I buy your miniatures without using a 3D Printer? 
What slicer software should I use for printing your stl files?

We strongly recommend using Chitubox to open these files
Where will the files go?

We have an online library on our site! Simply click your account icon at the top of the page.
How do I download my files?

Under Account you'll be taken to your order history page. Simply click the order number and you'll be taken to a download page to recieve your files!