Dark Fire Designs
Commando Squad
Regular price
Sale price
$15.00 USD
Unit price
per
Sale
Sold out
"Think of yourselves as a hand. Each of you is a finger, and without the others you're useless. Alone, a finger can't grasp, or control, or form a fist. You are nothing on your own, and everything together."
This listing is for the STL files, not the printed miniature.
Republic Commandos, are elite troopers of Republic. Drawn from the best stock of troopers from the Republic the troopers selected for the commando program are trained by the best drill sergeants to become the deadliest soldiers in the galaxy. Often working in close knit squads, commandos are assigned to carry out special operations that the average trooper couldn't handle. These missions include covert infiltration, sabotage, demolition and assassination, all of which are standard tasks for the Republic commandos.
New Kit: Fully modular kit to make Five unique Commandos this kit also includes LED options for lighting the Commando's helmets. 
Vintage Kit: Included are a total of 14 files, 7 raw stl files of the model, and 7 stl files which have supports added
The helmets and backpacks have been separated from the bodies for posing and customization.
Specifically for Resin SLA and DLP printers. The original model is made for 1:47 scale. Models may be scaled to 32mm by reducing to 90%. Our models were created to have more realistic proportions and may appear leaner than Heroic scaled figures.
Perfect for table top gaming, wargaming, dioramas, and hobbyists. Everything in our webstore is completely unofficial. It is not endorsed by or affiliated with Star Wars, Disney, or Lucasarts.

These files are meant for personal use. Please do not share or resell.
Share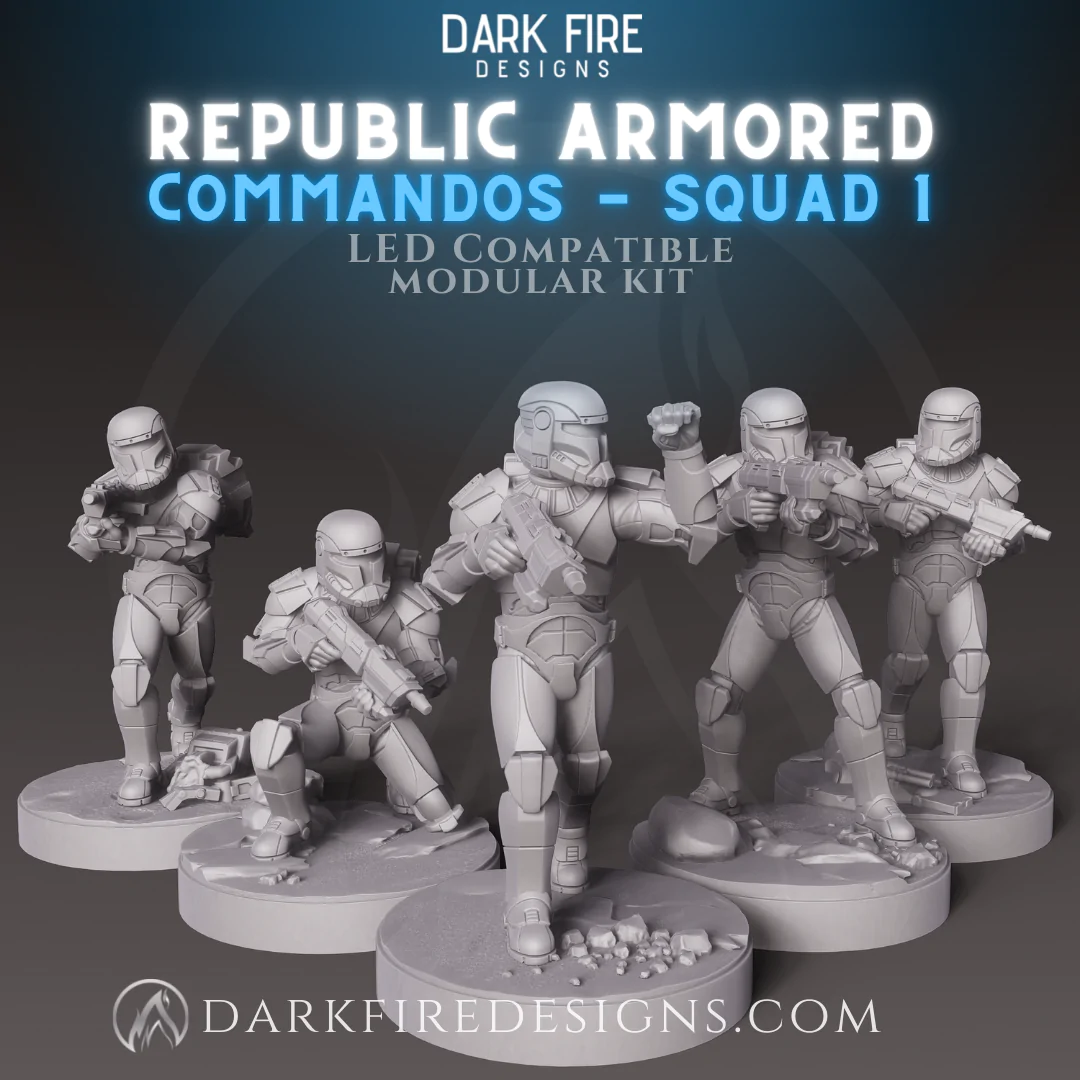 FAQ About Our STL Files
What kind of printers work best for your models?

Our models are specifically designed for Resin SLA and DLP printers.
What scale are your miniatures?

Our miniatures are scaled at 1:46. Our models were created to have more realistic proportions and may appear leaner than Heroic scaled figures.
Can I buy your miniatures without using a 3D Printer? 
What slicer software should I use for printing your stl files?

We strongly recommend using Chitubox to open these files
Where will the files go?

We have an online library on our site! Simply click your account icon at the top of the page.
How do I download my files?

Under Account you'll be taken to your order history page. Simply click the order number and you'll be taken to a download page to recieve your files!