Dark Fire Designs
Confederate Banker Bots
Regular price
Sale price
$22.00 USD
Unit price
per
Sale
Sold out
"These Banker Bots, meticulously designed in the likeness of their astute creators, stand as icons of sophisticated warfare. It's imperative we integrate them into our force!"
This listing is for the STL files, not the printed miniature.
Elegantly towering in stature, the Banker Bots epitomize the creativity and skill of the exclusive engineers behind their inception. Superior to the regular battle automatons, these bots wield powerful energy lances and anti-vehicle mines, often taking the lead atop their swift swoop bikes. Their birth can be traced back to the audacious aspirations of a Banking Guild-supported weapons corporation. When they sought a significant loan from the esteemed Banking Guild for a secretive droid initiative targeted for merchant defense fleets, their plans didn't entirely come to fruition. The consequent financial debacle led the Banking Guild to confiscate the droids and their blueprints, seamlessly merging them with the Confederacy's formidable ranks. Although these droids hold a remarkable similarity to subsequent models, namely IG-72 and IG-88, they distinctively lack the cumbersome shoulder fixtures and extensively altered torso design. Their blueprints and early models, however, set the stage for the development of future fearsome droids.
Attention, commanders and connoisseurs! Envision the unparalleled prestige that comes with incorporating the supreme Banker Bots into your legion. These units are not just fully modular but can be tailored precisely to your tactical requirements. Deck out your Banker Bots with an array of weaponry, ranging from a polished blaster, pinpoint-accurate range-finding binoculars to potent close-combat tools. Augment your collection and tactical playbook with these awe-inspiring units, allowing the Banker Bots to emerge as the shining beacon of your battalion. Don't let Republic bureaucrats hinder your commerce — fortify with the best!
The original model is made for 1:46 scale and designed to have more realistic proportions and may appear leaner than "heroic scaled" figures. 3d Printers:

We STRONGLY recommend using the Chitubox slicer.

This model is designed for Resin SLA and DLP printers.

Agreement: Upon purchase, the End-User agrees to print these files for personal use and not for any commercial printing endeavors. Please do not share or sell these files or print to sell after purchase.

This model is not endorsed by or affiliated with Disney or Lucasarts.
Share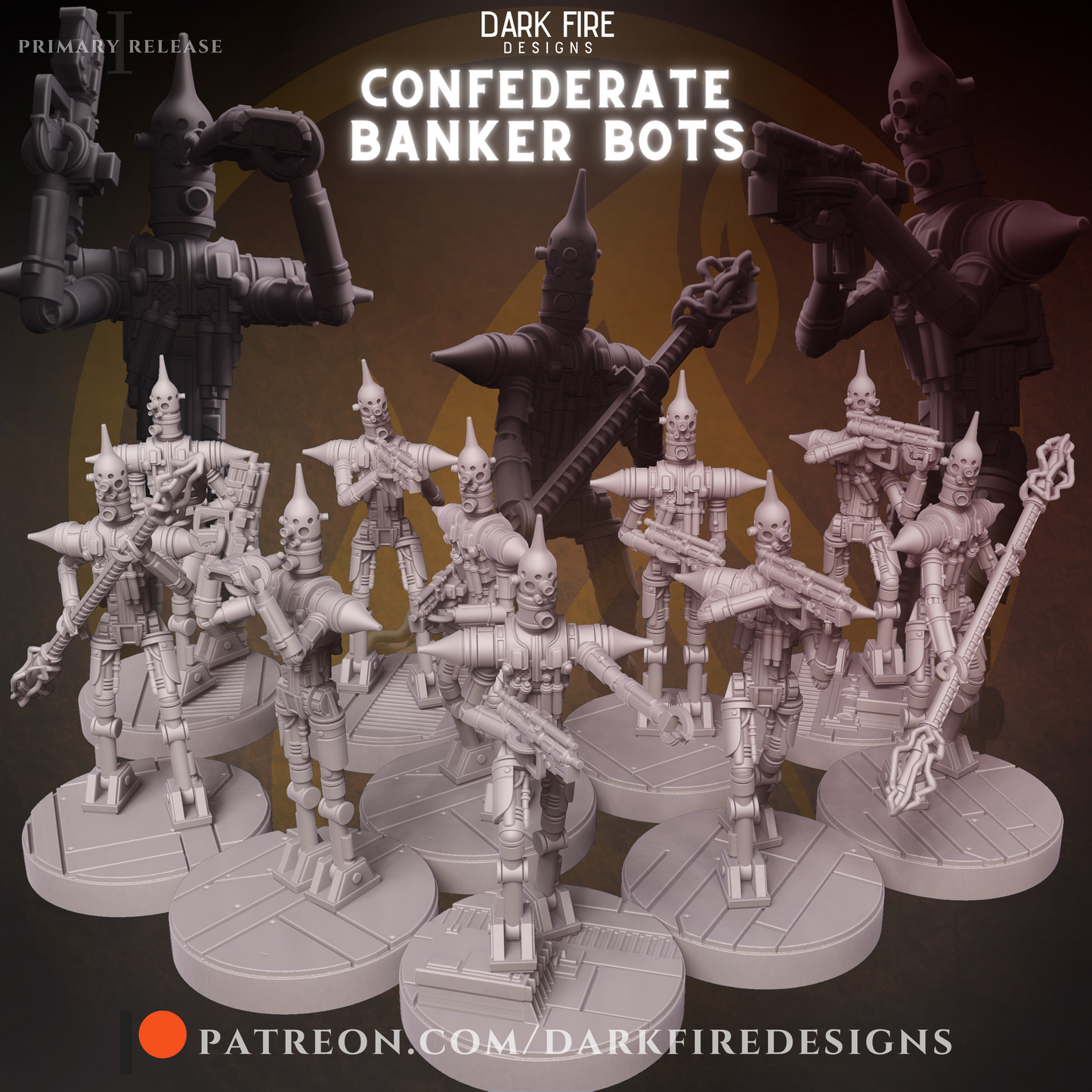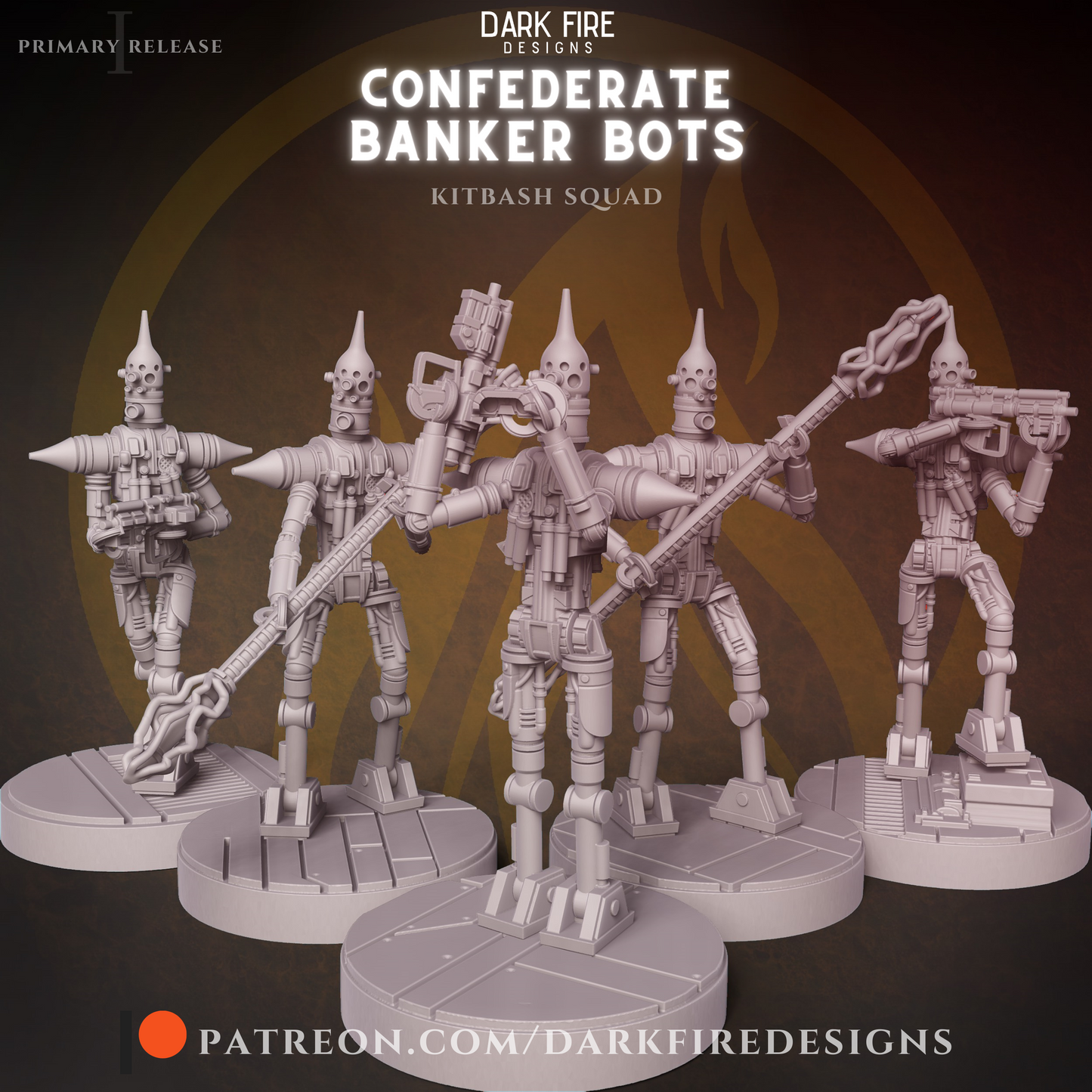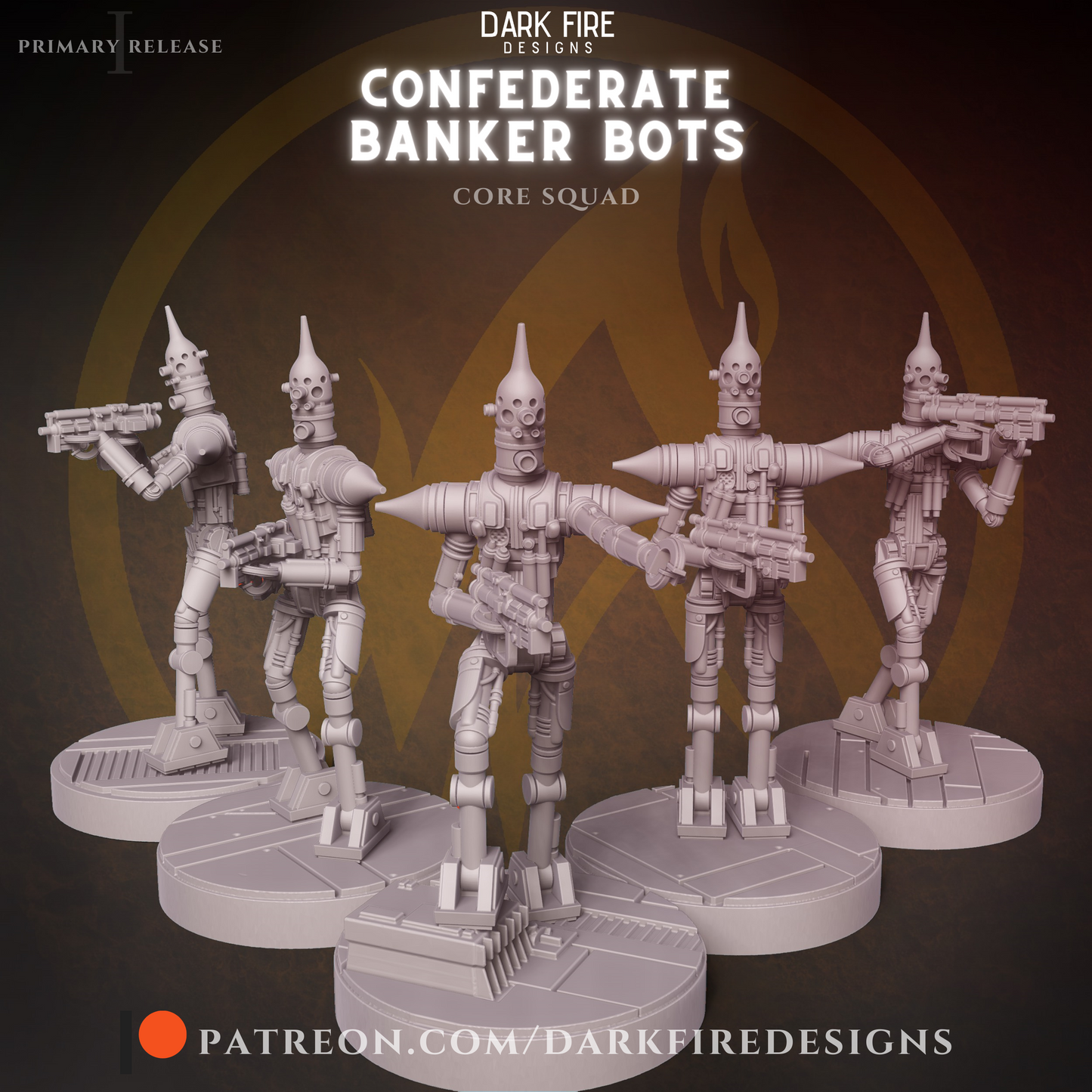 FAQ About Our STL Files
What kind of printers work best for your models?

Our models are specifically designed for Resin SLA and DLP printers.
What scale are your miniatures?

Our miniatures are scaled at 1:46. Our models were created to have more realistic proportions and may appear leaner than Heroic scaled figures.
Can I buy your miniatures without using a 3D Printer? 
What slicer software should I use for printing your stl files?

We strongly recommend using Chitubox to open these files
Where will the files go?

We have an online library on our site! Simply click your account icon at the top of the page.
How do I download my files?

Under Account you'll be taken to your order history page. Simply click the order number and you'll be taken to a download page to recieve your files!