Dark Fire Designs
Exiled Imperial Troopers
Regular price
Sale price
$22.00 USD
Unit price
per
Sale
Sold out
"Lord. Lord. Lord."
Please note that this listing is for the STL files, not the printed miniature.
The Exiled Imperial Troopers were a formidable force led by Grand Admiral during his exile on an extragalactic planet. Their Destroyer had been taken by intergalactic-traveling alien creatures, leading to the Grand Admiral's exile.
They have adapted to the unique challenges of their new home, including taming native creatures and navigating its inhospitable terrain. Their mission involved hunting the fugitive Alliance operatives, whose whereabouts were elusive.
Step into the extraordinary world of the Exiled Imperial Troopers, a digital STL model kit by Dark Fire Designs, originally unveiled in our November 2023 Patreon release. This kit offers you the chance to explore a unique facet of the sci-fi universe, allowing you to craft and customize your own legion of exiled troopers.
The Exiled Imperial Troopers kit includes a pre-supported model kit to build your Exiled Imperial Troopers, and it's fully modular, offering compatibility with other Dark Fire Designs modular kits. This means you have the freedom to create and customize your models to your heart's content. With a pre-posed squad for easy assembly and quick painting, you'll have your troopers ready for action in no time. Additionally, the kit includes a pre-posed kitbash squad, adding an extra layer of personalization to your legion.
The original model is designed for 1:46 scale, prioritizing realistic proportions over "heroic scaled" figures. For the best results, we strongly recommend using the Chitubox slicer and Resin SLA or DLP printers. By purchasing this model, you agree to print these files for personal use and agree not to engage in any commercial printing endeavors, sharing, or selling of the files or printed copies. Please rest assured that this model is an independent creation and is not endorsed by or affiliated with any specific sci-fi franchise.
Share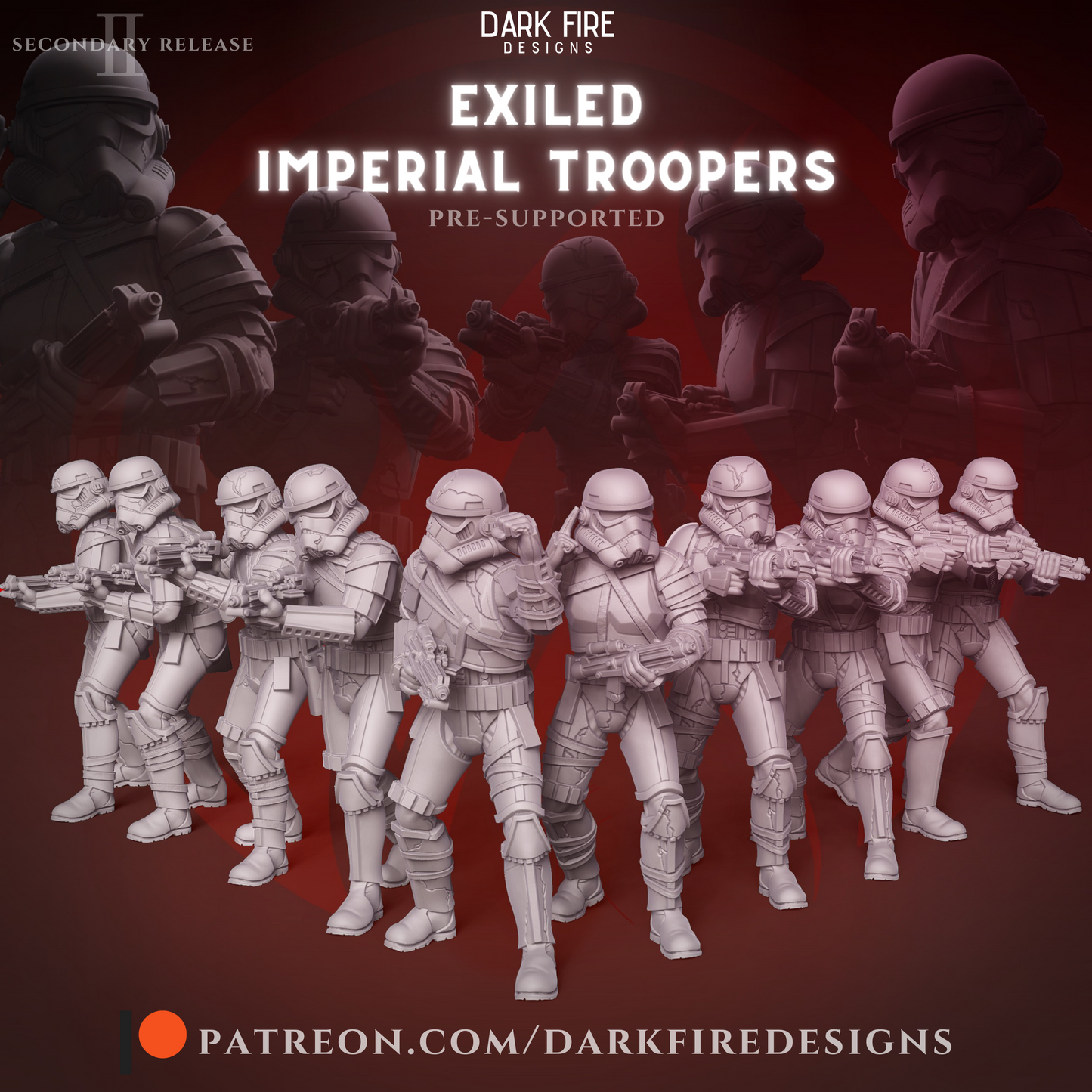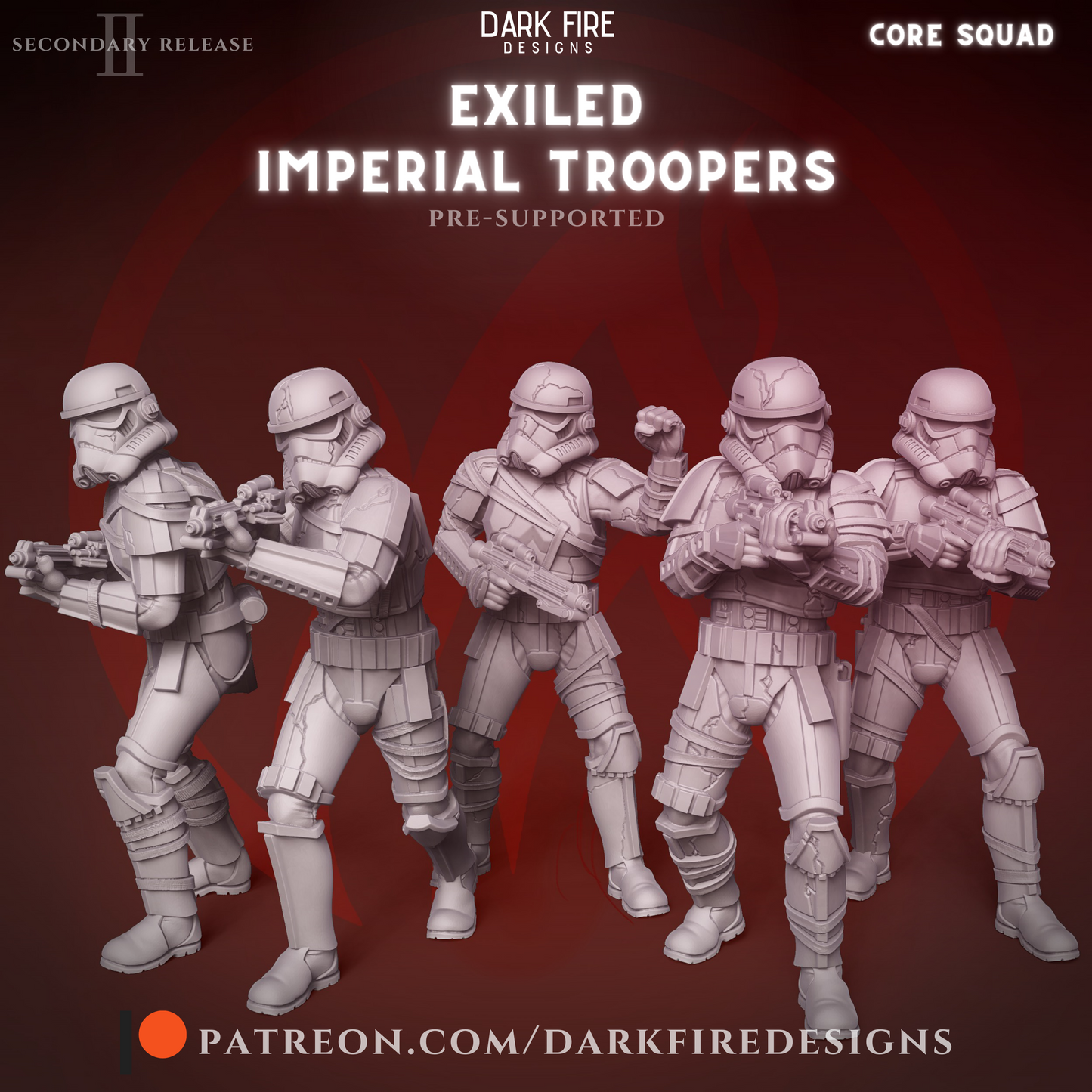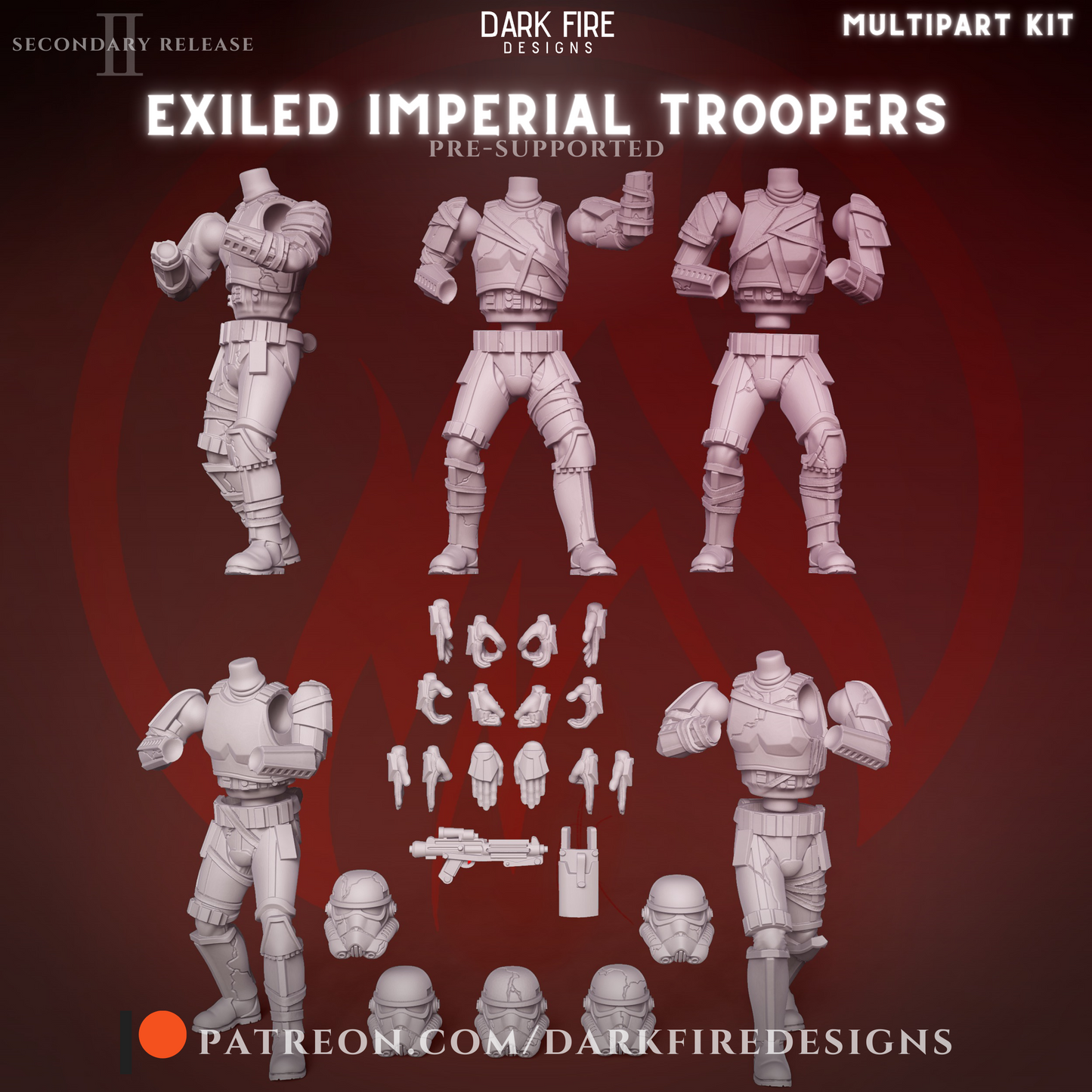 FAQ About Our STL Files
What kind of printers work best for your models?

Our models are specifically designed for Resin SLA and DLP printers.
What scale are your miniatures?

Our miniatures are scaled at 1:46. Our models were created to have more realistic proportions and may appear leaner than Heroic scaled figures.
Can I buy your miniatures without using a 3D Printer? 
What slicer software should I use for printing your stl files?

We strongly recommend using Chitubox to open these files
Where will the files go?

We have an online library on our site! Simply click your account icon at the top of the page.
How do I download my files?

Under Account you'll be taken to your order history page. Simply click the order number and you'll be taken to a download page to recieve your files!