Dark Fire Designs
Fallen Imperial Winter Soldiers
Regular price
Sale price
$5.00 USD
Unit price
per
Sale
Sold out
"Imperial Troops Have Not Entered the Base! Imperial Troops Never Entered the Base!"
These models originally launched as a secondary release in our June Patreon. However, the stark reality of Imperial Operations is that not everyone returns from their duty tours aimed at restoring peace, law, and order across the galaxy.
While these men and women were noble soldiers, it seems that their adversaries got the upper hand, leading them to take a seemingly peaceful rest in the snow.
These pre-posed models are ideal for enhancing your next hobby project. They serve as excellent objective markers for your Legion forces in the ethos of leaving no one behind. Alternatively, you may want to add an extra layer of realism to the battlefield and replace models with casualties as the game progresses.
Don't hesitate, place your order for the Fallen Imperial Troopers now.
Share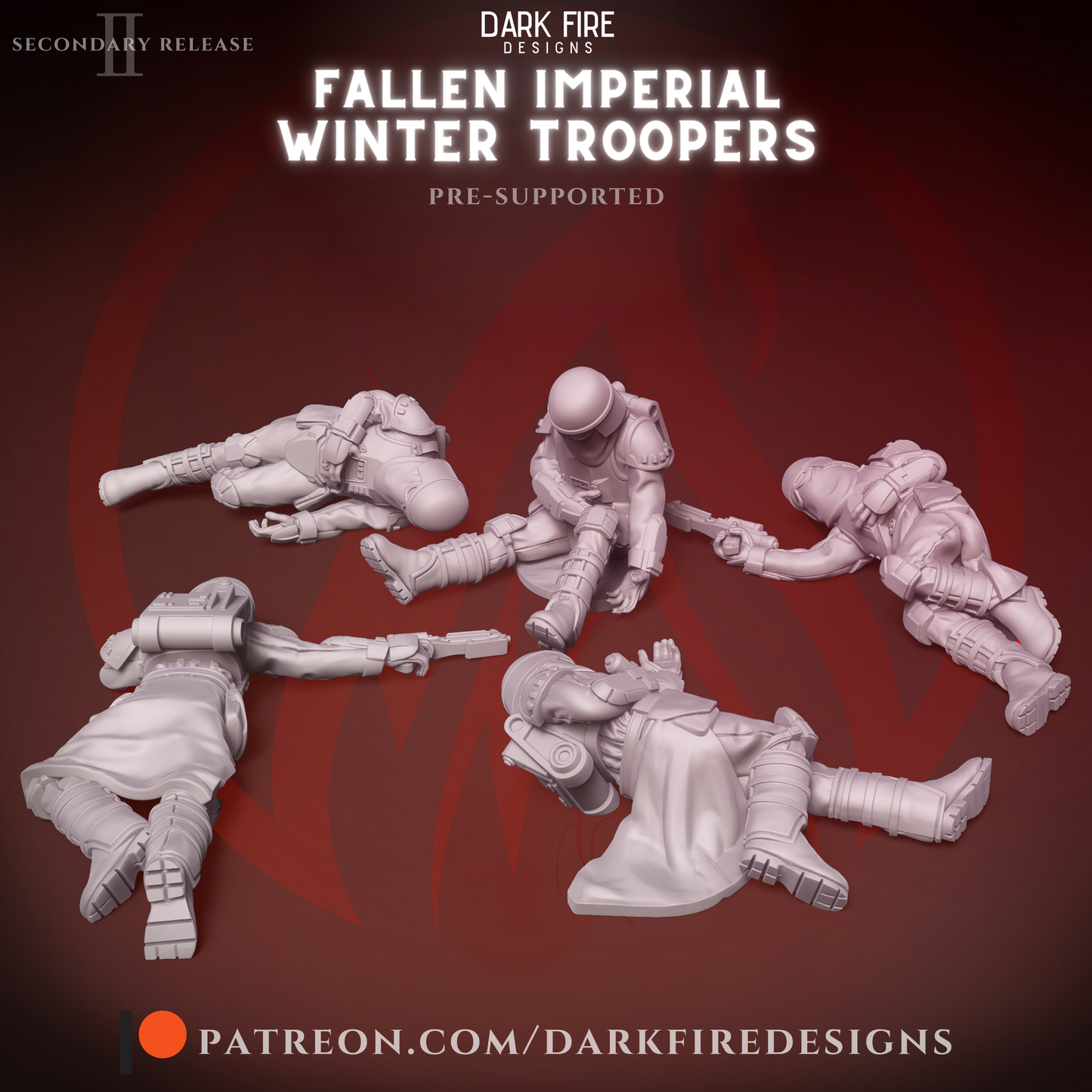 FAQ About Our STL Files
What kind of printers work best for your models?

Our models are specifically designed for Resin SLA and DLP printers.
What scale are your miniatures?

Our miniatures are scaled at 1:46. Our models were created to have more realistic proportions and may appear leaner than Heroic scaled figures.
Can I buy your miniatures without using a 3D Printer? 
What slicer software should I use for printing your stl files?

We strongly recommend using Chitubox to open these files
Where will the files go?

We have an online library on our site! Simply click your account icon at the top of the page.
How do I download my files?

Under Account you'll be taken to your order history page. Simply click the order number and you'll be taken to a download page to recieve your files!