Dark Fire Designs
Fallen Republic Troopers
Regular price
Sale price
$4.99 USD
Unit price
per
Sale
Sold out
"In the silent aftermath of battle, the Fallen Troopers echo tales of valor and sacrifice."
This listing is for the STL files, not the printed miniature.
The Fallen Republic Troopers offer a poignant reminder of the steep cost of conflict. Trained for combat and engineered for loyalty, these soldiers were the bulwark of the Republic's ground forces, standing firm in the face of innumerable challenges. Each fallen trooper holds a story of courage and determination, their final resting places a testament to their indomitable spirit.
Introducing the Fallen Republic Troopers STL files, crafted with precision and care by Dark Fire Designs. These static models are perfect for adding depth and historical context to your tabletop setup. Print them on your home 3D printer and bring a touch of solemn reality to your gaming experience. These models are perfect proxies, bringing an added level of immersion and narrative depth to your legion.
With the Fallen Republic Troopers, you'll find printing and painting to be a breeze. Their pre-posed forms make for easy and straightforward printing, and their detailing allows for quick painting. In no time at all, you can have these testamentary figures grace your tabletop, adding a layer of realism to your engagements.
Don't miss out on the opportunity to bring these soldiers' stories to life. Download the Fallen Republic Troopers STL files today and let your 3D printer recreate these tales of bravery and sacrifice.
The original model is made for 1:46 scale and designed to have more realistic proportions and may appear leaner than "heroic scaled" figures. 3D Printers: We STRONGLY recommend using the Chitubox slicer. This model is designed for Resin SLA and DLP printers.
Agreement: Upon purchase, the End-User agrees to print these files for personal use and not for any commercial printing endeavors. Please do not share or sell these files or print to sell after purchase. This model is not endorsed by or affiliated with Disney or Lucasarts.
Share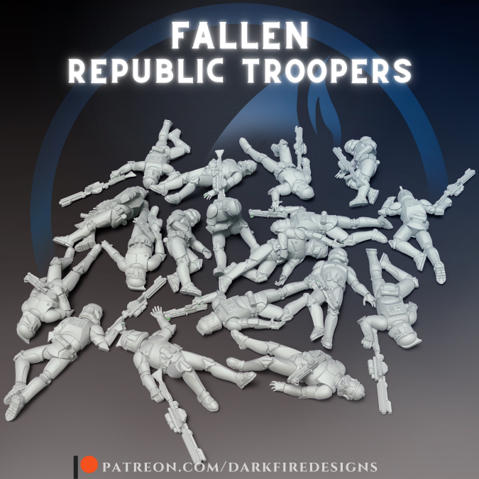 FAQ About Our STL Files
What kind of printers work best for your models?

Our models are specifically designed for Resin SLA and DLP printers.
What scale are your miniatures?

Our miniatures are scaled at 1:46. Our models were created to have more realistic proportions and may appear leaner than Heroic scaled figures.
Can I buy your miniatures without using a 3D Printer? 
What slicer software should I use for printing your stl files?

We strongly recommend using Chitubox to open these files
Where will the files go?

We have an online library on our site! Simply click your account icon at the top of the page.
How do I download my files?

Under Account you'll be taken to your order history page. Simply click the order number and you'll be taken to a download page to recieve your files!