Dark Fire Designs
Imperial Winter Troops
Regular price
Sale price
$22.00 USD
Unit price
per
Sale
Sold out
"Imperial Troops have entered the base! Imperial troops have entered the ba <static>" 

This listing is for the STL files, not the printed miniature.
Introducing the elite Imperial Winter Troops, trained and equipped to thrive in the most frigid and inhospitable conditions. These soldiers are the embodiment of relentless dedication, marching through the harshest environments to ensure the regime's iron grip on the galaxy. Outfitted with specialized armor and weaponry, the Imperial Winter Troops are a chilling sight to any who dare resist their advance.
Expand your tabletop gaming collection with these fearsome Imperial Winter Troops! By downloading the STL files for your 3D printer, you'll be able to deploy these icy warriors onto the battlefield and bolster your ever-growing legion. Breathe life into your wargames as the Imperial Winter Troops stand as a testament to your tactical prowess, striking fear into the hearts of your opponents. Don't let your collection suffer from the cold; embrace the might of the Imperial Winter Trooper and let your imagination run wild!
This modular model offers incredible customization options for your 3D printed Winter Trooper:
The models are easily combined with other Dark Fire Designs modular kits, allowing for endless possibilities and unique combinations.
The models come with pre-posed sculpts to quickly get your forces on the table and individual kits to make your own fully customizable squad.
Enjoy the freedom to create a diverse and personalized force with the Imperial Winter Troops, perfect for tabletop gaming and adding depth to your ever-growing legion.
The original model is made for 1:46 scale and designed to have more realistic proportions and may appear leaner than "heroic scaled" figures. 3d Printers: We STRONGLY recommend using the Chitubox slicer.
This model is designed for Resin SLA and DLP printers.
Agreement: Upon purchase, the End-User agrees to print these files for personal use and not for any commercial printing endeavors. Please do not share or sell these files or print to sell after purchase.
This model is not endorsed by or affiliated with Disney or Lucasarts.
Share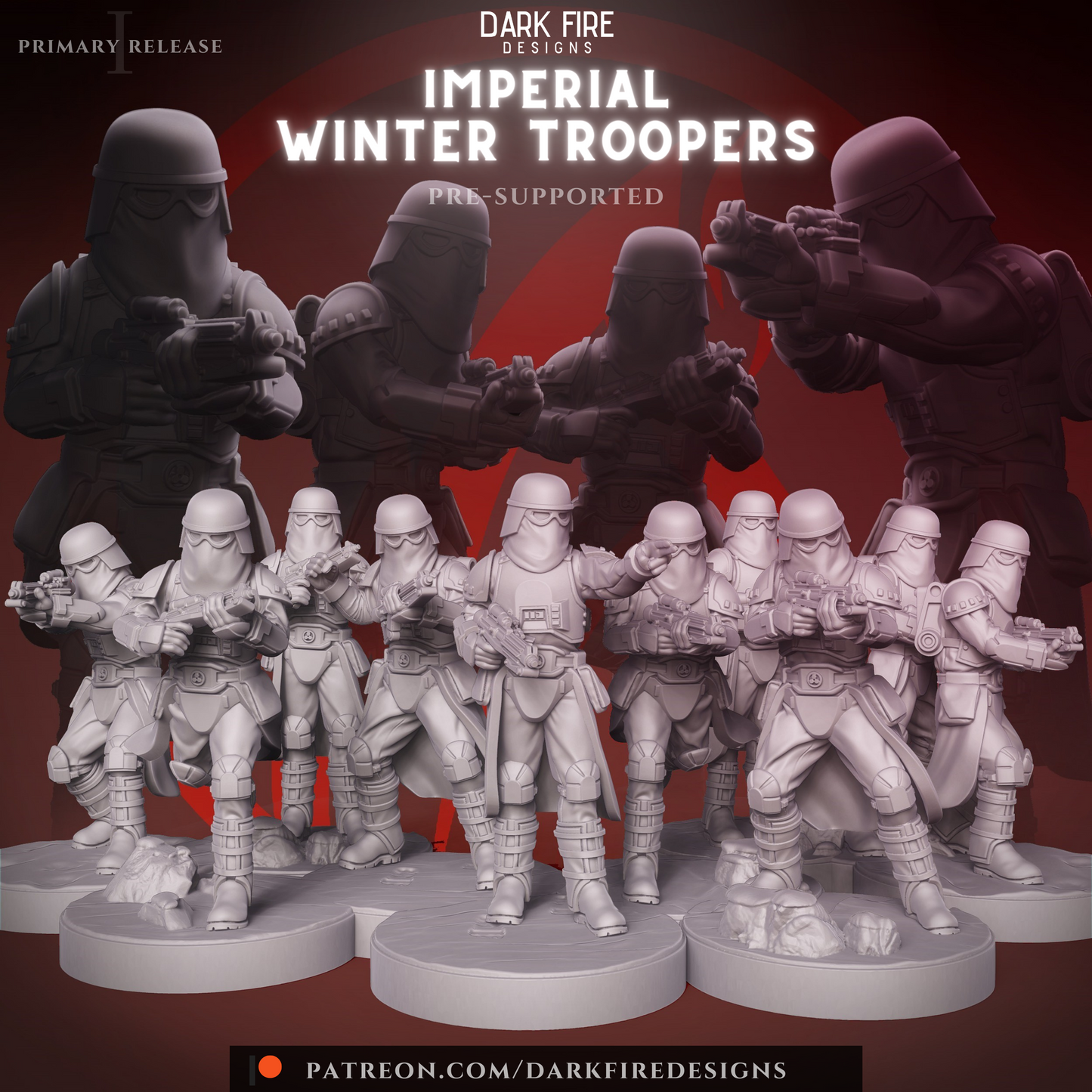 FAQ About Our STL Files
What kind of printers work best for your models?

Our models are specifically designed for Resin SLA and DLP printers.
What scale are your miniatures?

Our miniatures are scaled at 1:46. Our models were created to have more realistic proportions and may appear leaner than Heroic scaled figures.
Can I buy your miniatures without using a 3D Printer? 
What slicer software should I use for printing your stl files?

We strongly recommend using Chitubox to open these files
Where will the files go?

We have an online library on our site! Simply click your account icon at the top of the page.
How do I download my files?

Under Account you'll be taken to your order history page. Simply click the order number and you'll be taken to a download page to recieve your files!