Dark Fire Designs
Havoc Commander
Regular price
Sale price
$13.00 USD
Unit price
per
Sale
Sold out
"Front and center, holding the line for the people. One man, a single speck amidst a universe of stars, yet steadfast in his mission."
Please note: This listing is for the STL files, not the printed miniature.
In a time following a great conflict between mystical warriors, a hero was born on a distant world. A loyalist to a democratic republic, he joined its armed forces as a courageous trooper. From patrolling protected territories to engaging in skirmishes in remote areas of the cosmos, this man's valor was limitless. Under the guidance of seasoned mystic knights, he stood firm against overwhelming odds, maintaining tranquility amid turmoil.
Today, Dark Fire Designs brings you a piece of this legend with our STL files. With this product, you can have your very own Havoc Commander in various pre-posed snapshots - casual, weapon-ready, in mid-action, or revealing the scars of past battles. Each pose is a testament to his bravery, his enduring spirit, and his unforgettable legacy.
Imagine your 3D printer whirring to life, and out of the raw primordial resin goo emerges the unmistakable figure of the Havoc Commander. You apply the finishing cure and paint job, and there he is, in all his glory, ready to take a prominent place in your collection. It's not just a model, it's a snapshot of a legend. Plus, it's easy to print and a breeze to paint. Before you know it, you'll have your very own miniature hero gracing the tabletop.
So, what are you waiting for? Let's bring a piece of this interstellar history to life. Download the Havoc Commander STL files today!
The original model is made for 1:46 scale and designed to have more realistic proportions and may appear leaner than "heroic scaled" figures. For 3D printers, we STRONGLY recommend using the Chitubox slicer. This model is designed for Resin SLA and DLP printers.
Agreement: Upon purchase, the End-User agrees to print these files for personal use and not for any commercial printing endeavors. Please do not share or sell these files or print to sell after purchase. This model is not endorsed by or affiliated with any official entity.
Are you ready to print a piece of galactic history? It's time to add the Havoc Commander to your collection. Download the STL files and let the saga unfold right before your eyes!
Share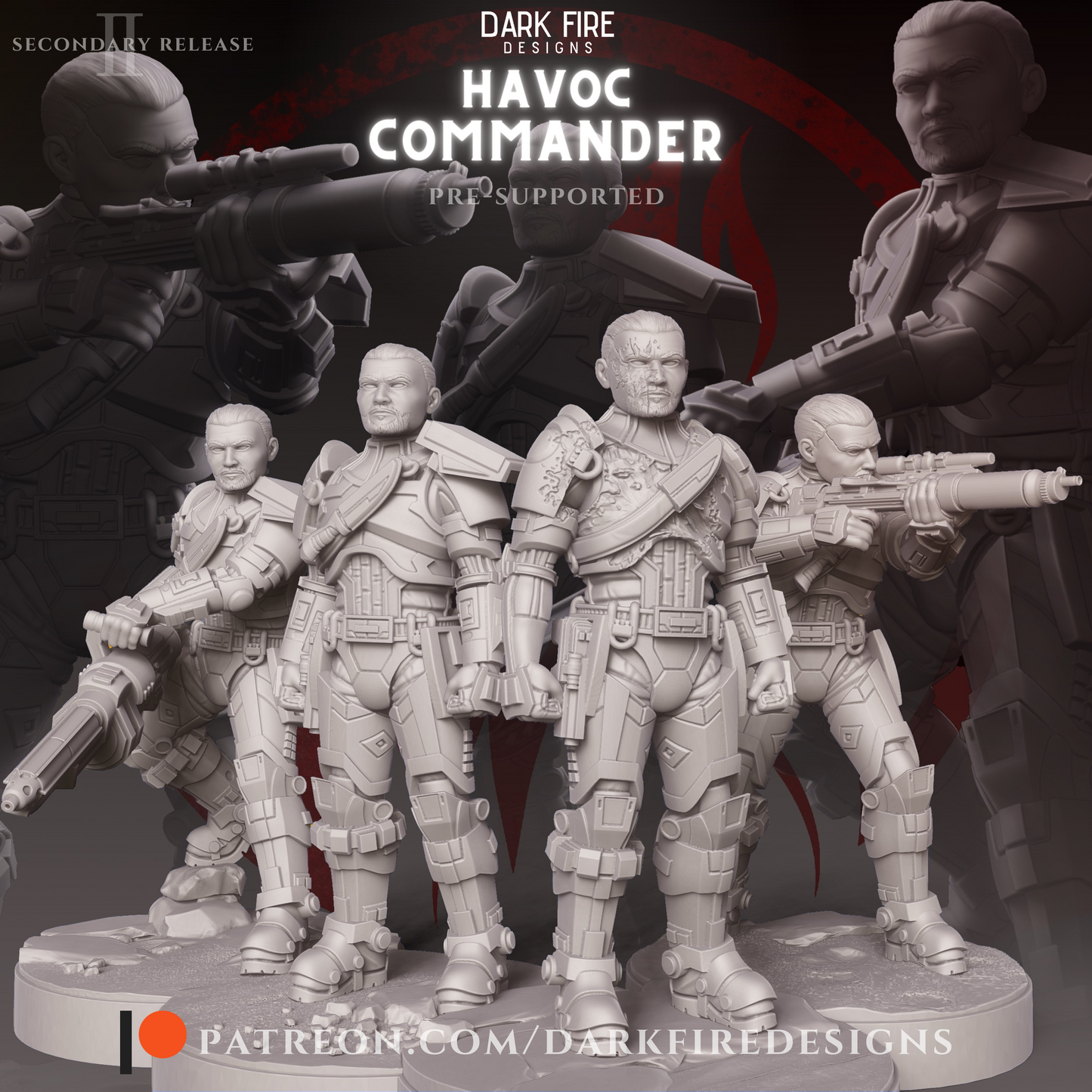 FAQ About Our STL Files
What kind of printers work best for your models?

Our models are specifically designed for Resin SLA and DLP printers.
What scale are your miniatures?

Our miniatures are scaled at 1:46. Our models were created to have more realistic proportions and may appear leaner than Heroic scaled figures.
Can I buy your miniatures without using a 3D Printer? 
What slicer software should I use for printing your stl files?

We strongly recommend using Chitubox to open these files
Where will the files go?

We have an online library on our site! Simply click your account icon at the top of the page.
How do I download my files?

Under Account you'll be taken to your order history page. Simply click the order number and you'll be taken to a download page to recieve your files!