Dark Fire Designs
Imperial Winter Commander
Regular price
Sale price
$18.00 USD
Unit price
per
Sale
Sold out
"I've reached the main power generator. The shield will be down in moments. You may start your landing."
This listing is for the STL files, not the printed miniature.
Presenting the illustrious Winter Commander, a tactical genius and esteemed leader in the Galactic regime. With an unwavering dedication to victory and an unparalleled understanding of the Art of war, this Commander's presence on the battlefield ensures swift triumphs and decisive victories for his forces. His striking appearance and stern demeanour are matched only by his razor-sharp intellect, and keen strategic mind.
Elevate your tabletop gaming experience by adding this Commander to your ever-growing legion. Download the STL files for your 3D printer and bring this legendary tactician to life, ready to lead your forces to glorious victory. With this Commander at the helm, your tabletop battles will become the stuff of legends as you outmaneuver, outsmart, and outlast your opponents. Don't let your collection go without this must-have figure, destined to change the course of your games forever.
This static model offers incredible ease of use and a fantastic centerpiece for your collection:
The model is designed to be easy to print and designed for quick assembly, ensuring that you can bring Imperial Winter Commander to your tabletop without delay.
The model includes three poses – Heroic, Casual, and Action – allowing you to choose the perfect stance to represent the Commander's indomitable spirit.
Imperial Winter Commander serves as a great centrepiece or proxy for characters in your legion, allowing for seamless integration with your existing forces.
The original model is made for 1:46 scale and designed to have more realistic proportions and may appear leaner than "heroic scaled" figures.
3d Printers: We STRONGLY recommend using the Chitubox slicer. This model is designed for Resin SLA and DLP printers.
Agreement: Upon purchase, the End-User agrees to print these files for personal use and not for any commercial printing endeavors. Please do not share or sell these files or print to sell after purchase. This model is not endorsed by or affiliated with Disney or Lucasarts.
Share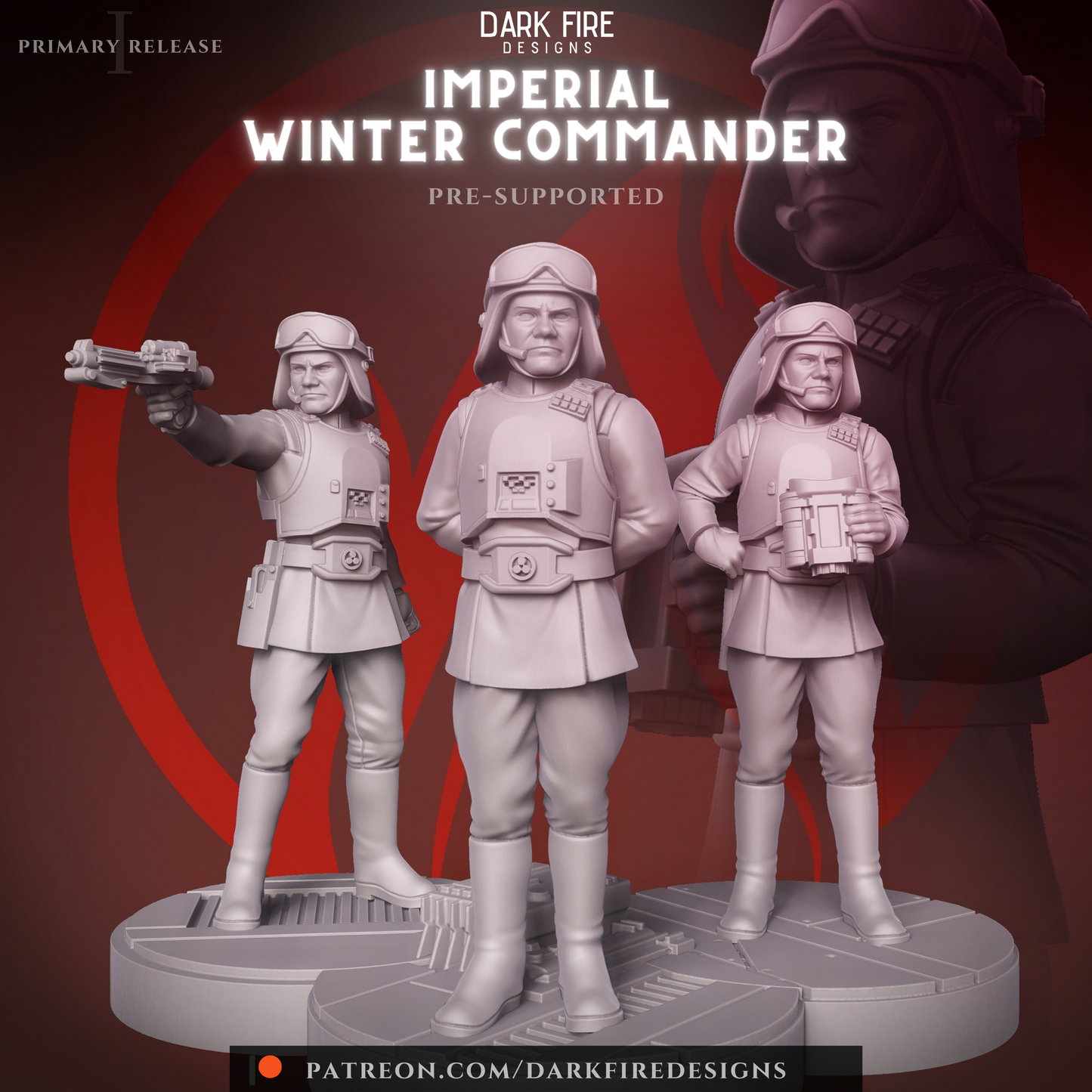 FAQ About Our STL Files
What kind of printers work best for your models?

Our models are specifically designed for Resin SLA and DLP printers.
What scale are your miniatures?

Our miniatures are scaled at 1:46. Our models were created to have more realistic proportions and may appear leaner than Heroic scaled figures.
Can I buy your miniatures without using a 3D Printer? 
What slicer software should I use for printing your stl files?

We strongly recommend using Chitubox to open these files
Where will the files go?

We have an online library on our site! Simply click your account icon at the top of the page.
How do I download my files?

Under Account you'll be taken to your order history page. Simply click the order number and you'll be taken to a download page to recieve your files!