Dark Fire Designs
Imperial Agents
Regular price
Sale price
$22.00 USD
Unit price
per
Sale
Sold out
"Security is an illusion. You want security? Call the Navy. Launch a regiment of troopers. We are healthcare providers. We treat sickness. We identify symptoms. We locate germs whether they arise from within or have come from the outside. The longer we wait to identify a disorder, the harder it is to treat the disease."

The Imperial Security Bureau or ISB for short is the secret police of the Empire. The men and women of this branch of law enforcement work tirelessly in the shadows to maintain Imperial Law and order while securing internal security and ensuring loyal members of the Empire are protected by eliminating threats before they become active.
It's time for you to secure stability in the galaxy with this new modular kit for Dark Fire Designs. Add the hard working men and women of the ISB to your collection today, this fully modular kit allows you to field a unique squad of Imperial Agents to your collection.
This kit also includes Five pre-sculpted miniatures for easy painting and assembly to help get your force on the table even faster.
As an added bonus we've also included eight pre-posed digitally kitbashed agents that really show of the flexibility of the modular Dark Fire Design's modular kits. This kit-bash expansion includes four Imperial Agents who are operating in an cold weather kit and four Imperial Agents that are operating in wet-weather kit.

This kit has been designed for Resin 3d Printers and include supported and standard STL files.
The original model is made for 1:46 scale and designed to have more realistic proportions and may appear leaner than "heroic scaled" figures.

We STRONGLY recommend using the Chitubox slicer.

This model is designed for Resin SLA and DLP printers.
 
Agreement:
Upon purchase, the End-User agrees to print these files for personal use and not for any commercial printing endeavors. Please do not share or sell these files or print to sell after purchase. This model is not endorsed by or affiliated with Disney or Lucasarts.
Share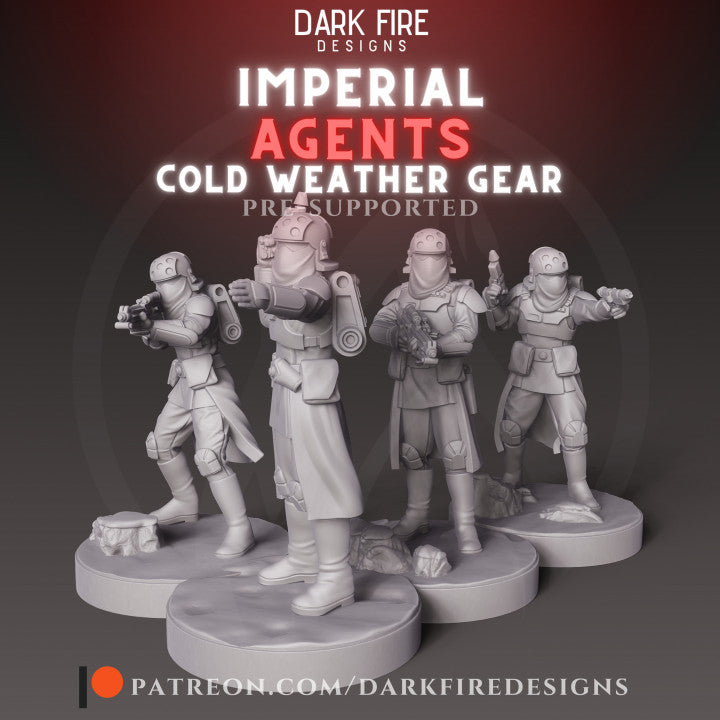 FAQ About Our STL Files
What kind of printers work best for your models?

Our models are specifically designed for Resin SLA and DLP printers.
What scale are your miniatures?

Our miniatures are scaled at 1:46. Our models were created to have more realistic proportions and may appear leaner than Heroic scaled figures.
Can I buy your miniatures without using a 3D Printer? 
What slicer software should I use for printing your stl files?

We strongly recommend using Chitubox to open these files
Where will the files go?

We have an online library on our site! Simply click your account icon at the top of the page.
How do I download my files?

Under Account you'll be taken to your order history page. Simply click the order number and you'll be taken to a download page to recieve your files!