Dark Fire Designs
Imperial Defense Fighter
Regular price
Sale price
$22.00 USD
Unit price
per
Sale
Sold out
"Imperial High Command decided that defender pilots would only be selected from Interceptor pilots who had flown at least twenty combat missions and survived. We're either the best pilots in the Imperial fleet or the luckiest."
The Imperial Defense Fighter marked a departure in starfighter design from earlier Imperial models. It was equipped with a hyperdrive and deflector shields, making it capable of independent operations, and had exceptional speed and agility. Its array of weapons - four laser cannons, two ion cannons, two warhead launchers, and an optional tractor beam projector - making it the most advanced starfighter available.
This kit has been designed for Resin 3d Printers and include supported and standard STL files. 
This multipart kit not only boasts an exterior design fit for a true collector of sci fi models, but also an interior detailed cockpit that's sure to impress. And with both a male and female Imperial Pilot included, you'll have a full crew ready to embark on any adventure. The landing struts add an extra level of realism, making this fighter an excellent terrain piece for your wargaming table top or RPG battles.The Imperial Defense Fighter is also a stunning center piece for any diorama. So why wait? Order your Imperial Defense Fighter today and experience the most advanced and detailed starfighter on the market!"
The original model is made for 1:46 scale and designed to have more realistic proportions and may appear leaner than "heroic scaled" figures.
We STRONGLY recommend using the Chitubox slicer.
This model is designed for Resin SLA and DLP printers.
Agreement:
Upon purchase, the End-User agrees to print these files for personal use and not for any commercial printing endeavors. Please do not share or sell these files or print to sell after purchase.
This model is not endorsed by or affiliated with Disney or Lucasarts.
Share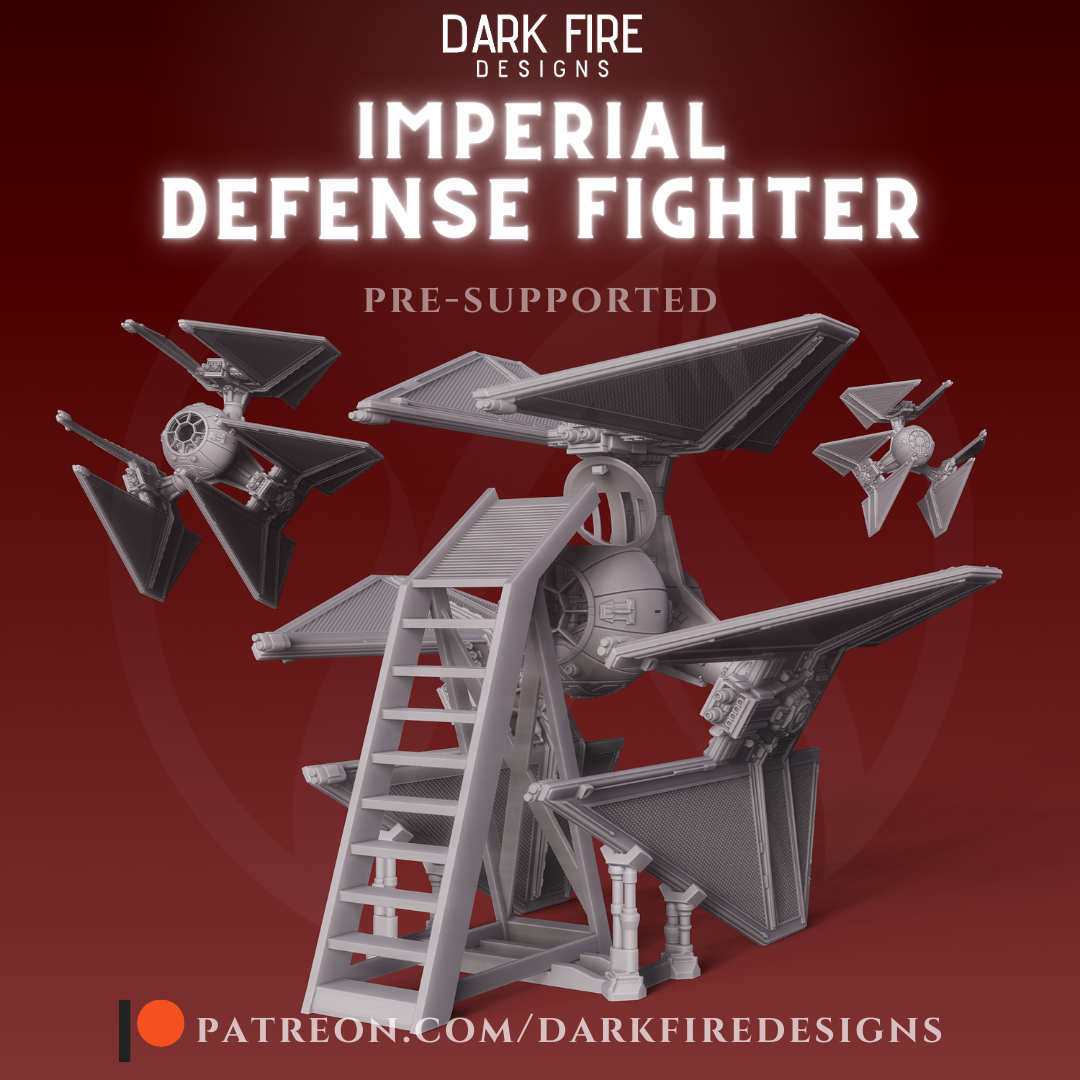 FAQ About Our STL Files
What kind of printers work best for your models?

Our models are specifically designed for Resin SLA and DLP printers.
What scale are your miniatures?

Our miniatures are scaled at 1:46. Our models were created to have more realistic proportions and may appear leaner than Heroic scaled figures.
Can I buy your miniatures without using a 3D Printer? 
What slicer software should I use for printing your stl files?

We strongly recommend using Chitubox to open these files
Where will the files go?

We have an online library on our site! Simply click your account icon at the top of the page.
How do I download my files?

Under Account you'll be taken to your order history page. Simply click the order number and you'll be taken to a download page to recieve your files!