Dark Fire Designs
Imperial Defroster
Regular price
Sale price
$3.00 USD
Unit price
per
Sale
Sold out
"Yeah, at least walking will help keep us a bit warmer."
Please be aware, this listing is for the STL files, not the printed miniature.
Imperial Cold Weather Assault Troopers are expertly trained to function autonomously in severe arctic-like conditions. Outfitted with specialized equipment such as ice hoods, heated breathing masks, and enhanced insulation gear, these soldiers excel where advanced technology like repulsor lifts falter due to extreme cold. Consequently, they master a broad array of support weaponry, which occasionally encompasses flamethrowers. Given their frequent operations in icy battle zones, they've affectionately earned the moniker "Defrosters."
Presenting a uniquely posed digital kitbash, originally featured on our Dark Fire Patreon. Seamlessly integrate this model into your legion squads, epitomizing a specialized combatant. With swift printing and easy painting in mind, this trooper ensures readiness for your imminent skirmish.
The original model is made for 1:46 scale and designed to have more realistic proportions and may appear leaner than "heroic scaled" figures. 3d Printers:
We STRONGLY recommend using the Chitubox slicer.
This model is designed for Resin SLA and DLP printers.
Agreement: Upon purchase, the End-User agrees to print these files for personal use and not for any commercial printing endeavors. Please do not share or sell these files or print to sell after purchase.
This model is not endorsed by or affiliated with Disney or Lucasarts.
Share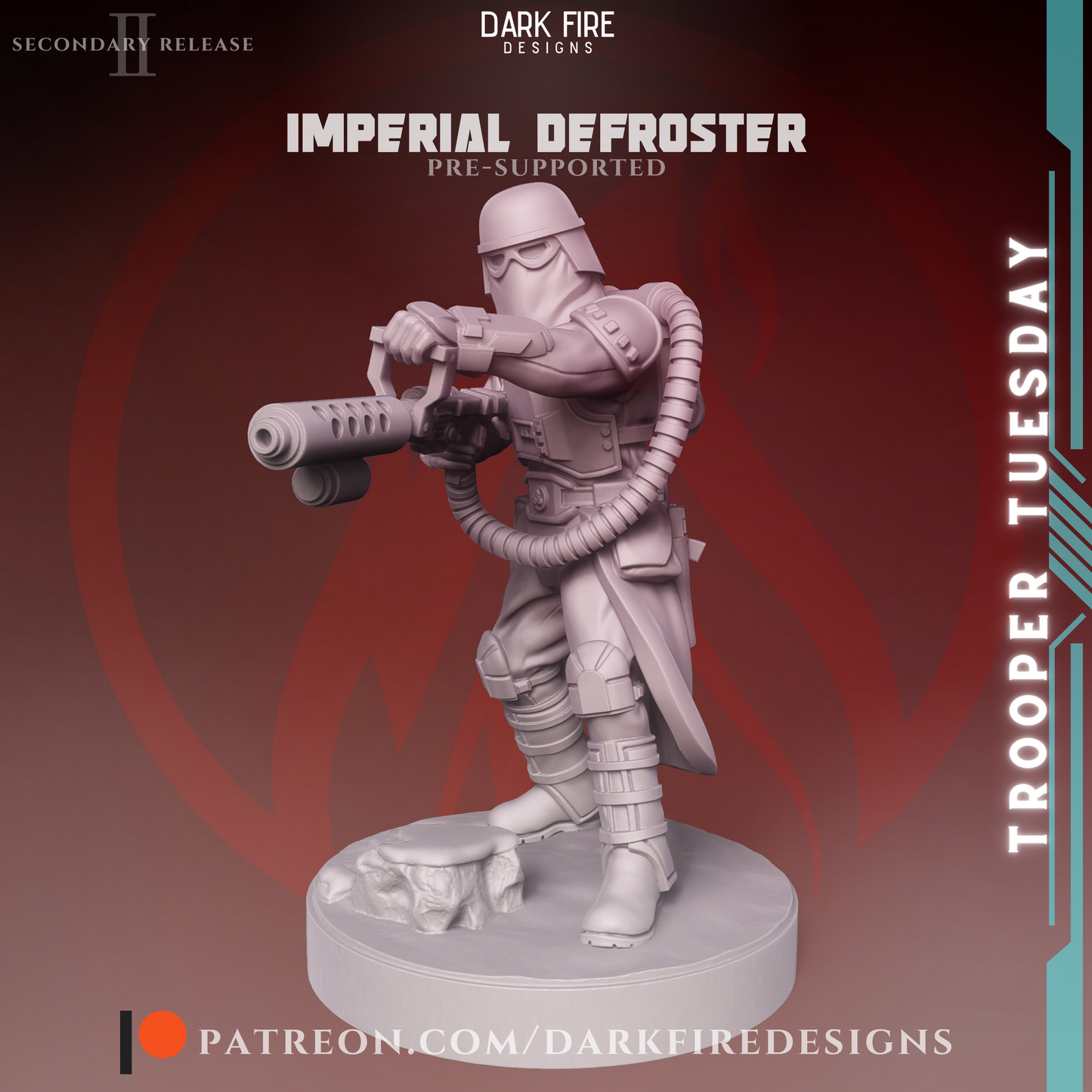 FAQ About Our STL Files
What kind of printers work best for your models?

Our models are specifically designed for Resin SLA and DLP printers.
What scale are your miniatures?

Our miniatures are scaled at 1:46. Our models were created to have more realistic proportions and may appear leaner than Heroic scaled figures.
Can I buy your miniatures without using a 3D Printer? 
What slicer software should I use for printing your stl files?

We strongly recommend using Chitubox to open these files
Where will the files go?

We have an online library on our site! Simply click your account icon at the top of the page.
How do I download my files?

Under Account you'll be taken to your order history page. Simply click the order number and you'll be taken to a download page to recieve your files!