Dark Fire Designs
Imperial Mudskull Trooper Squad.
Regular price
Sale price
$18.00 USD
Unit price
per
Sale
Sold out
"Advance! Advance! Too Victory!"  
If the Imperial Storm Legion is the scalpel of the Imperial military forces, then the Imperial Army is the sledgehammer. These troops are usually deployed in mass against enemy military fotifications to draw enemy attention and firepower to screen more elite components of the Imperial army. Allowing for infiltration teams to take out higher priority targets and perform surgical strikes.
his kit will provide you with everything you need to build Imperial Mudskull Trooper Squad. This kit includes parts to assemble your own modular squad (that can be combined with other Dark Fire Design kits) and preposed minis for quick assembly. This file has been designed for Resin 3d Printers and include supported and standard STL files.
Modular and preposed squad models.
Trooper torsos with attached slicks.
5 versions of Trooper helmets with unique battle damage.
Imperial Trooper blaster with attached flashlight.
The original model is made for 1:46 scale and designed to have more realistic proportions and may appear leaner than "heroic scaled" figures.
We STRONGLY recommend using the Chitubox slicer.
This model is designed for Resin SLA and DLP printers.
Agreement:
Upon purchase, the End-User agrees to print these files for personal use and not for any commercial printing endeavors. Please do not share or sell these files or print to sell after purchase.
This model is not endorsed by or affiliated with Disney or Lucasarts.
Share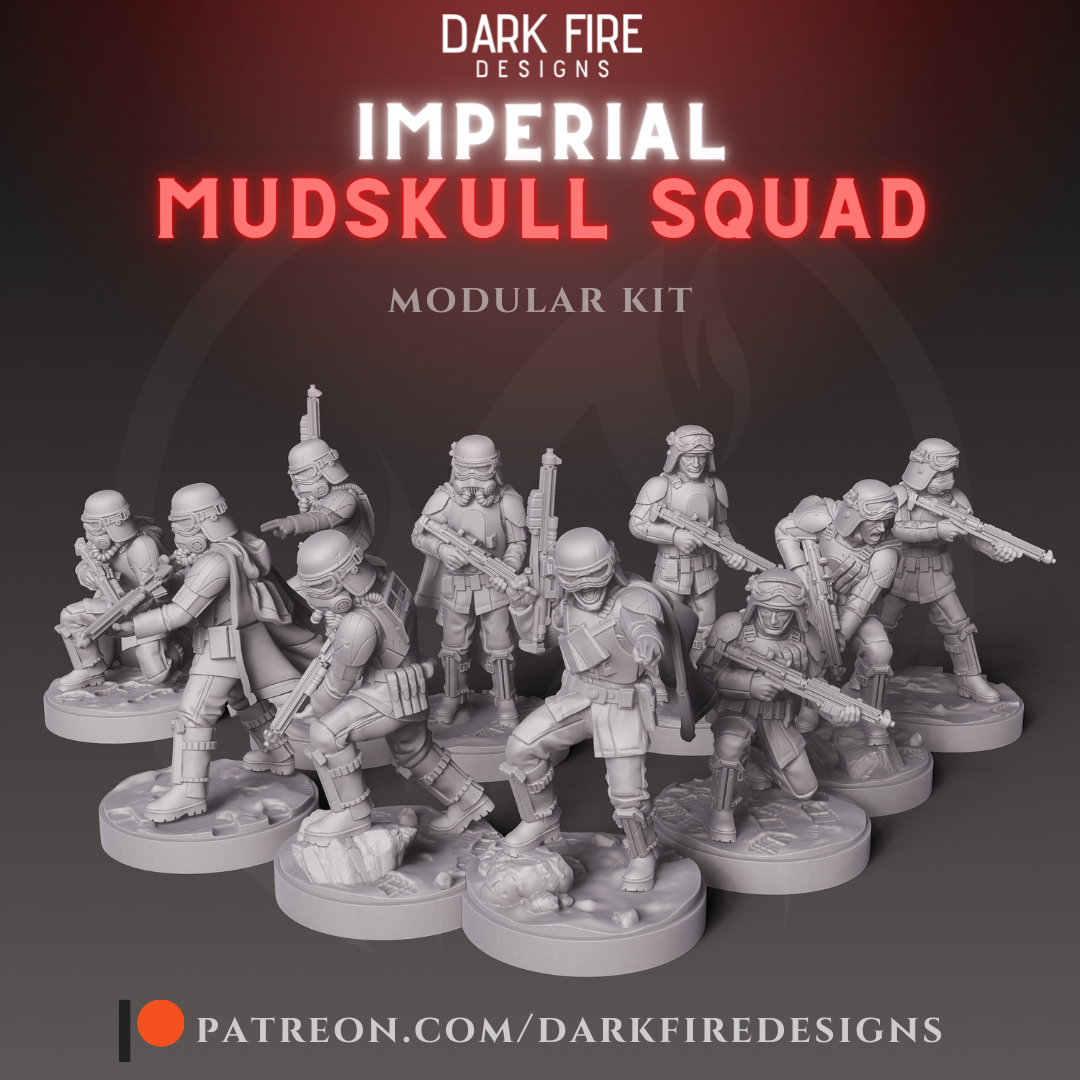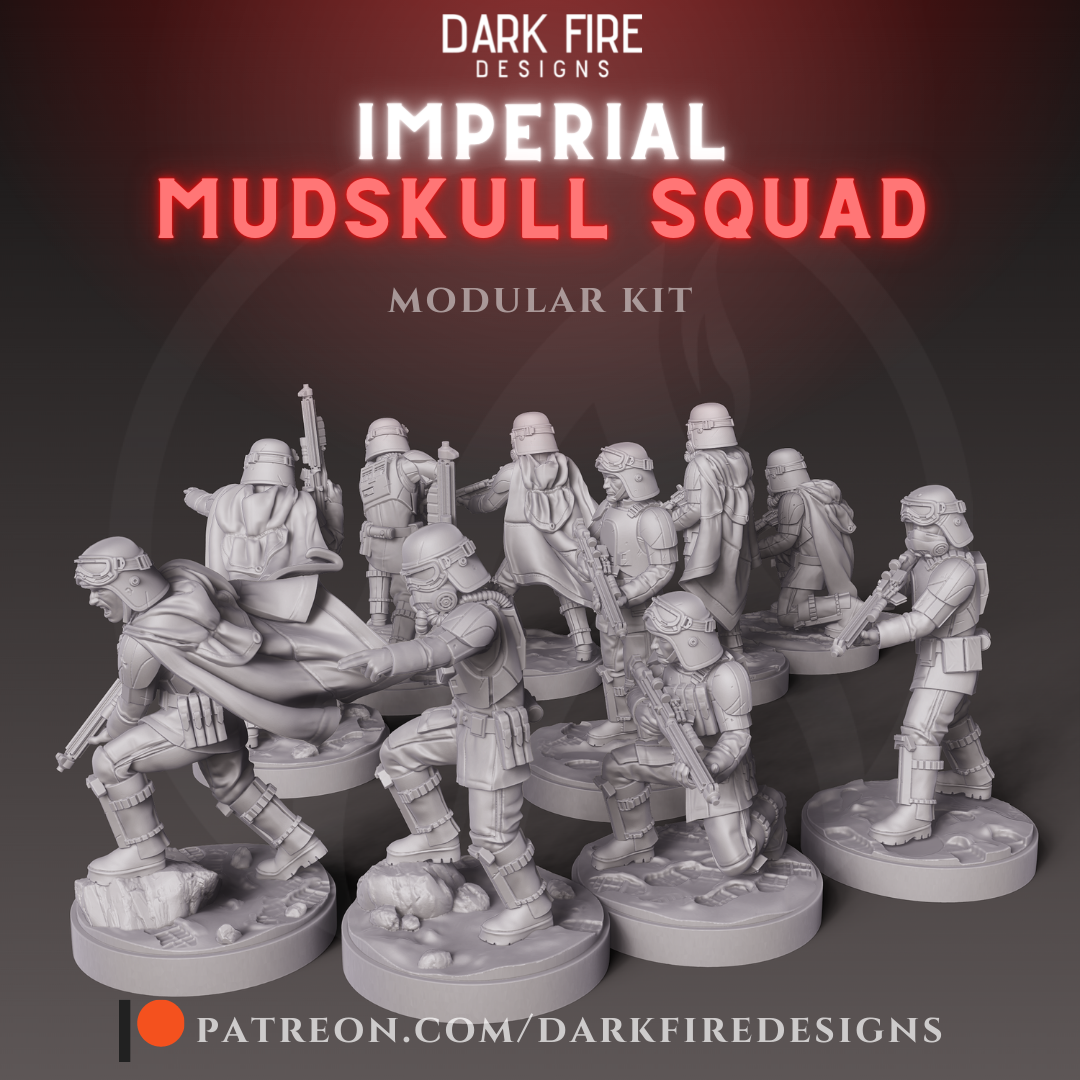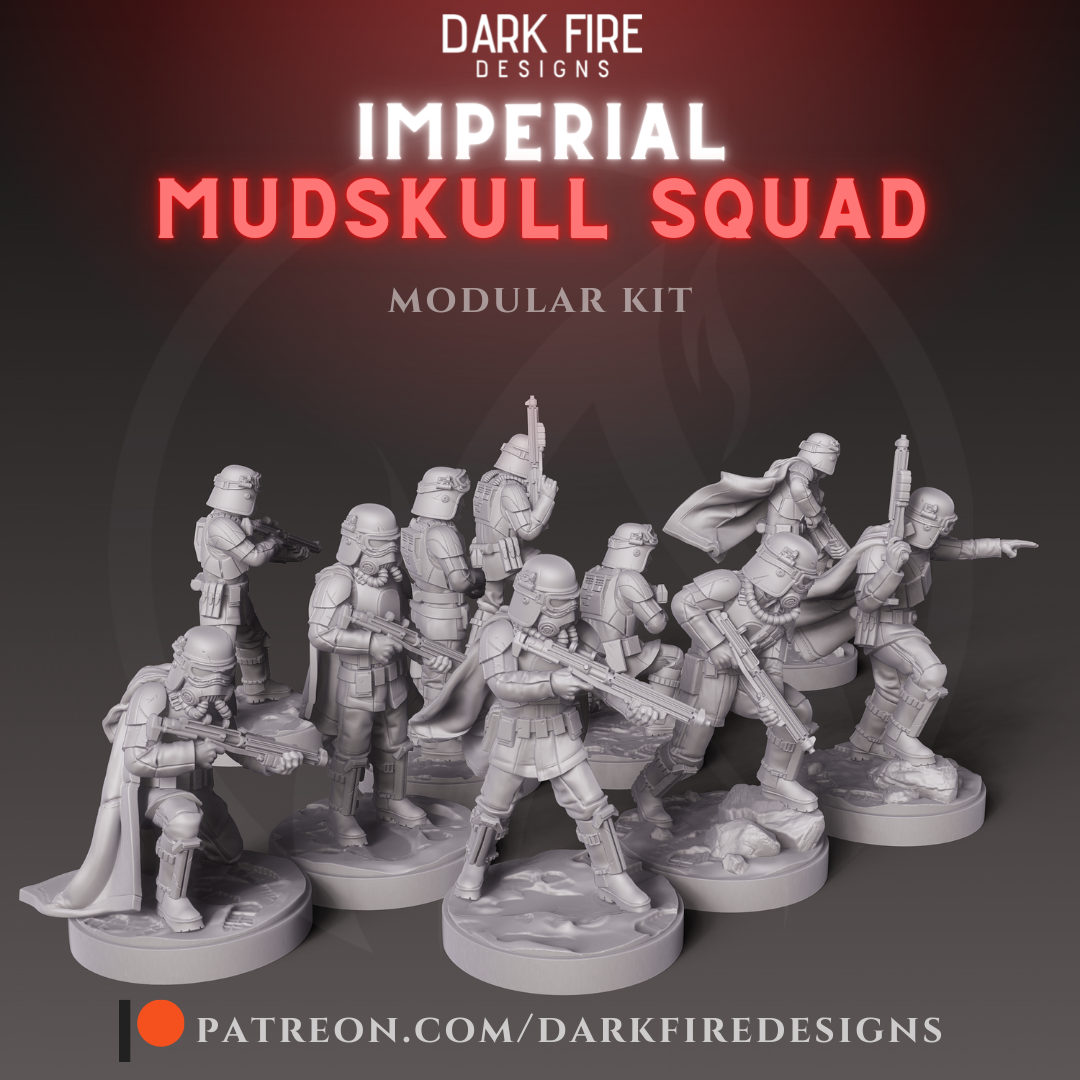 FAQ About Our STL Files
What kind of printers work best for your models?

Our models are specifically designed for Resin SLA and DLP printers.
What scale are your miniatures?

Our miniatures are scaled at 1:46. Our models were created to have more realistic proportions and may appear leaner than Heroic scaled figures.
Can I buy your miniatures without using a 3D Printer? 
What slicer software should I use for printing your stl files?

We strongly recommend using Chitubox to open these files
Where will the files go?

We have an online library on our site! Simply click your account icon at the top of the page.
How do I download my files?

Under Account you'll be taken to your order history page. Simply click the order number and you'll be taken to a download page to recieve your files!