Dark Fire Designs
Imperial Scout Sniper
Regular price
Sale price
$3.00 USD
Unit price
per
Sale
Sold out
"SNIPER!"
Ensure you stay under cover to avoid ending up in this sharpshooter's crosshairs. The Imperial Scout regiments are among the most elite fighting forces in the galaxy. Though they may not receive as much support as other branches of the Imperial Storm Core, these men and women excel in reconnaissance and operating behind enemy lines in small teams or alone. Not only are they adept at surviving in the wilderness across numerous worlds, but they're also highly skilled with their long-range blasters.
This digital kit bash was initially launched in our June Patreon as a secondary release. Feel free to add this pre-posed model to your shopping cart. She will serve as an excellent proxy to bring a unique touch to your legion or even be the perfect villain for your sci-fi RPG.
Share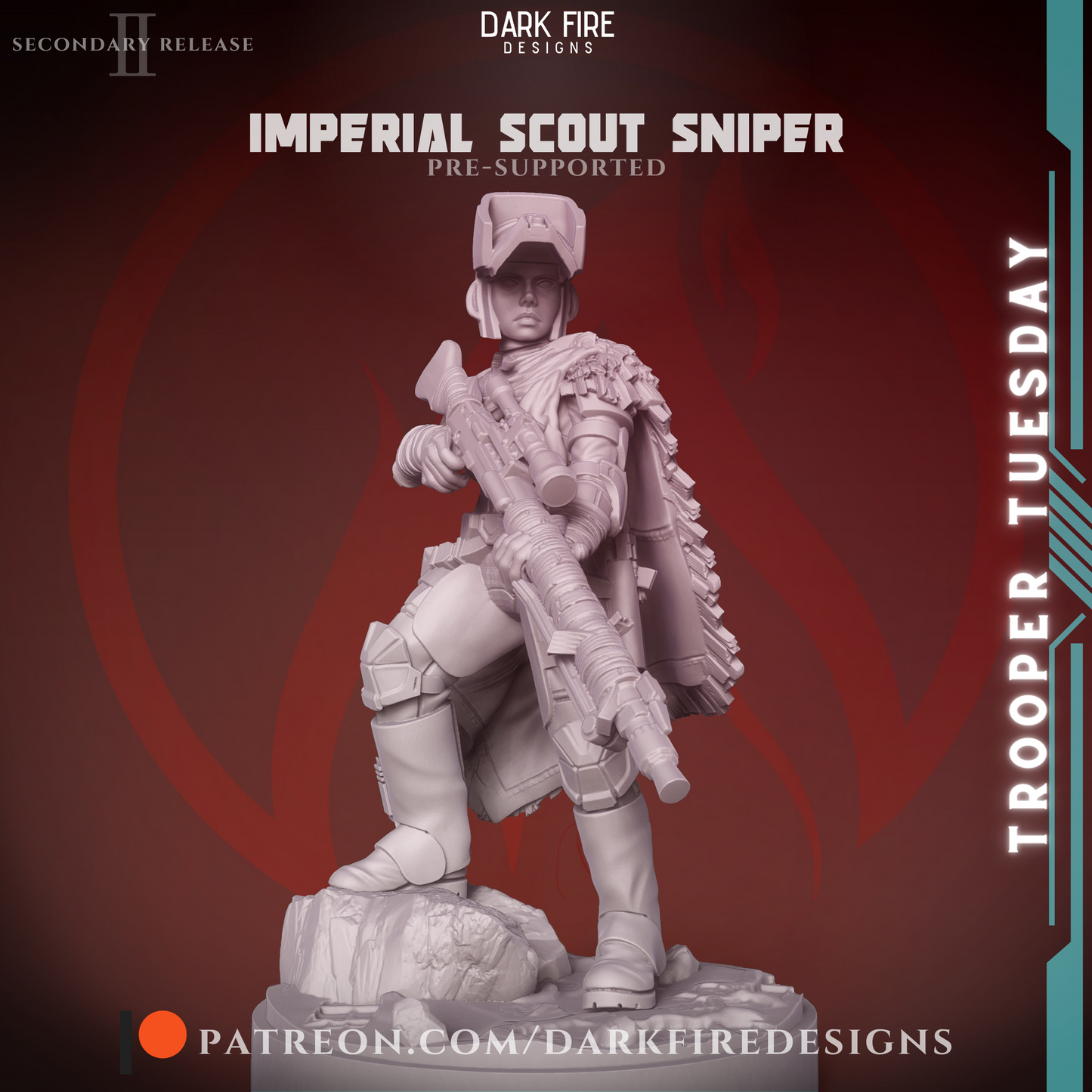 FAQ About Our STL Files
What kind of printers work best for your models?

Our models are specifically designed for Resin SLA and DLP printers.
What scale are your miniatures?

Our miniatures are scaled at 1:46. Our models were created to have more realistic proportions and may appear leaner than Heroic scaled figures.
Can I buy your miniatures without using a 3D Printer? 
What slicer software should I use for printing your stl files?

We strongly recommend using Chitubox to open these files
Where will the files go?

We have an online library on our site! Simply click your account icon at the top of the page.
How do I download my files?

Under Account you'll be taken to your order history page. Simply click the order number and you'll be taken to a download page to recieve your files!