Dark Fire Designs
Imperial Scout Walker
Regular price
Sale price
$22.00 USD
Unit price
per
Sale
Sold out
"The Scout Walker kept spitting lasers at us, and we kept sinking lower and lower into the snow. Each blast took another bite out of the lip of the trench."
Imperial Scout Walkers are commonly used to screen the flanks of larger assault walkers for major ground operations. The Empire will deploy their Scout Walkers for swift reconnaissance and troop support. These walkers are essential for cleaning up minor resistance along the path of a planned invasion route, and will quickly eliminate any small threats that evaded an orbital bombardment or larger Imperial artillery. These walker are crewed by two pilots and can even be used as mobile command stations for Imperial field commanders who wish to be closer to the action.
This kit includes everything you need to build an Imperial Scout Walker this kit is fully articulate and gives you a wide range of posing options.
This model comes pre-supported and as standard STLs and also includes:
Imperial Scout Walker Pilots seated and at attention. Includes alternative heads that fit with each pilot body.
Imperial Scout Walker General to issue orders from the top hatch of your Imperial Scout Walker.
Tower and support scaffolds for added terrain and diorama options.
Includes a Scenic and Empty base. 
This kit is designed to work with Resin 3d Printers.
The original model is made for 1:46 scale and designed to have more realistic proportions and may appear leaner than "heroic scaled" figures.
We STRONGLY recommend using the Chitubox slicer.
This model is designed for Resin SLA and DLP printers.
Agreement:
Upon purchase, the End-User agrees to print these files for personal use and not for any commercial printing endeavors. Please do not share or sell these files or print to sell after purchase.
This model is not endorsed by or affiliated with Disney or Lucasarts.
Share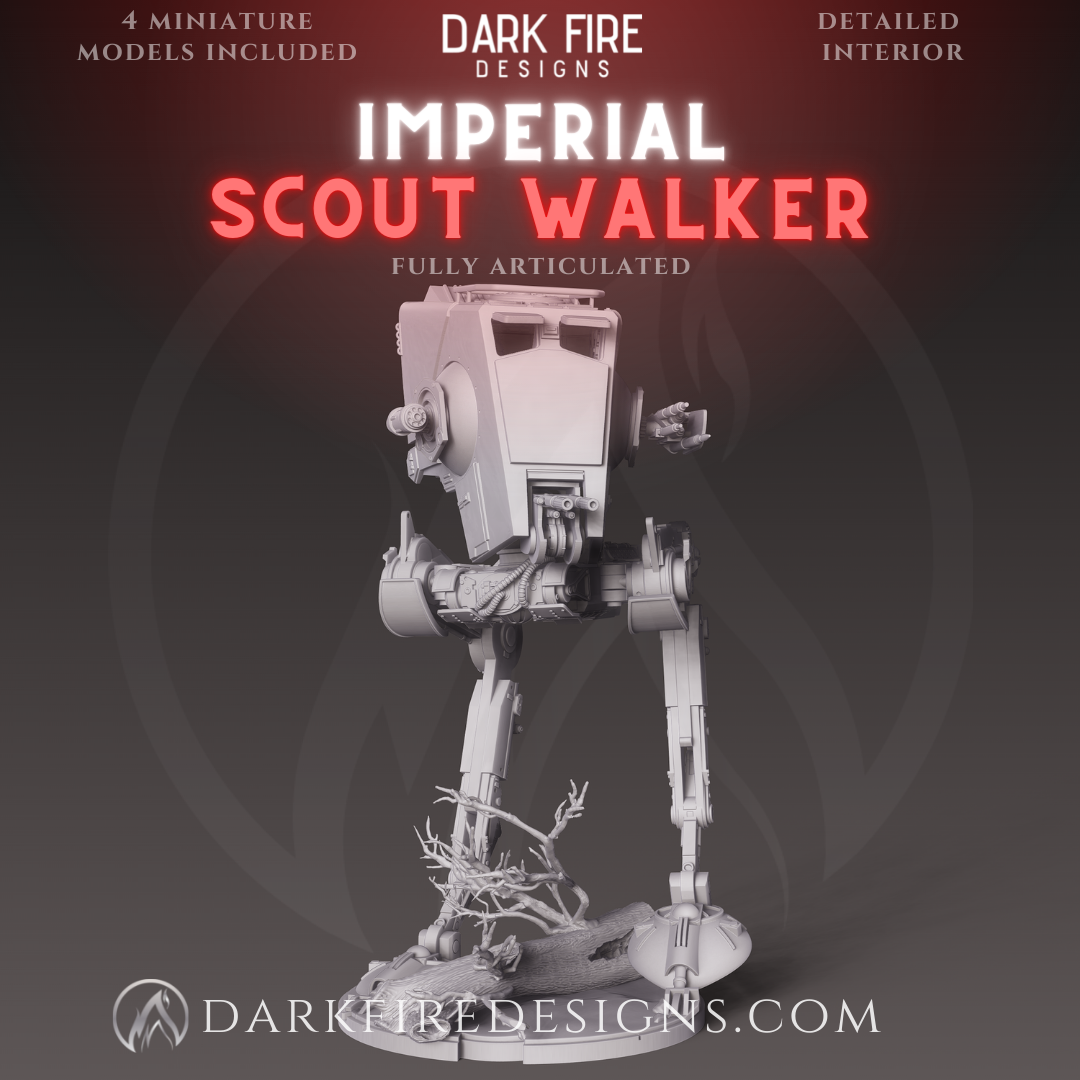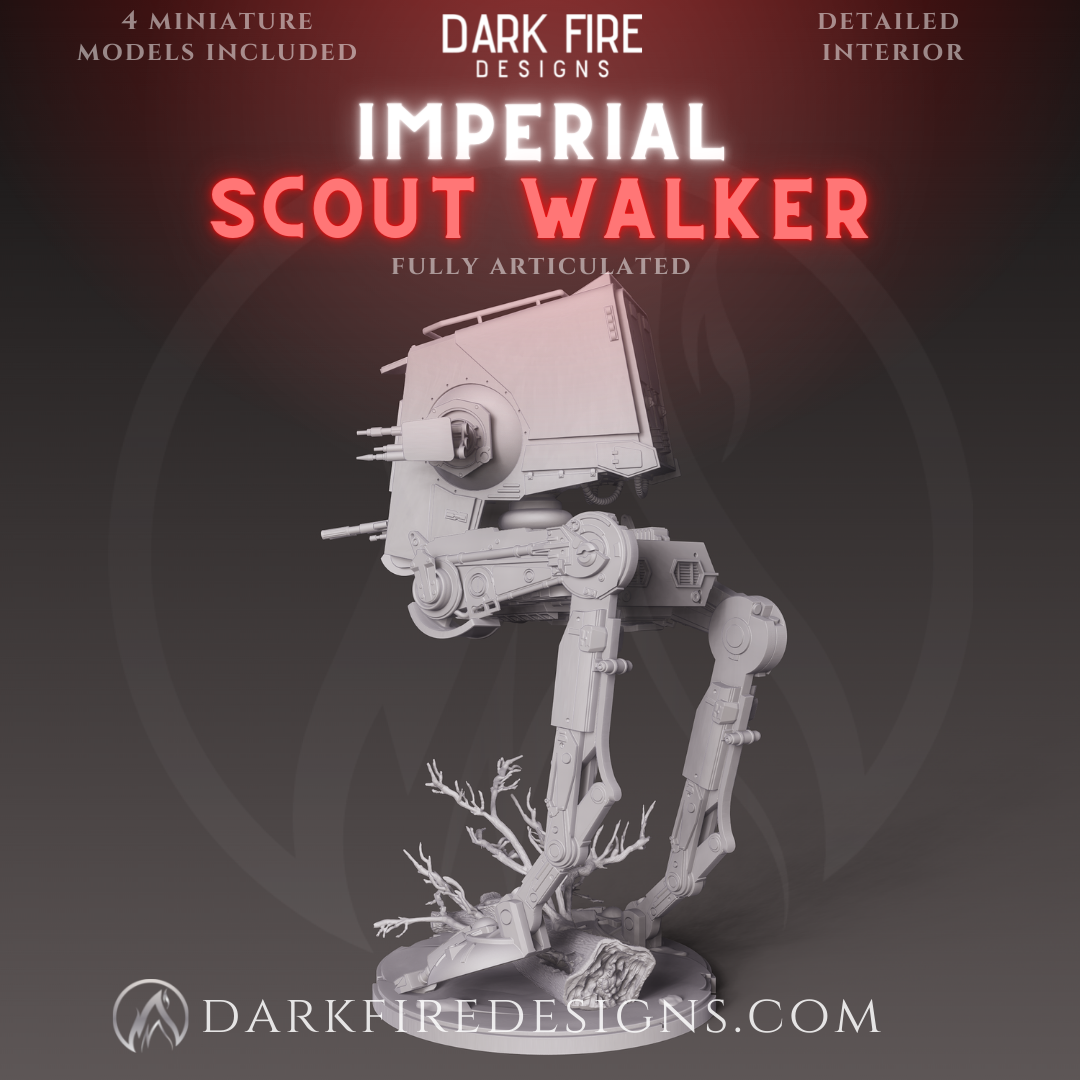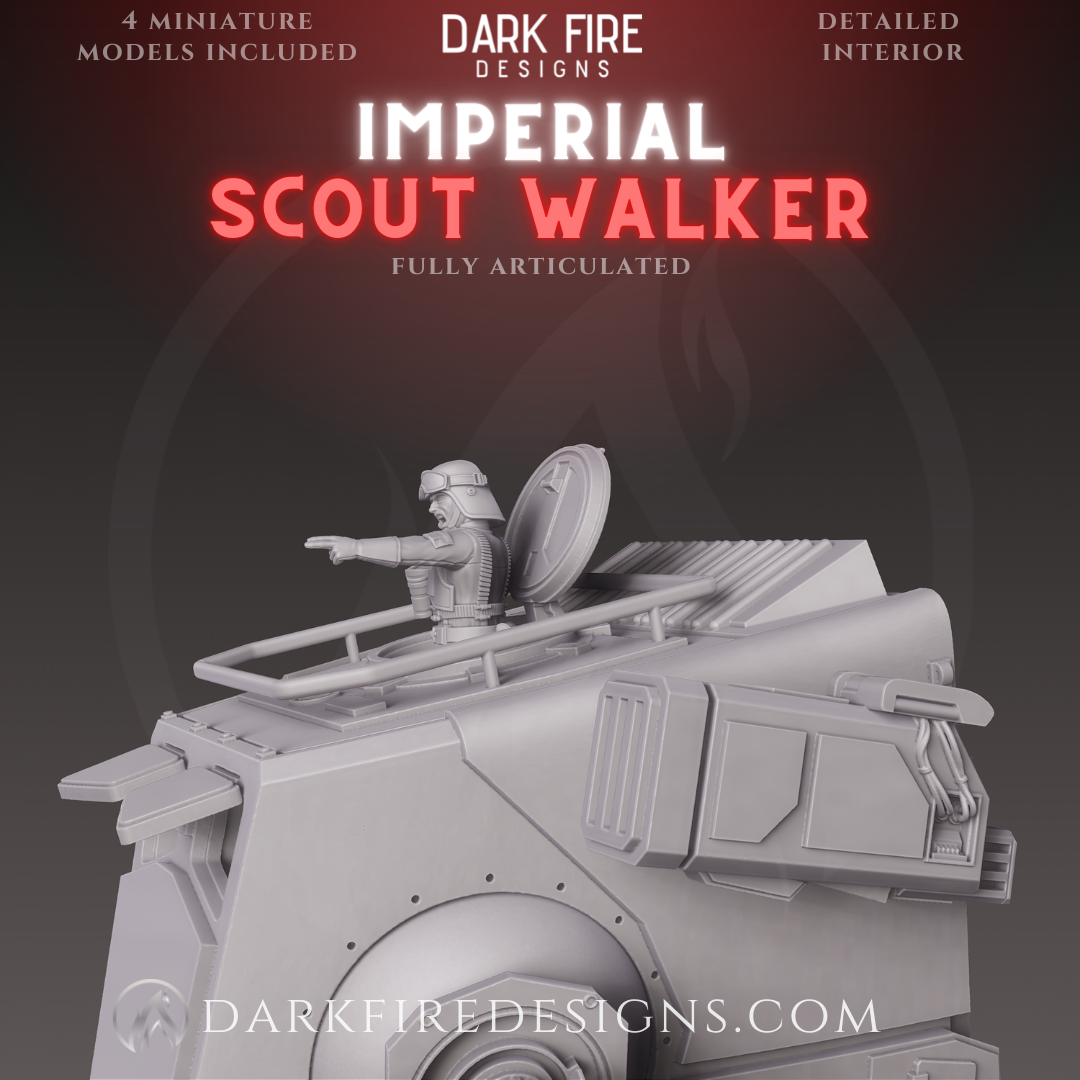 FAQ About Our STL Files
What kind of printers work best for your models?

Our models are specifically designed for Resin SLA and DLP printers.
What scale are your miniatures?

Our miniatures are scaled at 1:46. Our models were created to have more realistic proportions and may appear leaner than Heroic scaled figures.
Can I buy your miniatures without using a 3D Printer? 
What slicer software should I use for printing your stl files?

We strongly recommend using Chitubox to open these files
Where will the files go?

We have an online library on our site! Simply click your account icon at the top of the page.
How do I download my files?

Under Account you'll be taken to your order history page. Simply click the order number and you'll be taken to a download page to recieve your files!