Dark Fire Designs
Imperial Trench Trooper Assaulters
Regular price
Sale price
$10.00 USD
Unit price
per
Sale
Sold out
"The enemy is dug in deep. IT-439 convince them to move along." 
This listing is for the STL files, not the printed miniature.
Compared to standard Storm Corps Trooper's armor, Trench Troopers have specialized gear for wet and confined battlefields. These modifications include more space between their armored joints for a wider range of movement, waterproof slicks to keep the soldier and gear dry, and reinforced helmets for better protection from enemy marksmen.

Most Imperial Trench Troopers are armed with E series Imperial Blasters, but when the enemy is particularly well fortified, commanders of the Storm Corps will call upon more specialized troopers, one of these specializations in the Trench Trooper Assaulters. 
These tunnel fighters are equipped with close range scatter-shot blasters, that are perfect for clearing out enemy bunkers and gun lines. These solders are trained to quickly close the distance between them, and the enemy. 

Get up-close and personal with your opponent next time you deploy your legion with these pre-posed Imperial Trench Trooper Assaulters. These models have been designed to easily print and paint to deploy them quickly onto any battlefield. 

The original model is made for 1:46 scale and designed to have more realistic proportions and may appear leaner than "heroic scaled" figures. 3d Printers:
We STRONGLY recommend using the Chitubox slicer.
This model is designed for Resin SLA and DLP printers.
Agreement: Upon purchase, the End-User agrees to print these files for personal use and not for any commercial printing endeavors. Please do not share or sell these files or print to sell after purchase.
This model is not endorsed by or affiliated with Disney or Lucasarts.
Share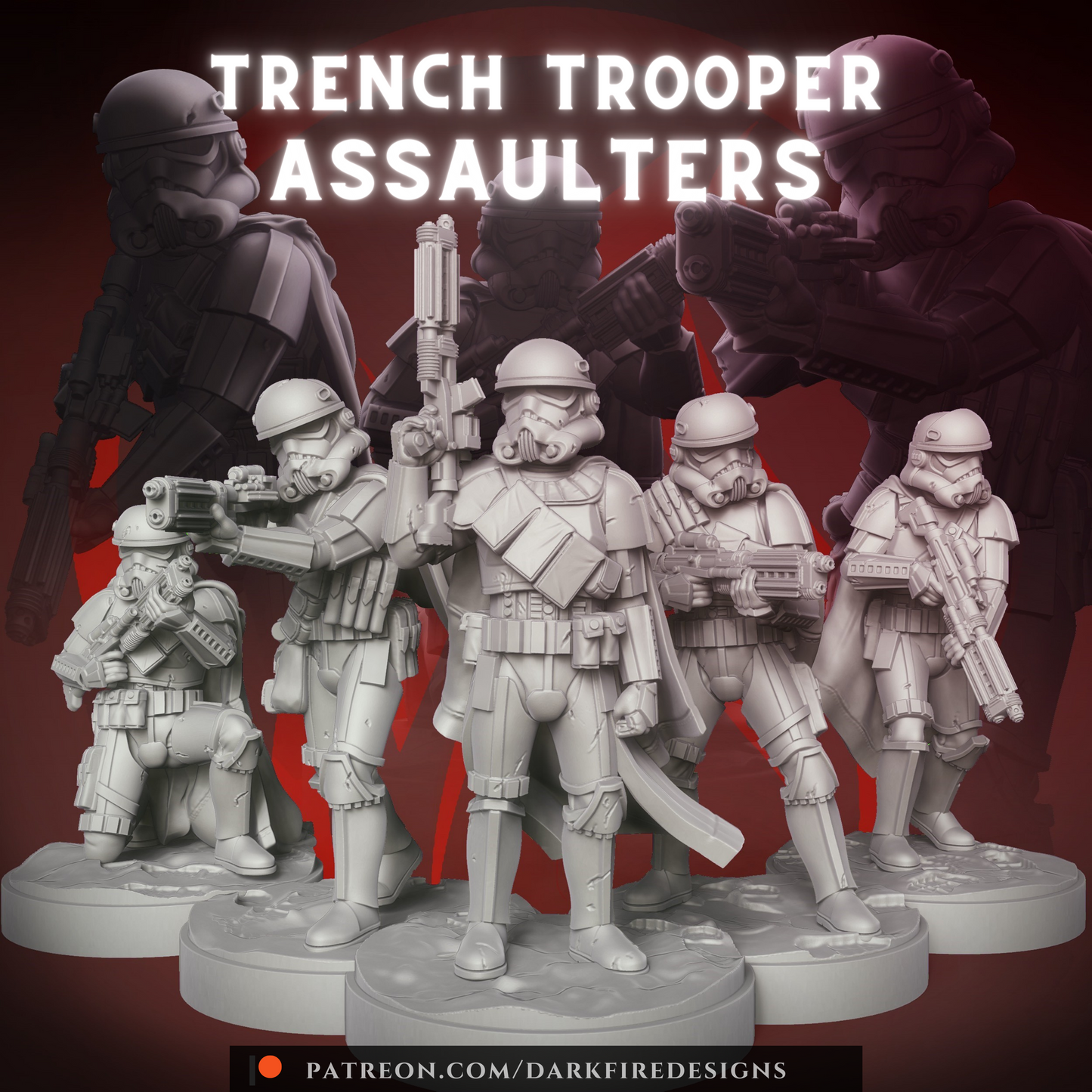 FAQ About Our STL Files
What kind of printers work best for your models?

Our models are specifically designed for Resin SLA and DLP printers.
What scale are your miniatures?

Our miniatures are scaled at 1:46. Our models were created to have more realistic proportions and may appear leaner than Heroic scaled figures.
Can I buy your miniatures without using a 3D Printer? 
What slicer software should I use for printing your stl files?

We strongly recommend using Chitubox to open these files
Where will the files go?

We have an online library on our site! Simply click your account icon at the top of the page.
How do I download my files?

Under Account you'll be taken to your order history page. Simply click the order number and you'll be taken to a download page to recieve your files!