Dark Fire Designs
Lizard Bounty Hunter
Regular price
Sale price
$18.00 USD
Unit price
per
Sale
Sold out
"We live and die as the Scorekeeper wills--and I am favored over my enemies by the great goddess."
This listing is for the STL files, not the printed miniature.
This Lizard Bounty Hunter is a male Cold Blooded Mercenary known for his exceptional hunting skills. During a significant galactic conflict between the Separatists and the Republic, he collaborated with a group of fellow bounty hunters in a plot to eliminate a high-ranking Knight on the Republic Council, a scheme that eventually led to his capture and imprisonment.
Upon release, the Lizard Bounty Hunter became part of a syndicate of bounty hunters led by a young orphan, undertaking a variety of missions and assignments.
When a mighty Empire rose to power, he continued to be a force to be reckoned with in the bounty hunting industry, progressively operating independently. On one mission to a far-off planet, he pursued a notorious criminal. During this mission, he formed an unlikely alliance with a street child who possessed extraordinary, mysterious powers.
Whether you're an avid collector or just starting out, our pre-posed, meticulously designed Lizard Bounty Hunter model is sure to take your collection to the next level. Designed to embody the ruthless yet determined spirit of the infamous Cold Blooded Hunter, each file captures this legendary figure in distinct, dynamic poses.
Get ready to experience the casual side of the hunter, cool and collected, biding his time before the hunt. Feel the adrenaline with the action pose, showcasing the hunter's raw power and agility in the midst of a thrilling chase. The tracking pose, displaying the Hunter's keen focus and stalking prowess, offers a glimpse into the relentless determination that makes him a formidable force in the galaxy.
These STL files provide high-quality, detailed renditions of the Lizard Bounty Hunter, making them perfect for 3D printing. Whether you're building an army, adding to your display shelf, or crafting an immersive tabletop game, these files offer an unmatched level of realism and detail.
Don't miss out on the chance to bring this legendary hunter to life! Download your Lizard Bounty Hunter STL files now and feel the thrill of the chase right from the comfort of your home!
The original model is made for 1:46 scale and designed to have more realistic proportions and may appear leaner than "heroic scaled" figures. 3d Printers:
We STRONGLY recommend using the Chitubox slicer.
This model is designed for Resin SLA and DLP printers.
Agreement: Upon purchase, the End-User agrees to print these files for personal use and not for any commercial printing endeavors. Please do not share or sell these files or print to sell after purchase.
This model is not endorsed by or affiliated with Disney or Lucasarts.
Share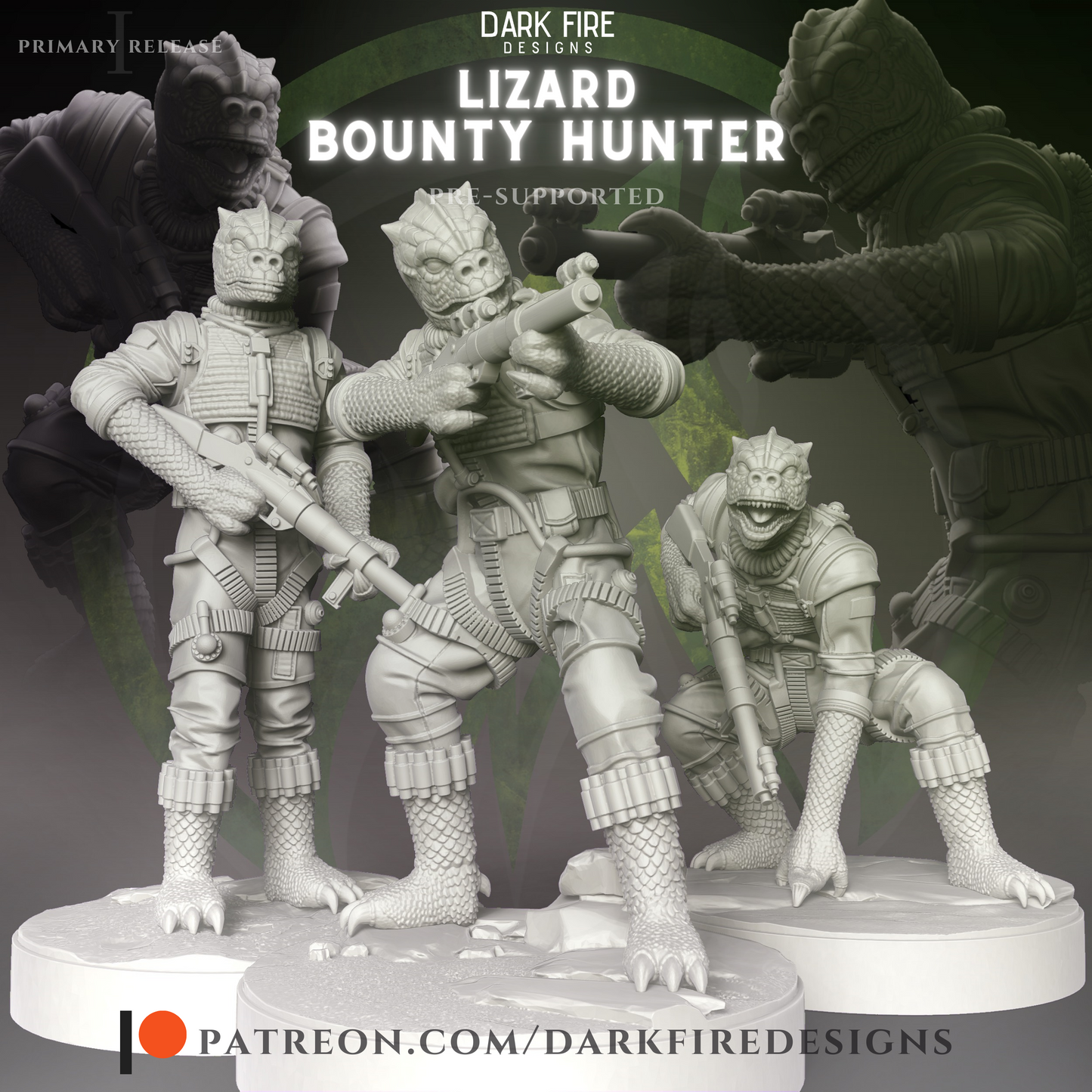 FAQ About Our STL Files
What kind of printers work best for your models?

Our models are specifically designed for Resin SLA and DLP printers.
What scale are your miniatures?

Our miniatures are scaled at 1:46. Our models were created to have more realistic proportions and may appear leaner than Heroic scaled figures.
Can I buy your miniatures without using a 3D Printer? 
What slicer software should I use for printing your stl files?

We strongly recommend using Chitubox to open these files
Where will the files go?

We have an online library on our site! Simply click your account icon at the top of the page.
How do I download my files?

Under Account you'll be taken to your order history page. Simply click the order number and you'll be taken to a download page to recieve your files!