Dark Fire Designs
Mudskull Bikers
Regular price
Sale price
$8.00 USD
Unit price
per
Sale
Sold out
"They won't know what hit them – we'll strike swift and true for the glory of the Empire!"
This listing is for the STL files, not the printed miniature.

Mudskulls are specialized storm core soldiers of the Empire designed to operate in wet, marshy environments. Equipped with specialized armor and gear to adapt to the harsh conditions, they are known for their tenacity and resilience in battle. As part of the Empire's ongoing efforts to increase their effectiveness and adaptability, Mudskulls have recently begun incorporating speeder bike scout troopers into their regiments. This integration provides improved reconnaissance, faster response times, and greater strategic capabilities, further solidifying the Mudskulls' reputation as a formidable force within the Empire's military.

Elevate your tabletop gaming experience with the versatile and powerful Mudskull Speeder Teams – the perfect proxies to unify and enhance the collective look of your Imperial forces. These elite units specialize in reconnaissance and rapid response, providing invaluable tactical advantages on the battlefield. Unleash their anti-infantry prowess to decimate your opponents, leaving them scrambling for cover. With their easy assembly and customizable parts, you can create a uniquely personalized force that showcases your artistic flair while dominating the competition. Don't miss the opportunity to fortify your army with the unmatched versatility and might of the Mudskull Speeder Teams – enlist them today and conquer the galaxy!

This is a model that is already set up and ready to use, and it comes in the standard STL file format and pre-supported. It's designed to be easy to assemble and quick to paint, so you can get your miniatures ready for tabletop in no time!
The original model is made for 1:46 scale and designed to have more realistic proportions and may appear leaner than "heroic scaled" figures.
3d Printers:
We STRONGLY recommend using the Chitubox slicer.
This model is designed for Resin SLA and DLP printers.
Agreement:
Upon purchase, the End-User agrees to print these files for personal use and not for any commercial printing endeavors. Please do not share or sell these files or print to sell after purchase.
This model is not endorsed by or affiliated with Disney or Lucasarts.
Share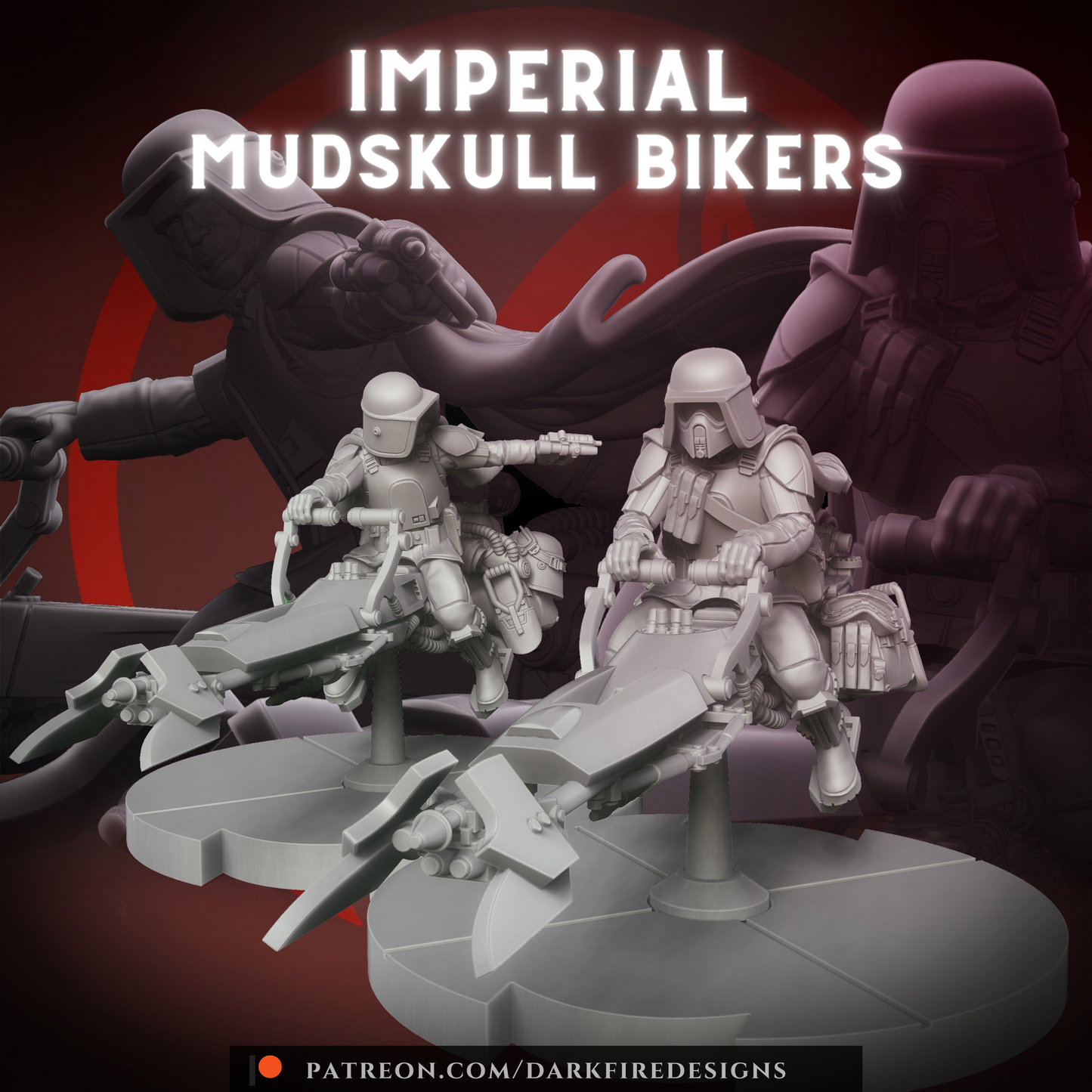 FAQ About Our STL Files
What kind of printers work best for your models?

Our models are specifically designed for Resin SLA and DLP printers.
What scale are your miniatures?

Our miniatures are scaled at 1:46. Our models were created to have more realistic proportions and may appear leaner than Heroic scaled figures.
Can I buy your miniatures without using a 3D Printer? 
What slicer software should I use for printing your stl files?

We strongly recommend using Chitubox to open these files
Where will the files go?

We have an online library on our site! Simply click your account icon at the top of the page.
How do I download my files?

Under Account you'll be taken to your order history page. Simply click the order number and you'll be taken to a download page to recieve your files!