Dark Fire Designs
N1 Royal Star Fighter
Regular price
Sale price
$18.00 USD
Unit price
per
Sale
Sold out
"Do you have any idea what this is? This is an N-1 starfighter, handmade for the royal guard and commissioned personally by the Queen!"
This listing is for the STL files, not the printed miniature.
The Queen's Star Corps employed the sleek N-1 starfighter, a single-pilot craft that exemplified the fusion of art and functionality in the planet's technology. The craft's forward surfaces boasted buffed chromium finishes, perfect for dazzling fly-bys and parades, symbolizing the planet's royalty and complementing the Royal Starship. Interestingly, the chromium contrasts with the starfighter's overall yellow hue.
Equipped with two J-type engines, the N-1 starfighter boasted remarkable agility, in addition to a state-of-the-art hyperdrive engine. It came with a solitary on-board navigational droid, affixed to the top of the craft. The ship featured an autopilot system, shielding, two blaster cannons, and proton torpedo launchers. Furthermore, it had one double proton torpedo magazine that could house up to ten proton torpedoes. The starfighter had a maximum speed of 1,100 kph, and it measured eleven meters in length. Its central rat-tail served as a power charger collector, acquiring energy from onboard generators when not in use, while the two outer finials acted as heat sinks for the engines.

Elevate your miniature army and dioramas with the N-1 Royal Star Fighter, an elegant, high-performance model boasting polished chromium and a striking yellow hue. Experience unmatched agility and firepower in a sleek, legendary design. Don't miss the chance to showcase this iconic spacecraft – order yours today and dominate the battlefield!


This pack gives you a fully detailed N1 Royal Starfighter and is designed for resin 3d printers.
Besides pre-supported and standard STLs this kit includes:
A Seated pilot both female and male.
Multiple canopy options for painted or see through canopies (recommended vacuum formed canopies)
The original model is made for 1:46 scale and designed to have more realistic proportions and may appear leaner than "heroic scaled" figures.
3d Printers:
We STRONGLY recommend using the Chitubox slicer.
This model is designed for Resin SLA and DLP printers.
Agreement: Upon purchase, the End-User agrees to print these files for personal use and not for any commercial printing endeavors. Please do not share or sell these files or print to sell after purchase.
This model is not endorsed by or affiliated with Disney or Lucasarts.
Share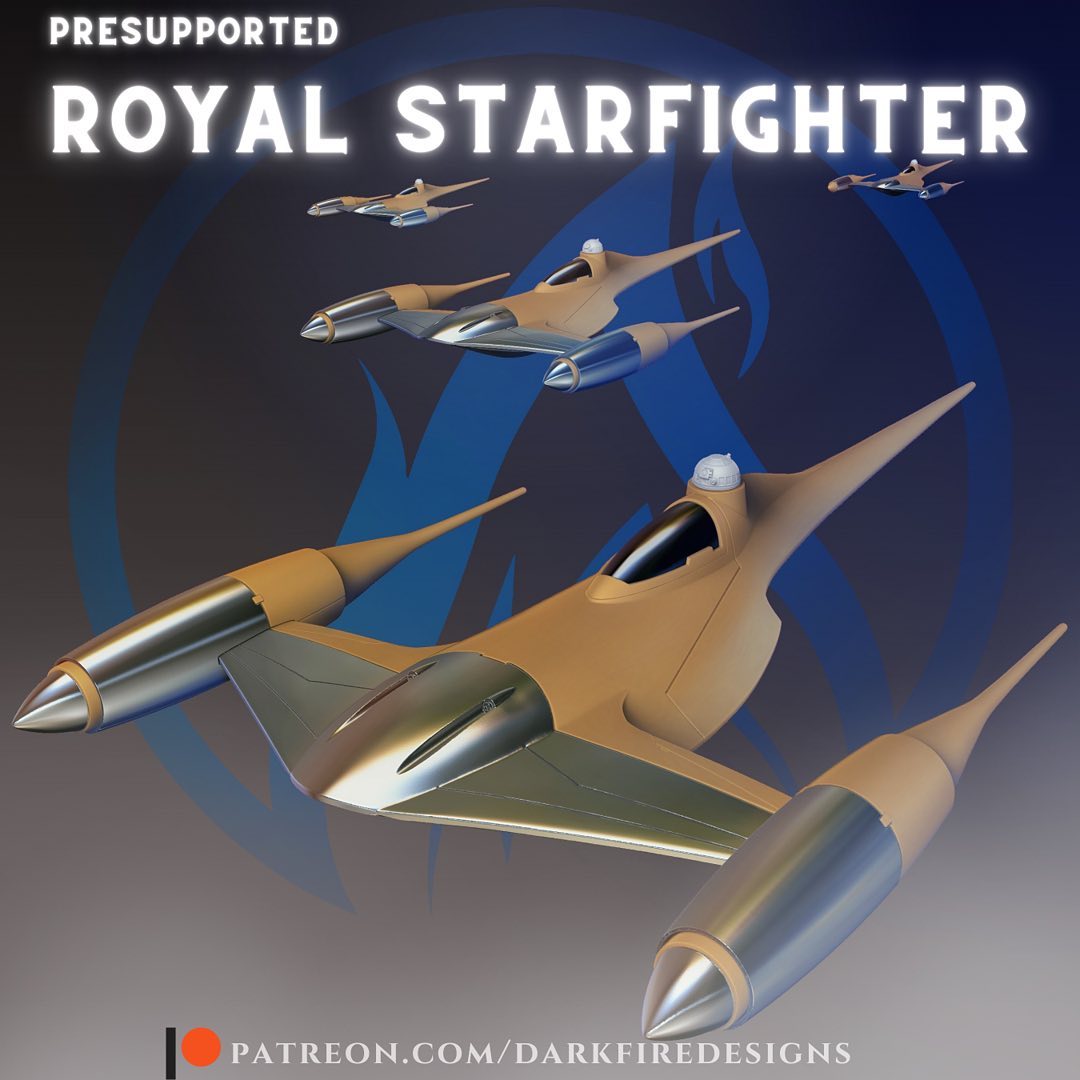 FAQ About Our STL Files
What kind of printers work best for your models?

Our models are specifically designed for Resin SLA and DLP printers.
What scale are your miniatures?

Our miniatures are scaled at 1:46. Our models were created to have more realistic proportions and may appear leaner than Heroic scaled figures.
Can I buy your miniatures without using a 3D Printer? 
What slicer software should I use for printing your stl files?

We strongly recommend using Chitubox to open these files
Where will the files go?

We have an online library on our site! Simply click your account icon at the top of the page.
How do I download my files?

Under Account you'll be taken to your order history page. Simply click the order number and you'll be taken to a download page to recieve your files!