Dark Fire Designs
Republic Airborne Commander
Regular price
Sale price
$13.00 USD
Unit price
per
Sale
Sold out
"Yeah, regular folk don't understand. Sometimes in war, it's hard to be the one that survives."
This listing is for the STL files, not the printed miniature.
The Republic Airborne Commander symbolizes the embodiment of strategic prowess and commanding presence on the field. Adorned in unique protective gear, this stalwart hero commands respect and obedience, an epitome of leadership and tactical genius. His distinctive armor, helmet, and weaponry stand testament to his position and significance. Unyielding in the face of adversity, the Airborne Commander is a beacon of hope for his troops, leading them through every storm with unwavering resolve and inspiring courage.
Dark Fire Designs brings you the STL files for the Republic Airborne Commander, painstakingly designed with utmost attention to detail, ready for 3D printing at your home. This static hero kit is a perfect proxy for your legion, offering a model that not only adds value but also paints a vivid picture of galactic grandeur. The pre-posed nature of the kit enables swift printing and painting, getting this commanding figure onto your tabletop faster than ever.
Ready to add an element of commanding authority to your legion? Download the Republic Airborne Commander STL files today and let the skies echo the tales of your legendary exploits!
The original model is made for 1:46 scale and designed to have more realistic proportions and may appear leaner than "heroic scaled" figures. For 3D printers, we STRONGLY recommend using the Chitubox slicer. This model is designed for Resin SLA and DLP printers.
Empower your collection with a symbol of enduring leadership and unbreakable will. Step into the shoes of the Republic Airborne Commander and lead your troops to victory!
Agreement: Upon purchase, the End-User agrees to print these files for personal use and not for any commercial printing endeavors. Please do not share or sell these files or print to sell after purchase. This model is not endorsed by or affiliated with Disney or Lucasarts.
Share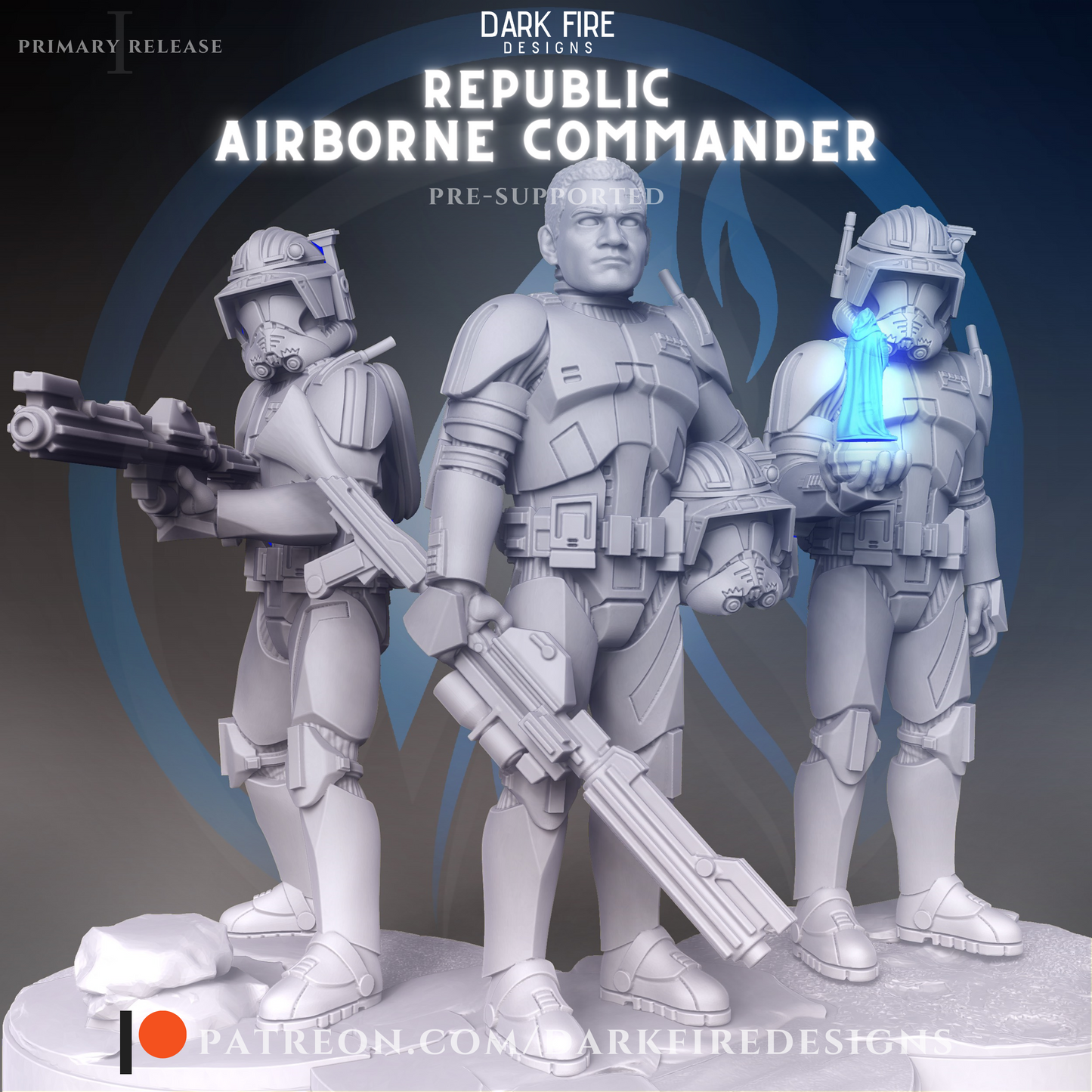 FAQ About Our STL Files
What kind of printers work best for your models?

Our models are specifically designed for Resin SLA and DLP printers.
What scale are your miniatures?

Our miniatures are scaled at 1:46. Our models were created to have more realistic proportions and may appear leaner than Heroic scaled figures.
Can I buy your miniatures without using a 3D Printer? 
What slicer software should I use for printing your stl files?

We strongly recommend using Chitubox to open these files
Where will the files go?

We have an online library on our site! Simply click your account icon at the top of the page.
How do I download my files?

Under Account you'll be taken to your order history page. Simply click the order number and you'll be taken to a download page to recieve your files!