Dark Fire Designs
Republic Airborne Troopers
Regular price
Sale price
$18.00 USD
Unit price
per
Sale
Sold out
"Sir… No one could have survived that fall."
Please note: This listing is for the STL files, not the printed miniature.
The Republic Airborne Troopers embody the spirit of courage and determination. These fearless warriors, known for their superior tactical skills and unparalleled agility, dominate the battleground from above. Outfitted with specialized armor and weaponry, the Airborne Troopers descend from the heavens, bringing the fight to their adversaries with a display of relentless resilience. The signature helmet and armor provide the Troopers with the necessary protection and ease of movement needed to navigate through the most challenging terrains, while their uniquely crafted weapons serve as powerful deterrents to any foes daring to stand in their path.
The Dark Fire Designs' Republic Airborne Troopers STL files give you the opportunity to bring these brave soldiers into your personal collection. Designed meticulously for your home 3D printer, each model captures the detailed intricacies of the Airborne Troopers' distinctive gear. As a modular product, these models provide endless customization options to enrich your legion. This kit includes five pre-posed digital sculpts, five pre-posed digital kitbashes, and five modular kits offering you the freedom to mix and match to create a truly unique squad. Fully compatible with other Dark Fire Designs' modular kits, the possibilities for crafting your custom legion are virtually limitless.
Take the leap and download the Republic Airborne Troopers STL files today. Usher in a new era for your legion, marked by the indomitable spirit of these airborne warriors!
The original model is made for 1:46 scale and designed to have more realistic proportions and may appear leaner than "heroic scaled" figures. For 3D printers, we STRONGLY recommend using the Chitubox slicer. This model is designed for Resin SLA and DLP printers.
The sky is no limit when it comes to the versatility and bravery of the Republic Airborne Troopers. Take your collection to new heights today!
Agreement: Upon purchase, the End-User agrees to print these files for personal use and not for any commercial printing endeavors. Please do not share or sell these files or print to sell after purchase. This model is not endorsed by or affiliated with Disney or Lucasarts.
Share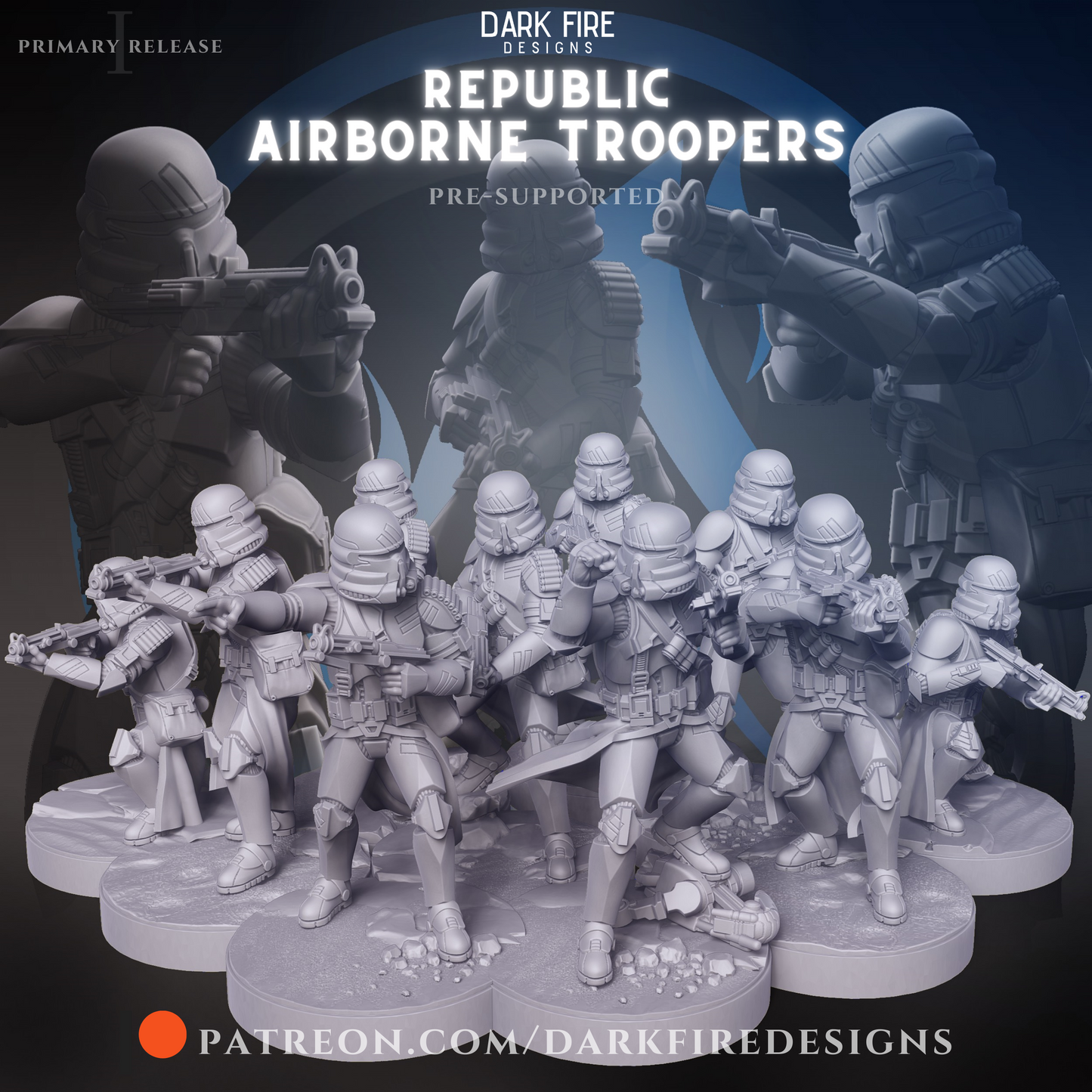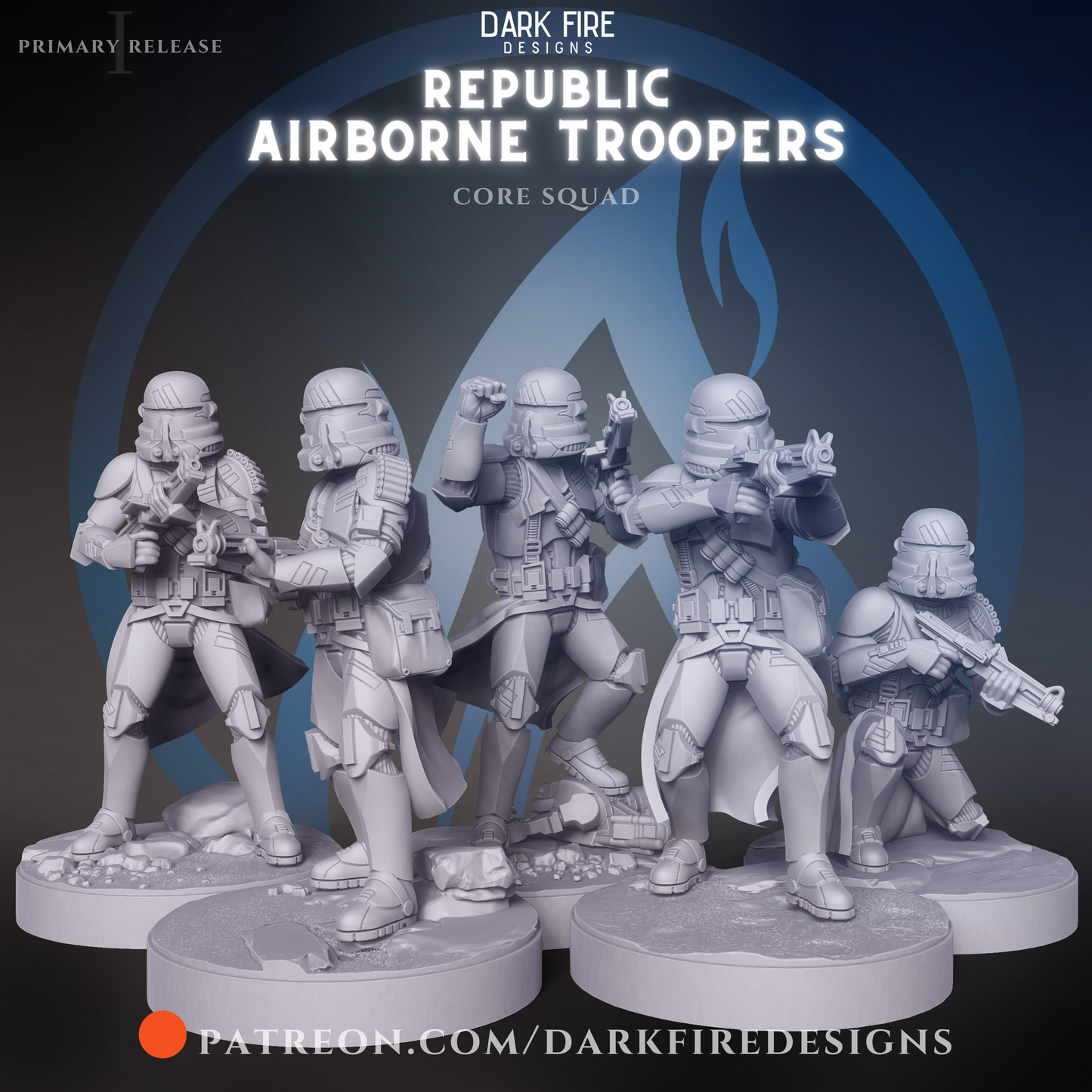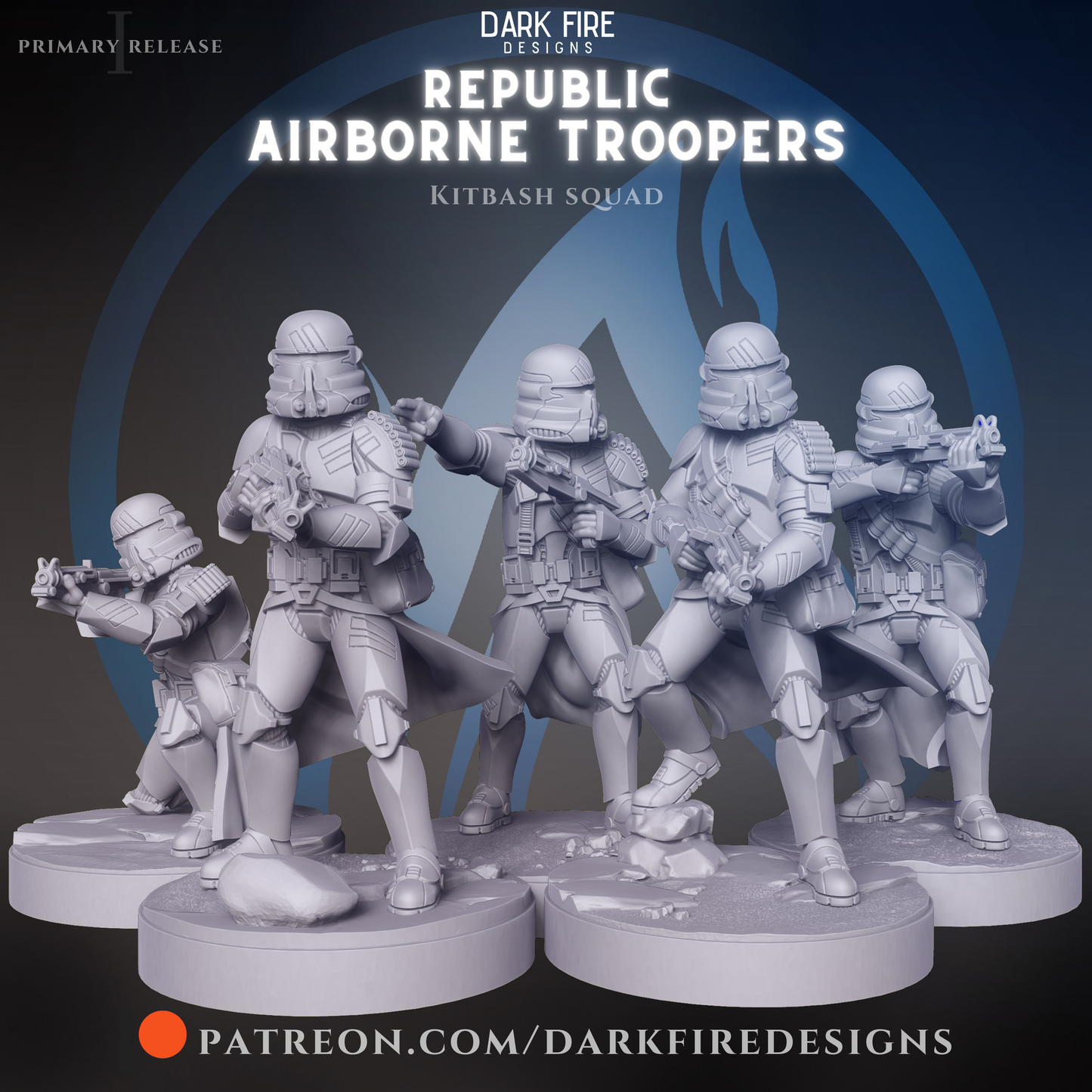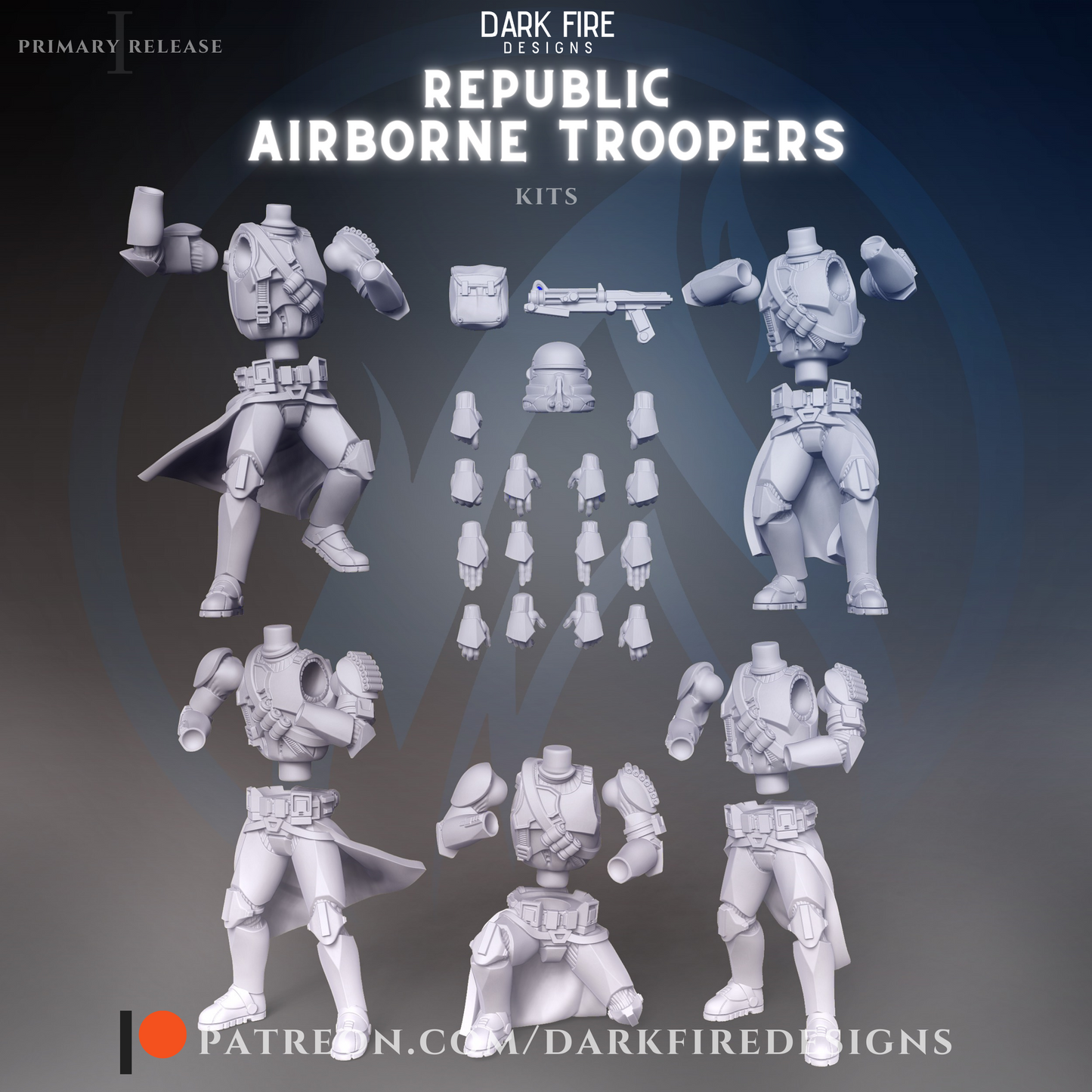 FAQ About Our STL Files
What kind of printers work best for your models?

Our models are specifically designed for Resin SLA and DLP printers.
What scale are your miniatures?

Our miniatures are scaled at 1:46. Our models were created to have more realistic proportions and may appear leaner than Heroic scaled figures.
Can I buy your miniatures without using a 3D Printer? 
What slicer software should I use for printing your stl files?

We strongly recommend using Chitubox to open these files
Where will the files go?

We have an online library on our site! Simply click your account icon at the top of the page.
How do I download my files?

Under Account you'll be taken to your order history page. Simply click the order number and you'll be taken to a download page to recieve your files!