Dark Fire Designs
Republic Fabled Captain
Regular price
Sale price
$12.99 USD
Unit price
per
Sale
Sold out
"Courage, skill, leadership - this fabled captain stands as a testament to these virtues."
This listing is for the STL files, not the printed miniature.
The Fabled Captain is a figure that stands out among his peers. A leader known for his unmatched strategic acumen and incredible battlefield resilience, he has successfully led his team in numerous high-stakes operations. Each pose of this model - heroic, action, and casual - captures a different aspect of his complex character, providing a glimpse into his intriguing persona.
Dark Fire Designs brings this legendary figure to life with our meticulously crafted STL file. Printed on your home 3D printer, our design perfectly captures the essence of this renowned captain. The pre-posed models are easy to print and quick to paint, making them an ideal addition to your collection for those looking to swiftly enhance their tabletop experience.
Moreover, the Fabled Captain serves as a perfect proxy for customizing your legion. Whether you're recreating epic battles or constructing a meticulously detailed diorama, his presence is sure to lend authenticity and uniqueness to your setup.
Don't miss the opportunity to add this iconic figure to your collection. Download the Fabled Captain today and start your journey towards creating an engaging tabletop experience.
The original model is made for 1:46 scale and designed to have more realistic proportions and may appear leaner than "heroic scaled" figures. 3d Printers: We STRONGLY recommend using the Chitubox slicer. This model is designed for Resin SLA and DLP printers.
Agreement: Upon purchase, the End-User agrees to print these files for personal use and not for any commercial printing endeavors. Please do not share or sell these files or print to sell after purchase. This model is not endorsed by or affiliated with Disney or Lucasarts.
Share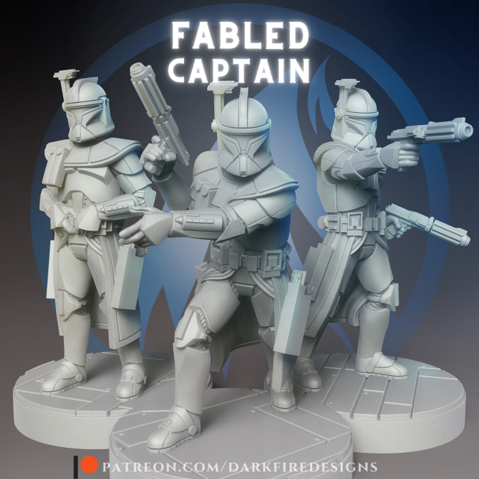 FAQ About Our STL Files
What kind of printers work best for your models?

Our models are specifically designed for Resin SLA and DLP printers.
What scale are your miniatures?

Our miniatures are scaled at 1:46. Our models were created to have more realistic proportions and may appear leaner than Heroic scaled figures.
Can I buy your miniatures without using a 3D Printer? 
What slicer software should I use for printing your stl files?

We strongly recommend using Chitubox to open these files
Where will the files go?

We have an online library on our site! Simply click your account icon at the top of the page.
How do I download my files?

Under Account you'll be taken to your order history page. Simply click the order number and you'll be taken to a download page to recieve your files!