Dark Fire Designs
Republic Mobile Recon Troopers
Regular price
Sale price
$22.00 USD
Unit price
per
Sale
Sold out
"The 91st Mobile Recon Corps, the vigilant eyes and ears of the Republic, always ready to gather intelligence and strike at the heart of the enemy."
This listing is for the STL files, not the printed miniature.
The 91st Reconnaissance Corps, also known as the 91st Mobile Reconnaissance Corps, was a unit of vat-grown recon troopers in the Army of the Republic during the War with the Separatists. Led by Vat marshal commander Neyo, the corps consisted of divisions of Vat, BARC, and ARF troopers. In addition to BARC speeders, the corps utilized AT-TE, AT-AP walkers, and AT-RT walkers. The elite Lightning Squadron, a cavalry unit, was also a part of the 91st Reconnaissance Corps.
To distinguish themselves, the 91st used small red circles with an upside-down white sword as their emblem. The corps' lieutenants, like Neyo, wore specialized helmets resembling those of Vat assassins to give them a more ominous appearance and protect their commander.

Unleash the full potential of your sci-fi gaming experience with our Republic Mobile Recon Specialist customization! Join the ranks of the legendary 91st Reconnaissance Corps and lead your legion to victory in the war against the Separatists. Command your army of elite, vat-grown recon troopers equipped with DC Series Republic Carbines. Emblazoned with the iconic red circle and inverted white sword emblem, you'll strike fear into the hearts of your enemies. Don't miss this opportunity to add the menacing Neyo-inspired helmets to your lieutenants and truly transform your squad into the unstoppable force that is the 91st Mobile Reconnaissance Corps. Victory awaits, commander!


This pack gives you five unique modular Republic Mobile Recon Troopers and is designed for resin 3d printers.
Besides pre-supported and standard STLs this kit includes:
Parts and equipment to add a variety of load outs to any Republic Mobile Recon Troopers you wish to make.
Six Alternative heads for your squad.
Prebuilt versions and modular kits for Republic Mobile Recon Troopers.
Digital Kit bashed and Preposed models for added to help you quickly add some unique features to your army.
Add more variety to your Republic Mobile Recon Troopers by combining them with other modular kits from Dark Fire Designs.
The original model is made for 1:46 scale and designed to have more realistic proportions and may appear leaner than "heroic scaled" figures.
3d Printers:
We STRONGLY recommend using the Chitubox slicer.
This model is designed for Resin SLA and DLP printers.
Agreement:
Upon purchase, the End-User agrees to print these files for personal use and not for any commercial printing endeavors. Please do not share or sell these files or print to sell after purchase.
This model is not endorsed by or affiliated with Disney or Lucasarts.
Share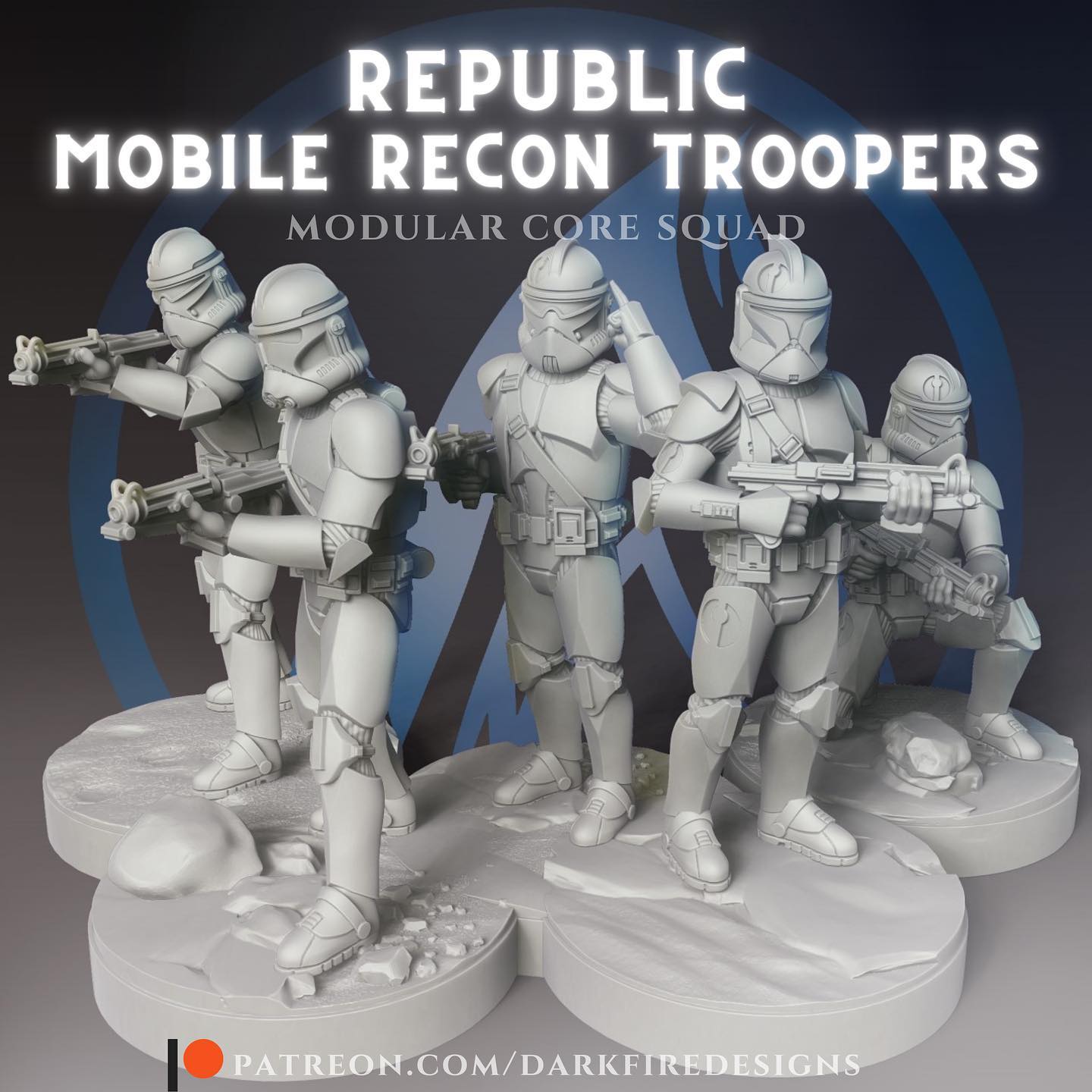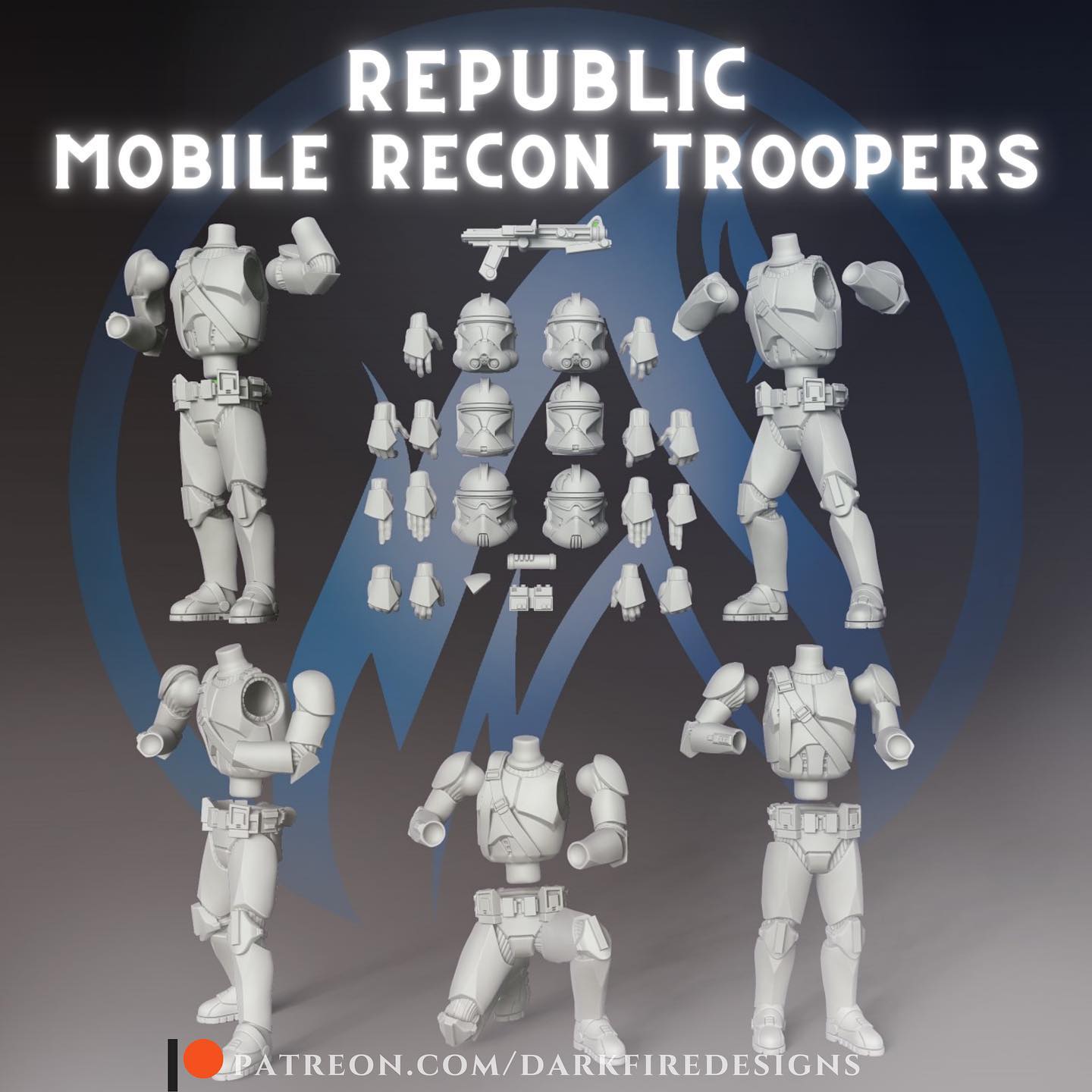 FAQ About Our STL Files
What kind of printers work best for your models?

Our models are specifically designed for Resin SLA and DLP printers.
What scale are your miniatures?

Our miniatures are scaled at 1:46. Our models were created to have more realistic proportions and may appear leaner than Heroic scaled figures.
Can I buy your miniatures without using a 3D Printer? 
What slicer software should I use for printing your stl files?

We strongly recommend using Chitubox to open these files
Where will the files go?

We have an online library on our site! Simply click your account icon at the top of the page.
How do I download my files?

Under Account you'll be taken to your order history page. Simply click the order number and you'll be taken to a download page to recieve your files!