Dark Fire Designs
Republic Trooper Rifle Squad
Regular price
Sale price
$18.00 USD
Unit price
per
Sale
Sold out
"Unyielding and steadfast, the Republic Vat Trooper stands as a beacon of resolve in the face of adversity."
This listing is for the STL files, not the printed miniature.
The Republic Rifle Squad, the mainstay of the Republic's ground forces, are an embodiment of unity, discipline, and unwavering determination. Bred for battle and trained to perfection, these soldiers were the backbone of many monumental confrontations throughout the galaxy. Their uniformity in appearance and unwavering loyalty to their cause were their defining characteristics, a testament to their engineered origins.
Presenting the modular Republic Rifle Squad STL files, meticulously designed by Dark Fire Designs. This unique set enables you to bring this iconic squad to life, right on your home 3D printer. Perfect as a proxy for your legion, these models offer complete customization, allowing you to create a truly unique squad that reflects your strategic preferences and aesthetic style.
The Republic Rifle Squad STL files are fully compatible with other Dark Fire Design's modular kits, providing you with endless possibilities for customization. Whether you're recreating a famous formation or pioneering your own squad layout, these models are your gateway to a personalized tabletop experience.
Embrace the opportunity to breathe life into your own Republic Rifle Squad. Download the STL files today and let your 3D printer create a testament to the iconic ground forces of the Republic.
The original model is made for 1:46 scale and designed to have more realistic proportions and may appear leaner than "heroic scaled" figures. 3D Printers: We STRONGLY recommend using the Chitubox slicer. This model is designed for Resin SLA and DLP printers.
Agreement: Upon purchase, the End-User agrees to print these files for personal use and not for any commercial printing endeavors. Please do not share or sell these files or print to sell after purchase. This model is not endorsed by or affiliated with Disney or Lucasarts.
Share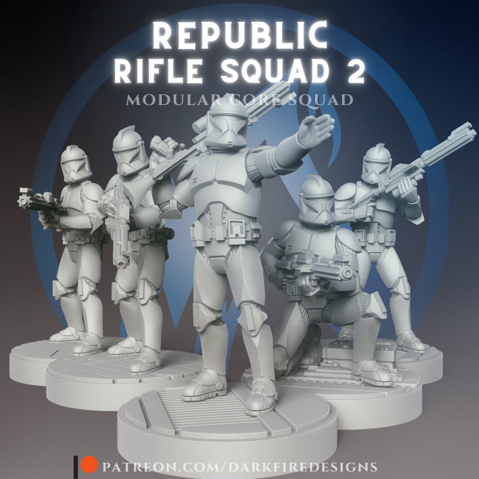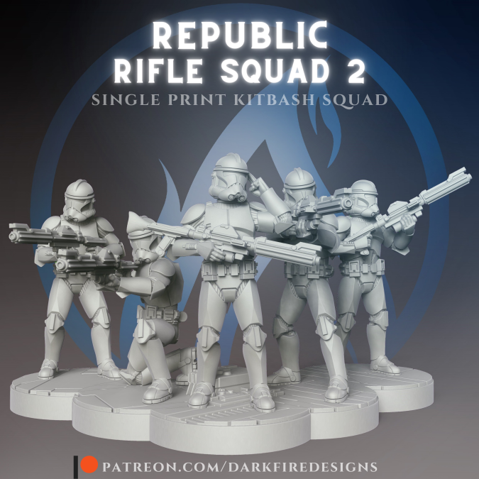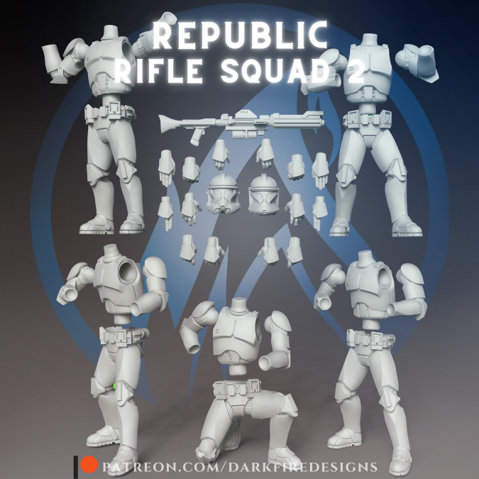 FAQ About Our STL Files
What kind of printers work best for your models?

Our models are specifically designed for Resin SLA and DLP printers.
What scale are your miniatures?

Our miniatures are scaled at 1:46. Our models were created to have more realistic proportions and may appear leaner than Heroic scaled figures.
Can I buy your miniatures without using a 3D Printer? 
What slicer software should I use for printing your stl files?

We strongly recommend using Chitubox to open these files
Where will the files go?

We have an online library on our site! Simply click your account icon at the top of the page.
How do I download my files?

Under Account you'll be taken to your order history page. Simply click the order number and you'll be taken to a download page to recieve your files!