Dark Fire Designs
Republic Troopers PLX Rocket Team
Regular price
Sale price
$8.00 USD
Unit price
per
Sale
Sold out
"Locked, loaded, and ready to make a statement, the Republic Rocket Team PLX doesn't just take part in battles – they redefine them."
This listing is for the STL files, not the printed miniature.
The Republic Rocket Team PLX signifies the very epitome of adaptability and firepower within the Republic's ground forces. Equipped with heavy anti-vehicle rockets, these troopers form a unique, specialized unit that can level the playing field against even the most formidable armor. Their training in handling these high-impact weapons makes them a significant asset, able to tilt the balance of any engagement.
Unveiling the modular Republic Rocket Team PLX STL files, meticulously designed by Dark Fire Designs. With these files, you can print out the complete team on your home 3D printer, allowing you to bring these heavy hitters to life on your tabletop. The real magic lies in the modular design, offering complete customization that lets you create a truly unique squad for your legion.
These files from Dark Fire Designs are fully compatible with other modular kits from our collection, empowering you to create a fully customized and unique force for your tabletop engagements. With the Republic Rocket Team PLX, you're not just adding another unit, but a complete new level of tactical depth and narrative richness.
Don't wait. Take the battlefield by storm. Download the Republic Rocket Team PLX STL files today and bring these game-changers to life.
The original model is made for 1:46 scale and designed to have more realistic proportions and may appear leaner than "heroic scaled" figures. 3D Printers: We STRONGLY recommend using the Chitubox slicer. This model is designed for Resin SLA and DLP printers.
Agreement: Upon purchase, the End-User agrees to print these files for personal use and not for any commercial printing endeavors. Please do not share or sell these files or print to sell after purchase. This model is not endorsed by or affiliated with Disney or Lucasarts.
Share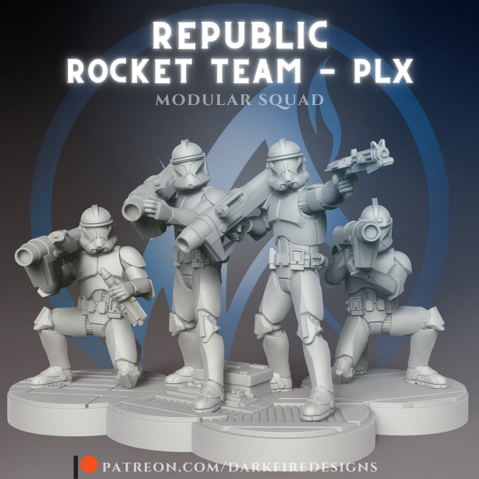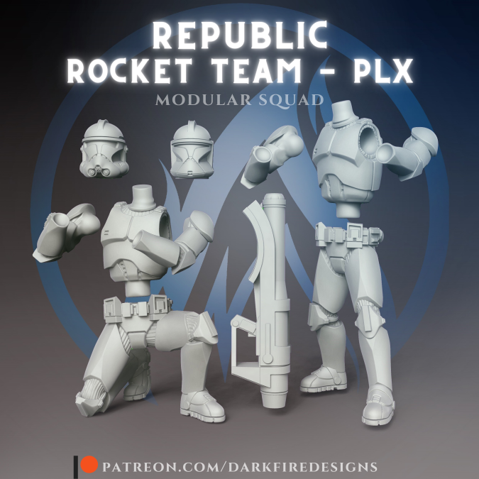 FAQ About Our STL Files
What kind of printers work best for your models?

Our models are specifically designed for Resin SLA and DLP printers.
What scale are your miniatures?

Our miniatures are scaled at 1:46. Our models were created to have more realistic proportions and may appear leaner than Heroic scaled figures.
Can I buy your miniatures without using a 3D Printer? 
What slicer software should I use for printing your stl files?

We strongly recommend using Chitubox to open these files
Where will the files go?

We have an online library on our site! Simply click your account icon at the top of the page.
How do I download my files?

Under Account you'll be taken to your order history page. Simply click the order number and you'll be taken to a download page to recieve your files!