Dark Fire Designs
Star Brigade General Shatter Scale
Regular price
Sale price
$8.00 USD
Unit price
per
Sale
Sold out
"She embodies the essence of a true warrior, seamlessly blending formidable strength with the art of strategic acumen."
This listing is for the STL files, not the printed miniature.
A renowned warrior and skilled strategist, Aayla was a key figure during the final years of a Galactic conflict. Trained under a seasoned mentor, she developed advanced combat skills and a mastery of an acrobatic fighting style. A respected general, she led troops in numerous battles, demonstrating remarkable leadership and bravery. Her bond with her troop commander was marked by mutual respect and deep trust, contributing to their success. Despite her tragic end during a sudden purge instigated by the Empire, her legacy endured as a symbol of courage and dedication. Her impact remains a source of inspiration in the universe's history.
Ignite your skirmish sci-fi games with the fresh addition of our new STL model - The Star Brigade General, now available in an impressive shatter scale. This unique model brings a new layer of detail and dynamism, perfectly designed to elevate your small-scale battles.
The Star Brigade General, a symbol of resilience and strategic prowess, is expertly captured in a pre-posed design that conveys her readiness for any combat situation. Her formidable strength combined with an agile combat style is impressively represented, making her a commanding presence on any battlefield.
The new shatter scale adds a captivating dimension to your games, enhancing the level of immersion and engagement. The General's intricate design, combined with this smaller scale, fits seamlessly into your skirmishes, intensifying the authenticity and excitement of each gaming encounter.
Don't miss this opportunity to own this unique STL model of The Star Brigade General. Let her lead your forces into epic battles, bringing a new intensity to your sci-fi skirmishes. Secure your STL model of The Star Brigade General today!
The original model is made for 40mm scale.
3d Printers: We STRONGLY recommend using the Chitubox slicer.
This model is designed for Resin SLA and DLP printers.
Agreement: Upon purchase, the End-User agrees to print these files for personal use and not for any commercial printing endeavors. Please do not share or sell these files or print to sell after purchase.
This model is not endorsed by or affiliated with Disney or Lucasarts.
Share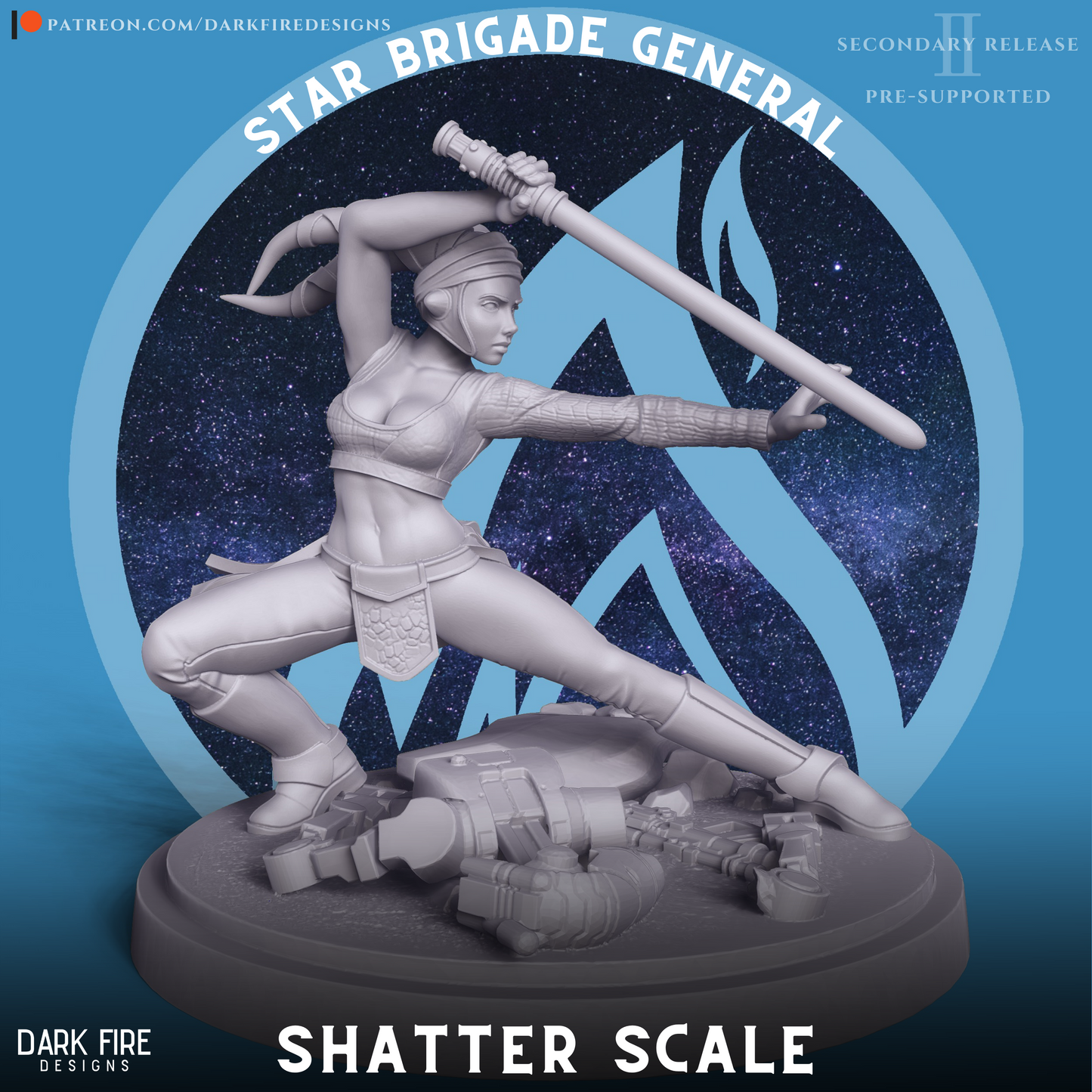 FAQ About Our STL Files
What kind of printers work best for your models?

Our models are specifically designed for Resin SLA and DLP printers.
What scale are your miniatures?

Our miniatures are scaled at 1:46. Our models were created to have more realistic proportions and may appear leaner than Heroic scaled figures.
Can I buy your miniatures without using a 3D Printer? 
What slicer software should I use for printing your stl files?

We strongly recommend using Chitubox to open these files
Where will the files go?

We have an online library on our site! Simply click your account icon at the top of the page.
How do I download my files?

Under Account you'll be taken to your order history page. Simply click the order number and you'll be taken to a download page to recieve your files!