Dark Fire Designs
The Historian
Regular price
Sale price
$3.00 USD
Unit price
per
Sale
Sold out
Lorian Kalder is a venerable figure within the Mystical Order. He earns esteem not for his prowess in battle but for his unquenchable thirst for knowledge and dedication to preserving the Order's rich history. His deep-set eyes carry the weight of countless secrets, and his long, pointed beard speaks of wisdom and age, making him a figure that inspires both reverence and curiosity. The vast archives of the Order, brimming with data-scrolls, Holo-scripts, and relics from bygone eras, are his domain. He often likens himself to a sentinel, vigilantly guarding the annals of time and ensuring that past wisdom remains intact for future generations.
While many in the Order hone their minds and bodies for combat, Lorian's journey is distinct. He communes with the spirits of those who have passed, seeking their guidance and drawing from their experiences. For him, each whisper of the wind narrates a tale, every rustling leaf imparts a lesson. His contemporaries frequently seek his advice, valuing not only his extensive knowledge but also his exceptional ability to derive insights from the spectral echoes of the Order's past greats. Lorian firmly believes that the Order's true strength doesn't solely reside in its current accomplishments but in the combined wisdom and heritage of those who have shaped its path.
Introducing our exclusive model from the Jul-di promotion, originally showcased on our Patreon at patreon.com/darkfire designs. Throughout July, Ty crafted his personal rendition of mystical warriors hailing from a distant galaxy. Each model stands out as a distinct knight, ideally suited for roleplaying adventures or serving as a standout commander in your legion. 
The original model is made for 1:46 scale and designed to have more realistic proportions and may appear leaner than "heroic scaled" figures. 3d Printers:
We STRONGLY recommend using the Chitubox slicer.
This model is designed for Resin SLA and DLP printers.
Agreement: Upon purchase, the End-User agrees to print these files for personal use and not for any commercial printing endeavors. Please do not share or sell these files or print to sell after purchase.
This model is not endorsed by or affiliated with Disney or Lucasarts.
Share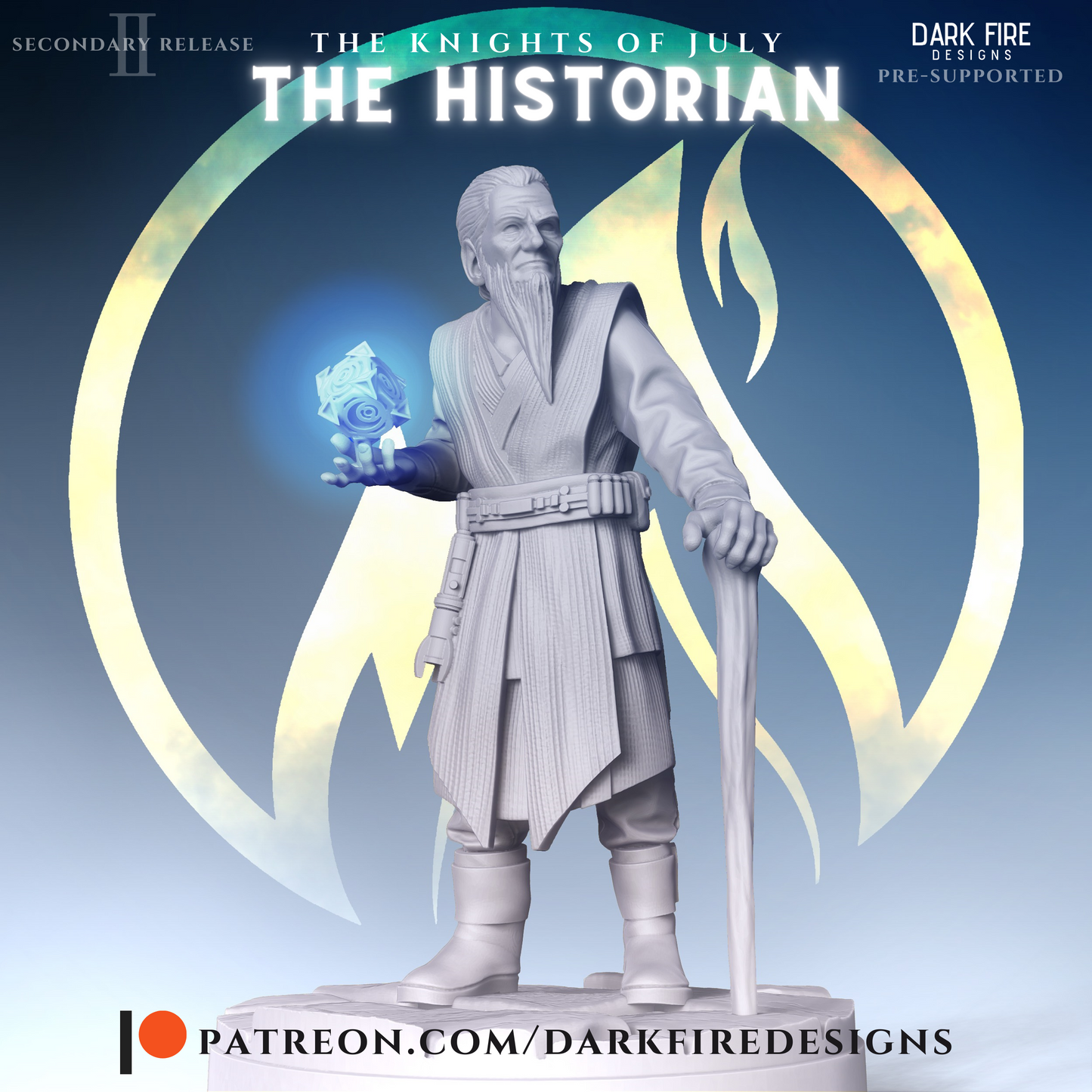 FAQ About Our STL Files
What kind of printers work best for your models?

Our models are specifically designed for Resin SLA and DLP printers.
What scale are your miniatures?

Our miniatures are scaled at 1:46. Our models were created to have more realistic proportions and may appear leaner than Heroic scaled figures.
Can I buy your miniatures without using a 3D Printer? 
What slicer software should I use for printing your stl files?

We strongly recommend using Chitubox to open these files
Where will the files go?

We have an online library on our site! Simply click your account icon at the top of the page.
How do I download my files?

Under Account you'll be taken to your order history page. Simply click the order number and you'll be taken to a download page to recieve your files!