Dark Fire Designs
The Outcast-Young
Regular price
Sale price
$13.00 USD
Unit price
per
Sale
Sold out
I'm no Hero; I'm just a guy with a beamsword and a few questions

Please note that this listing is for the STL files, not the printed miniature.

In the annals of our vast universe, The Outcast Young, emerges as a mystic-sensitive human who traversed the tumultuous path from Alliance operative to mystic Master. Hailing from the distant world on the outer rim, This Outcast journey epitomizes the unwavering spirit of those who rise against tyranny. He defected from the Imperial ranks to join the Alliance, where his partnership with the skilled agent and smuggler, the duo became legendary. Together, they embarked on covert missions, including sabotaging the dreaded Dark Trooper Project, all in the name of freedom.

This Outcast destiny took an unexpected twist when he discovered his latent mystical abilities. Determined to master this newfound power, he embarked on a quest to find the elusive Valley of the Light. Along the way, he faced his inner demons and confronted a malevolent High Inquisitor and his minions. Through sheer determination and the guidance of the Force, This Outcast triumphed over the darkness, ascending to the rank of Master.

The Outcast Young STL model kit encapsulates The Outcast iconic journey in three dynamic poses: casual, heroic, and action-packed. Designed for effortless printing and painting, this kit is a must-have addition to your collection, perfectly suited for legion-scale wargames. With each pose, you'll capture a different facet of Outcast's remarkable saga, making your tabletop battles truly epic.

Please note that the original model adheres to a 1:46 scale with more realistic proportions, creating a leaner appearance compared to "heroic-scaled" figures. To ensure the best results, we recommend using the Chitubox slicer and Resin SLA or DLP printers.

By purchasing this model, you agree to print these files for personal use only, refraining from any commercial printing endeavors. Sharing or selling these files or printed copies is prohibited. Rest assured that this model is an independent creation and is not endorsed by or affiliated with Disney or Lucasarts.

Immerse yourself in the legacy of The Outcast Young and add a touch of intergalactic heroism to your gaming and diorama endeavors. Join the ranks of those who appreciate the enduring tale or a truly unique hero, a symbol of hope, courage, and the indomitable spirit of the Alliance and the Knightly Order.
Share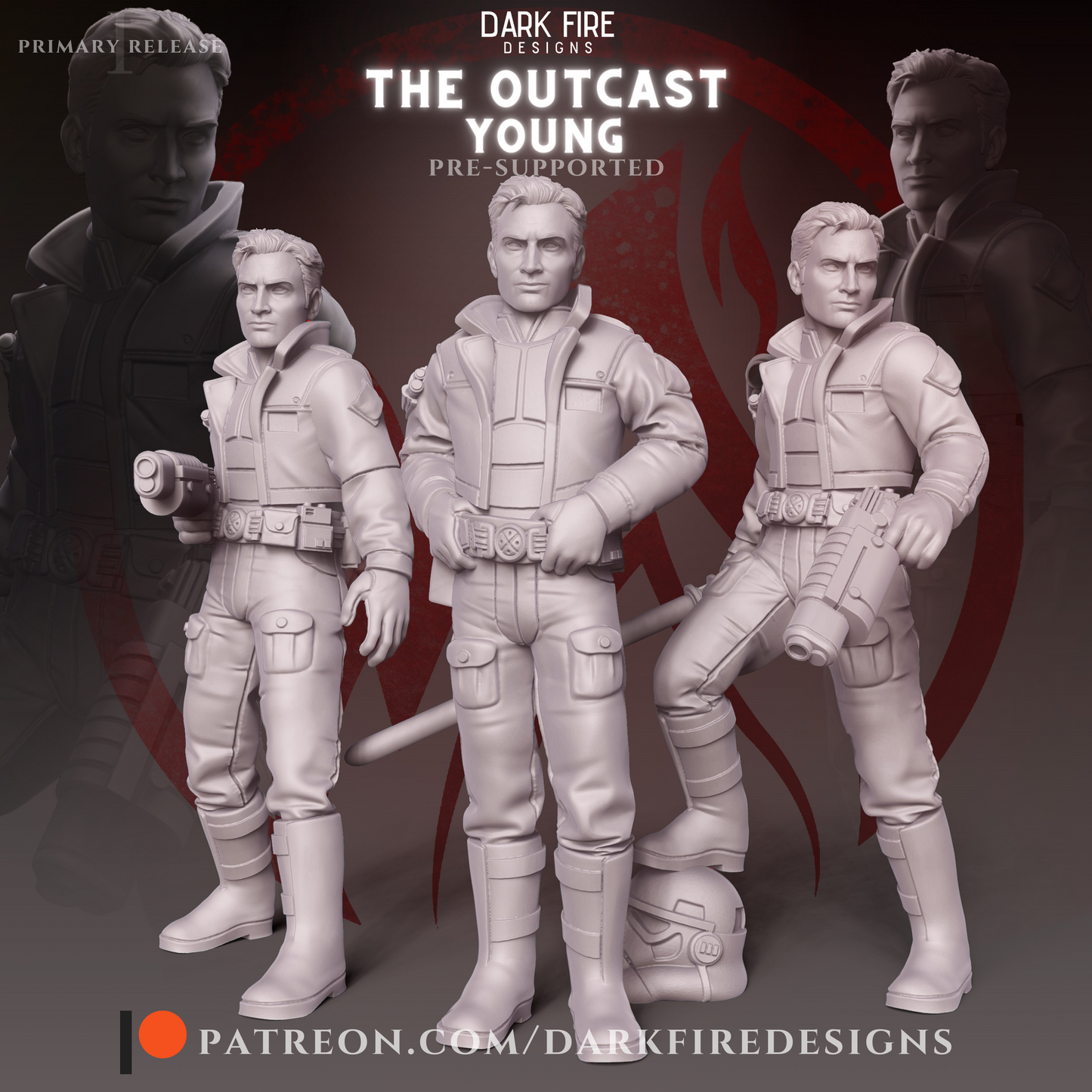 FAQ About Our STL Files
What kind of printers work best for your models?

Our models are specifically designed for Resin SLA and DLP printers.
What scale are your miniatures?

Our miniatures are scaled at 1:46. Our models were created to have more realistic proportions and may appear leaner than Heroic scaled figures.
Can I buy your miniatures without using a 3D Printer? 
What slicer software should I use for printing your stl files?

We strongly recommend using Chitubox to open these files
Where will the files go?

We have an online library on our site! Simply click your account icon at the top of the page.
How do I download my files?

Under Account you'll be taken to your order history page. Simply click the order number and you'll be taken to a download page to recieve your files!