Dark Fire Designs
The Slayer
Regular price
Sale price
$2.00 USD
Unit price
per
Sale
Sold out
"In the face of the universe's darkest horrors, we do not quiver, we aim and fire."
This listing is for the STL files, not the printed miniature.
In the far-flung corners of the Galaxy, this legendary crusader known as Xyrith, hailing from the feared line of nomadic warriors, a mercenary culture steeped in the martial arts of interstellar combat. Xyrith was the epitome of a his clan's creed, his forearms branded with the intricate tattoos of his people, each marking a kill - a cosmic bestiary of creatures so fierce that their very existence was enough to strike terror into the hearts of lesser beings. He carried his long-range blaster, 'Nightwhisper', with a silent pride, its sleek form an extension of his own, reflecting an uncanny bond between the hunter and his tool. Nightwhisper had felled more monstrous beings than the collective counts of any Imperial battalion. 
This model comes in the standard STL file format and pre-supported. It's designed to be easy to assemble and quick to paint, so you can get your miniatures ready for tabletop in no time! This model was originally released on Dark Fire Designs Patreon.com as part of their March from Mandos in March 2023.
The original model is made for 1:46 scale and designed to have more realistic proportions and may appear leaner than "heroic scaled" figures.
3d Printers:
We STRONGLY recommend using the Chitubox slicer.
This model is designed for Resin SLA and DLP printers.
Agreement:
Upon purchase, the End-User agrees to print these files for personal use and not for any commercial printing endeavors. Please do not share or sell these files or print to sell after purchase.
This model is not endorsed by or affiliated with Disney or Lucasarts.
Share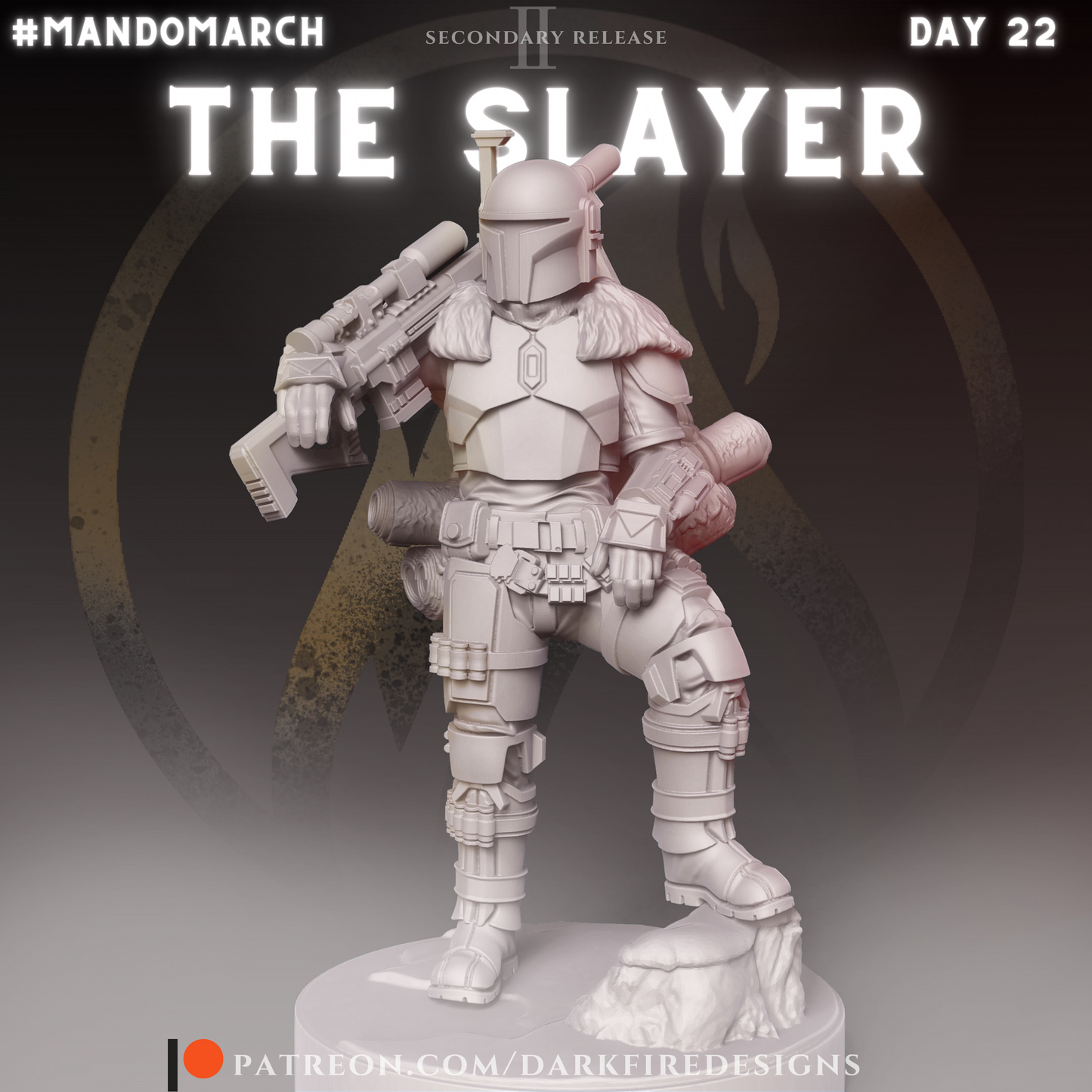 FAQ About Our STL Files
What kind of printers work best for your models?

Our models are specifically designed for Resin SLA and DLP printers.
What scale are your miniatures?

Our miniatures are scaled at 1:46. Our models were created to have more realistic proportions and may appear leaner than Heroic scaled figures.
Can I buy your miniatures without using a 3D Printer? 
What slicer software should I use for printing your stl files?

We strongly recommend using Chitubox to open these files
Where will the files go?

We have an online library on our site! Simply click your account icon at the top of the page.
How do I download my files?

Under Account you'll be taken to your order history page. Simply click the order number and you'll be taken to a download page to recieve your files!