Dark Fire Designs
The Strategio
Regular price
Sale price
$2.00 USD
Unit price
per
Sale
Sold out
"The Empire may think they've trapped us, but little do they know they're about to fall into our snare."

This listing is for the STL files, not the printed miniature.

Kelaris had always felt powerless against the might of the Empire, even as he watched them strip mine and pollute his once-beautiful aquatic planet. He had searched for a way to fight back, but other organizations had proven too passive or disorganized to make a real difference.
It wasn't until he encountered the Space Crusaders that he felt a glimmer of hope. Drawn by their unwavering determination to reclaim their lost homeworld and the sense of brotherhood that reminded him of his own pod family back home, Kelaris decided to join their cause.
With his unique skills and strategic mind honed by growing up in an aquatic environment, Kelaris quickly proved himself to be a valuable asset to the Space Crusaders. He helped them to outmaneuver their enemies and overcome seemingly impossible obstacles, all while feeling a sense of camaraderie and purpose that he had been lacking since leaving his home planet.
Though the road ahead was long and difficult, Kelaris remained committed to the Space Crusaders and their mission to reclaim their lost homeworld. He knew that he was fighting for a cause worth believing in, and he felt a deep sense of gratitude for the brotherhood that he had found among the Space Crusaders. With each victory they achieved, Kelaris felt a growing sense of confidence and hope, knowing that together they could make a difference in the galaxy.

This is a model that is already set up and ready to use, and it comes in the standard STL file format and pre-supported. It's designed to be easy to assemble and quick to paint, so you can get your miniatures ready for tabletop in no time! This model was originally released on Dark Fire Designs Patreon.com as part of their March from Mandos in March 2023.

The original model is made for 1:46 scale and designed to have more realistic proportions and may appear leaner than "heroic scaled" figures.
3d Printers:
We STRONGLY recommend using the Chitubox slicer.
This model is designed for Resin SLA and DLP printers.
Agreement:
Upon purchase, the End-User agrees to print these files for personal use and not for any commercial printing endeavors. Please do not share or sell these files or print to sell after purchase.
This model is not endorsed by or affiliated with Disney or Lucasarts.
Share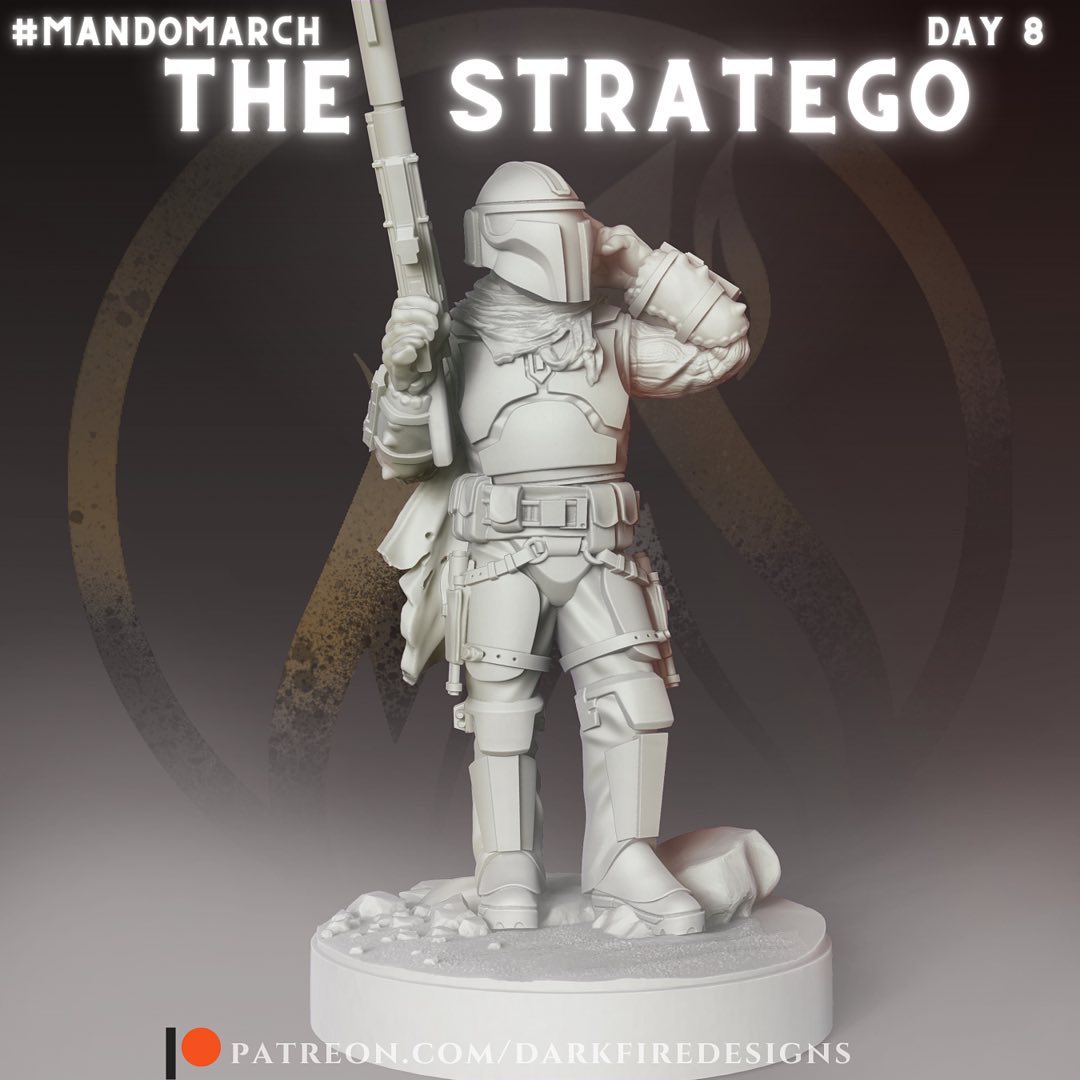 FAQ About Our STL Files
What kind of printers work best for your models?

Our models are specifically designed for Resin SLA and DLP printers.
What scale are your miniatures?

Our miniatures are scaled at 1:46. Our models were created to have more realistic proportions and may appear leaner than Heroic scaled figures.
Can I buy your miniatures without using a 3D Printer? 
What slicer software should I use for printing your stl files?

We strongly recommend using Chitubox to open these files
Where will the files go?

We have an online library on our site! Simply click your account icon at the top of the page.
How do I download my files?

Under Account you'll be taken to your order history page. Simply click the order number and you'll be taken to a download page to recieve your files!