Dark Fire Designs
Trooper Tuesday: Imperial Armored Officer
Regular price
Sale price
$3.00 USD
Unit price
per
Sale
Sold out
"I am an Imperial officer. I do not tolerate disrespect, love" 

Please note that this listing is for the STL files, not the printed miniature.

The Imperial Armored Officer is a cold and calculating woman, driven by an unyielding commitment to the Empire's goals. Her presence alone commands respect, and her loyalty to Emperor vision is unwavering. 

Introducing the Imperial Armored Officer, a digital STL model kit by Dark Fire Designs. Originally unveiled as part of our November 2023 Patreon release, this kit allows you to craft a commanding presence for your tabletop gaming, dioramas, or scale model projects. With a pre-supported model kit and a preposed stance for easy painting and assembly, this officer embodies the ambition and ruthlessness often associated with those who serve the Empire.

Add this iconic figure to your collection and let her take charge of your creative endeavors. Crafted with meticulous attention to detail, the Imperial Armored Officer will become a central piece in your tabletop battles, diorama scenes, or scale model displays. Whether you're a collector, gamer, or model enthusiast, this kit invites you to add a touch of Imperial authority to your projects. Paint and assemble with ease, and witness the rise of an officer who embodies the Empire's ethos of control through authority.

Please note that the original model is designed for 1:46 scale, emphasizing realistic proportions over "heroic scaled" figures. For the best results, we strongly recommend using the Chitubox slicer and Resin SLA or DLP printers.

By purchasing this model, you agree to print these files for personal use and refrain from any commercial printing endeavors, sharing, or selling of the files or printed copies. Rest assured, this model is an independent creation and is not endorsed by or affiliated with any specific sci-fi franchise.

Embrace the authority and precision of the Galactic Empire with the Imperial Armored Officer. This kit offers a captivating and detailed representation of a commanding officer, bringing her calculated efficiency to life in your projects. Whether you're building a diorama, engaging in tabletop battles, or crafting scale models, this officer will become a testament to your dedication to the sci-fi genre. Are you ready to embrace the Imperial ethos and add the Imperial Armored Officer to your collection?
Share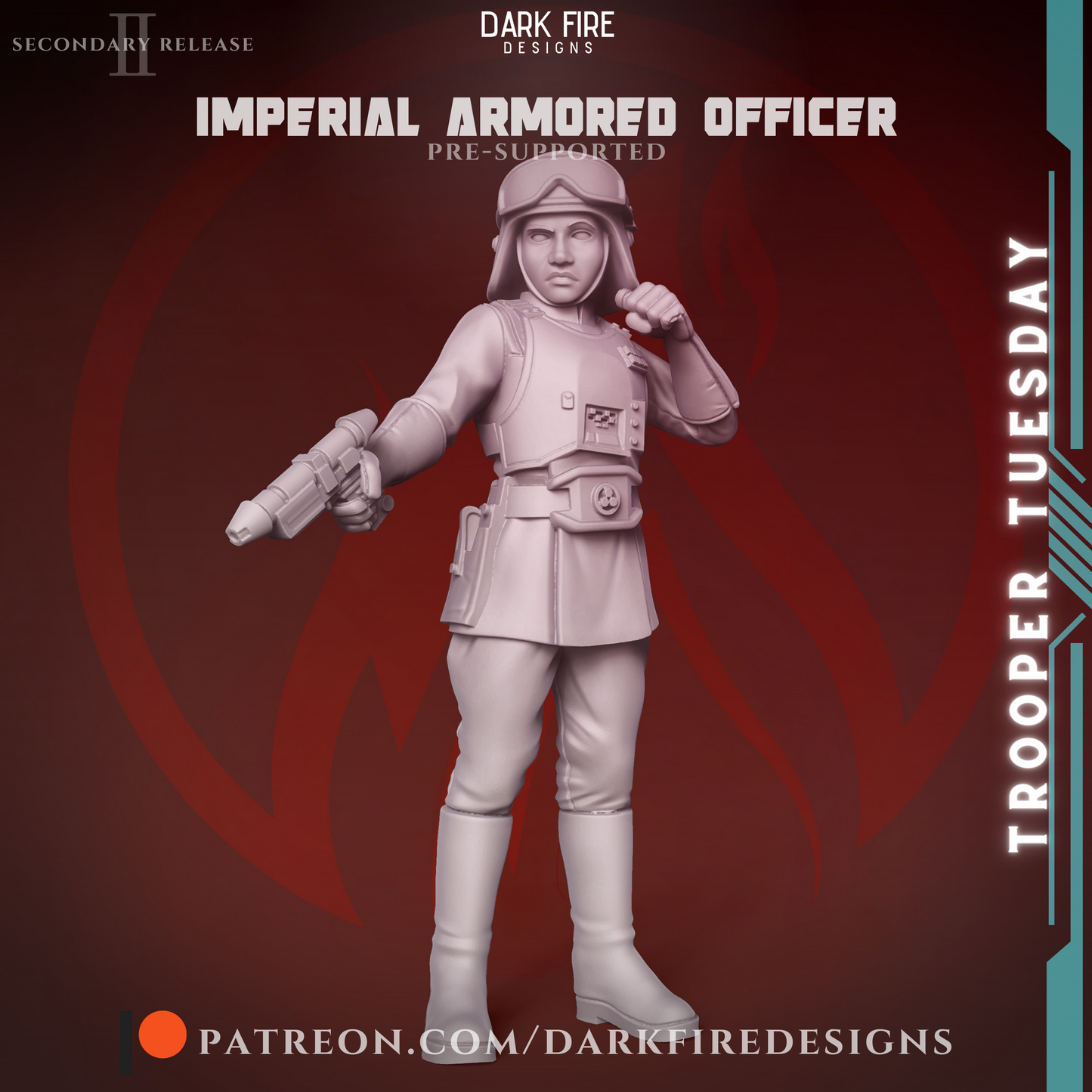 FAQ About Our STL Files
What kind of printers work best for your models?

Our models are specifically designed for Resin SLA and DLP printers.
What scale are your miniatures?

Our miniatures are scaled at 1:46. Our models were created to have more realistic proportions and may appear leaner than Heroic scaled figures.
Can I buy your miniatures without using a 3D Printer? 
What slicer software should I use for printing your stl files?

We strongly recommend using Chitubox to open these files
Where will the files go?

We have an online library on our site! Simply click your account icon at the top of the page.
How do I download my files?

Under Account you'll be taken to your order history page. Simply click the order number and you'll be taken to a download page to recieve your files!