Dark Fire Designs
Trooper Tuesday: Stranded Alliance Ship Trooper
Regular price
Sale price
$3.00 USD
Unit price
per
Sale
Sold out
"Our ship may be dead, but our fighting spirit lives on!"

Please note that this listing is for the STL files, not the printed miniature.

Stranded in the depths of the cosmos, the Stranded Alliance Ship Trooper epitomizes the spirit of the Alliance. These valiant soldiers serve aboard Alliance Fleet starships, safeguarding their vessels against threats from all quarters. Organized into Alliance Fleet Regiments within the Alliance Military, they are the stalwart defenders of freedom.

Among these troopers, the 1st Regiment of the Alliance Special Forces stands as an elite class. These fearless individuals were the embodiment of Rebel resilience. When adversity struck and their ship was shot down in low orbit, they found themselves marooned on an unforgiving planet. With unwavering determination, they forged a small but unyielding resistance force to combat the Empire's tyranny.

The Stranded Alliance Ship Trooper, a digital STL model kit by Dark Fire Designs, transports you to the front lines of interstellar conflict. Originally released in the November 2023 Patreon release as a secondary release, this kit features a pre-supported model locked in an imposing pose. Whether you're a dedicated tabletop gamer, a diorama enthusiast, or a meticulous scale model hobbyist, the Stranded Alliance Ship Trooper invites you to become part of an epic tale of courage and determination.

The Stranded Alliance Ship Trooper is more than just a model; it's a testament to the indomitable human spirit. Add this pre-supported figure to your collection, and you'll be joining the ranks of those who stand against the darkness. As you paint and display this trooper, you become part of their heroic narrative—a narrative of defiance, courage, and the unwavering belief in a brighter future.

Please keep in mind that the original model is designed for 1:46 scale, emphasizing realistic proportions that may appear leaner than "heroic scaled" figures. For optimal results, we highly recommend using the Chitubox slicer and Resin SLA or DLP printers.

By purchasing this model, you agree to use these files for personal enjoyment only, refraining from any commercial printing endeavors. Sharing or selling these files or printed copies is strictly prohibited. Rest assured that this model is an independent creation and is not endorsed by or affiliated with any specific sci-fi franchise.

Embrace the spirit of the Stranded Alliance Ship Trooper and become a beacon of hope in the face of adversity. Let your imagination take flight as you build and paint this iconic figure, making it a centerpiece of your tabletop gaming or diorama collection. Join the heroic resistance against tyranny and stand with the Stranded Alliance Ship Trooper—a symbol of courage that will inspire generations to come. The galaxy awaits; let your journey begin.
Share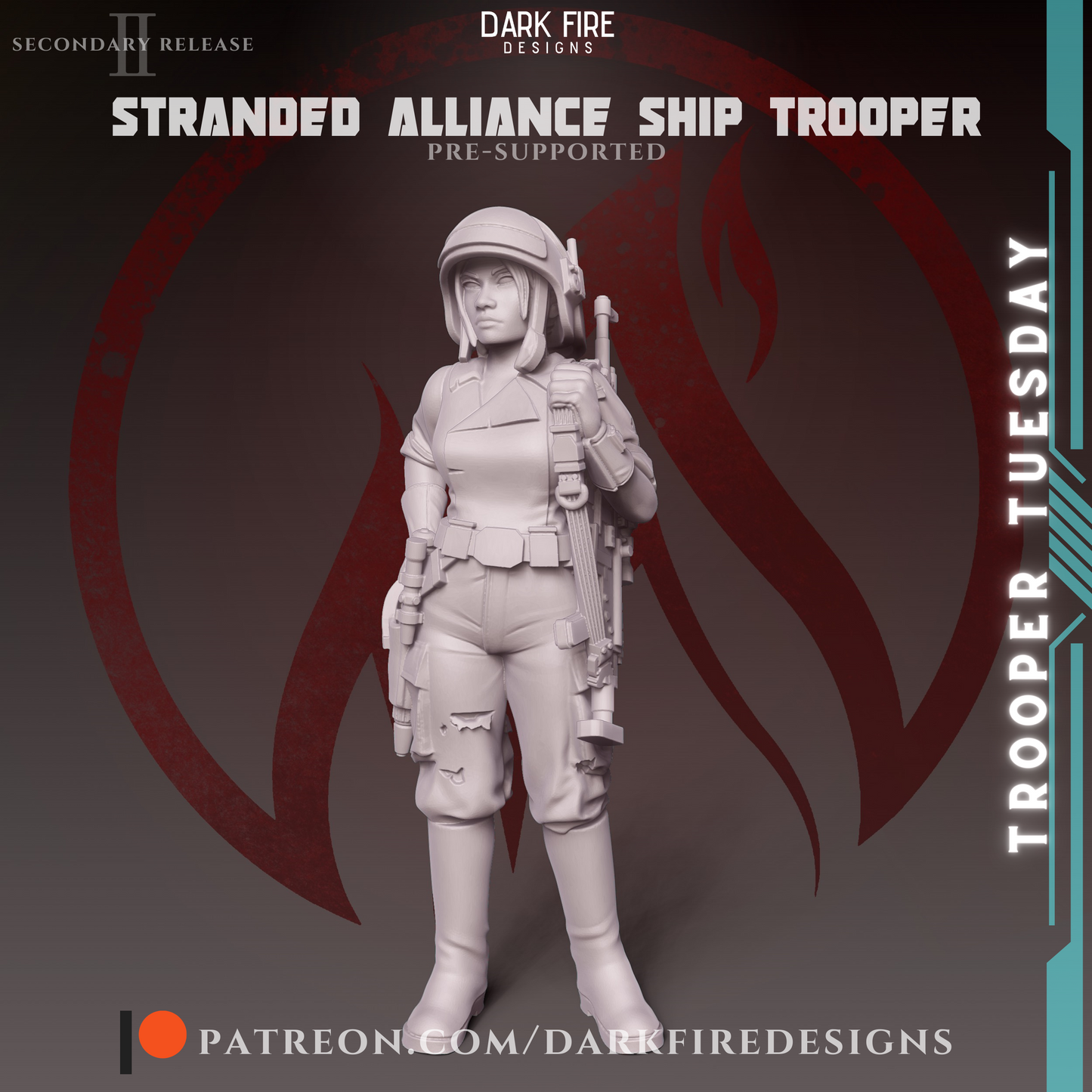 FAQ About Our STL Files
What kind of printers work best for your models?

Our models are specifically designed for Resin SLA and DLP printers.
What scale are your miniatures?

Our miniatures are scaled at 1:46. Our models were created to have more realistic proportions and may appear leaner than Heroic scaled figures.
Can I buy your miniatures without using a 3D Printer? 
What slicer software should I use for printing your stl files?

We strongly recommend using Chitubox to open these files
Where will the files go?

We have an online library on our site! Simply click your account icon at the top of the page.
How do I download my files?

Under Account you'll be taken to your order history page. Simply click the order number and you'll be taken to a download page to recieve your files!