Dark Fire Designs
Zombie Imperial Scout Walker
Regular price
Sale price
$22.00 USD
Unit price
per
Sale
Sold out
"In the midst of darkness, the Walker keeps marching with a sickly green glow coming from the cockpit, WHY WON'T IT DIE?!?!"

Please be aware that this listing is for the STL files, not the printed miniature.

The Zombie Imperial Walker, shrouded in mystery, has been corrupted by some malevolent  force, defying the laws of life and death. Its skeletal damaged frame marches forward, undeterred by the relentless onslaught of firepower. This eerie creation presents a unique narrative opportunity for your projects, as it embodies the sinister and supernatural aspects of the galaxy.

Introducing the Zombie Imperial Walker, a digital STL model kit by Dark Fire Designs. Originally unveiled as part of our November 2023 Patreon release, this kit allows you to construct a chilling and unique addition to your tabletop gaming, dioramas, or scale model projects. It includes a pre-supported multi-part model kit to assemble a Zombie Imperial Scout Walker, complete with two Zombie Pilots and a commanding Zombie Commander. Unleash the undead upon the galaxy, and witness the dark force that keeps this walker moving despite enduring firepower that should have brought it down days ago.

Add this macabre masterpiece to your collection and take your tabletop gaming, diorama crafting, or scale modeling to a whole new level. Assemble the Zombie Imperial Walker, complete with its gruesome pilots, and let the undead menace stalk your creations. With this kit, you can explore a dark and thrilling side of sci-fi that's both captivating and unsettling.

Please note that the original model is designed for 1:46 scale, emphasizing realistic proportions over "heroic scaled" figures. To achieve the best results, we strongly recommend using the Chitubox slicer and Resin SLA or DLP printers.

By purchasing this model, you agree to print these files for personal use and refrain from any commercial printing endeavors, sharing, or selling of the files or printed copies. Rest assured, this model is an independent creation and is not endorsed by or affiliated with any specific sci-fi franchise.

Embrace the darker side of the galaxy with the Zombie Imperial Walker. This unique creation offers a fresh perspective on the sci-fi genre, combining the allure of the undead with the iconic design of a scout walker. Unleash the malevolent force that powers this abomination and watch as it becomes a centerpiece of your next narrative game. Whether you're a collector, gamer, or model enthusiast, this kit invites you to explore a side of sci-fi that's both haunting and captivating. Are you ready to embrace the darkness and add the Zombie Imperial Walker to your collection?
Share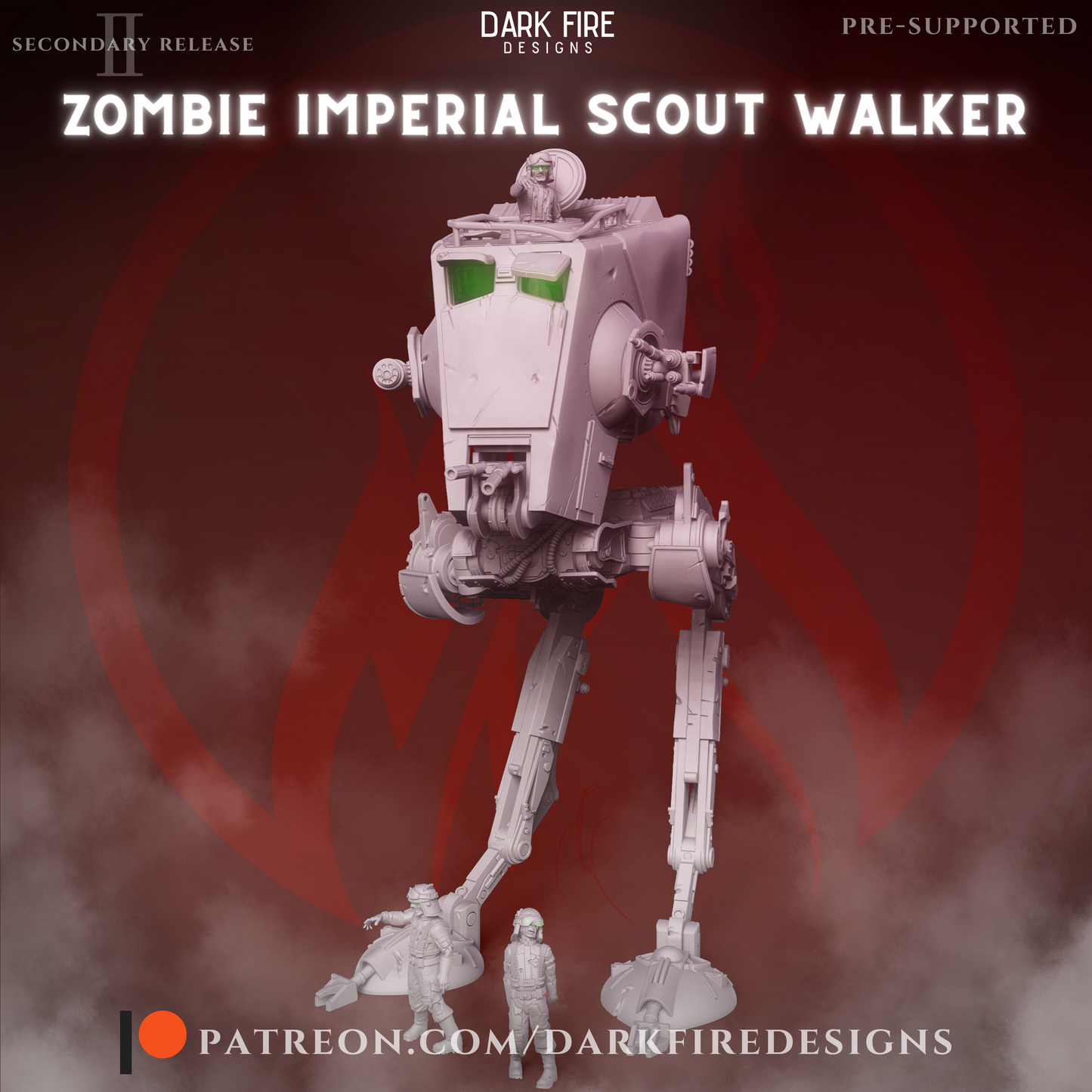 FAQ About Our STL Files
What kind of printers work best for your models?

Our models are specifically designed for Resin SLA and DLP printers.
What scale are your miniatures?

Our miniatures are scaled at 1:46. Our models were created to have more realistic proportions and may appear leaner than Heroic scaled figures.
Can I buy your miniatures without using a 3D Printer? 
What slicer software should I use for printing your stl files?

We strongly recommend using Chitubox to open these files
Where will the files go?

We have an online library on our site! Simply click your account icon at the top of the page.
How do I download my files?

Under Account you'll be taken to your order history page. Simply click the order number and you'll be taken to a download page to recieve your files!